David Bowie's 1987 Slump Held Its Own Weird Magic
His much-maligned album Never Let Me Down and the dazzling Glass Spider Tour it spawned were the work of a veteran artist in the throes of metamorphosis.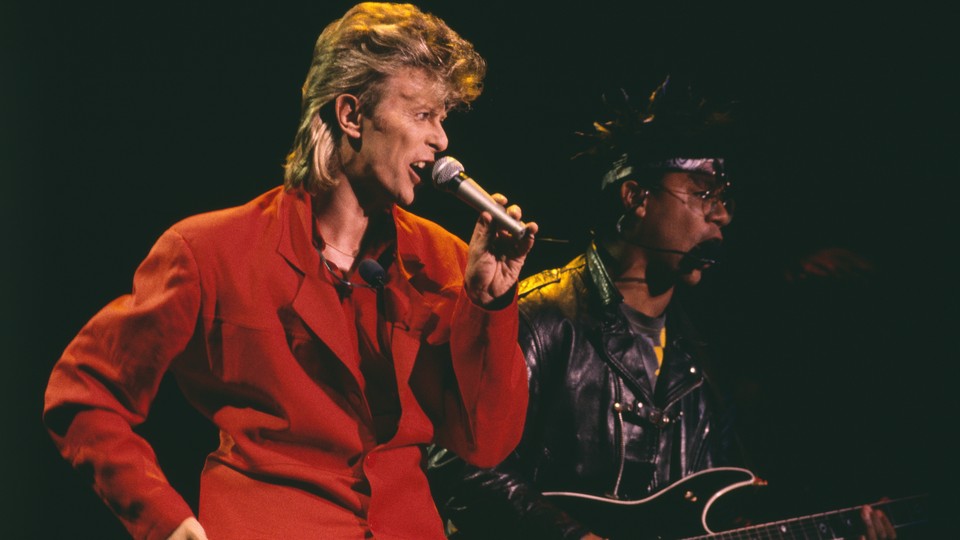 In his 1980 song "Ashes to Ashes," David Bowie sang of how his long-running character, the doomed astronaut Major Tom, was "hitting an all-time low." Seven years later, Bowie found himself in similar straits. Never Let Me Down, his seventeenth album, was released in April of 1987 to middling sales and critical hostility. It was his first album in 16 years to fail to crack the British Top Five. The Glass Spider Tour, lavish and overstuffed, kicked off a month later and was equally panned. As the magazine Smash Hits trolled at the time, "If Dame David Bowie is such a bleeding chameleon, why, pray, can't he change into something more exciting than the skin of an aging rock plodder?"
Bowie turned 40 that year, and he became caught in a backlash against rock's aging aristocracy. He'd pulled off a coup at the start of the decade with the massive, career-boosting success of his album Let's Dance, but by 1985, he was hamming it up with Mick Jagger during their hollow cover of Martha and the Vandellas' "Dancing in the Street." The slickly produced and tepidly executed Never Let Me Down was panned as being just as self-indulgent. Time hasn't softened that consensus. Thirty years later, in his book On Bowie, Rob Sheffield called Never Let Me Down "an all-time low"—as if to echo Bowie's own lyrics in "Ashes to Ashes." Lesser albums by popular artists are routinely relegated to the dustbin of history—or at the very least, the tail end of online rankings and listicles. But there's as much to be learned from the dead ends and disappointments of great artists like Bowie as there is from their triumphs and masterpieces.
Never Let Me Down, ironically, was one of Bowie's biggest letdowns. There was a sly self-awareness about his conversion from cult figure to mainstream figurehead following Let's Dance, a quality sorely missing from the plasticity of Never Let Me Down. The track "Shining Star (Makin' My Love)" is stiff and static, and it's marred even further by a rap verse from the actor Mickey Rourke, who spits some egregious rhymes about Leon Trotsky and Adolf Hitler. Listless arrangements and cellophane-thin tones render the songs as robust as soda fizz. "Too Dizzy," a song so emblematic of '80s blandness that it makes Phil Collins sound like Otis Redding, was even removed by Bowie from the album's reissues. "What, for me, was a bitter disappointment was the way [Never Let Me Down] turned out. It wasn't played with any conviction," Bowie laments in Christopher Sandford's book Bowie: Loving the Alien. "It was studio-fied to such an extent that, halfway through the sessions, I was going out to lunch and just leaving everyone to it."
For all of Bowie's self-deprecation, Never Let Me Down actually marked an upward creative shift. The artist had more songwriting credits on the album than he did on either of his two previous albums, 1983's Let's Dance and 1984's Tonight. And for the first time since 1980's Scary Monsters (And Super Creeps)—the album that contained "Ashes to Ashes"—he does more than just sing; he contributes guitar, harmonica, and keyboards to the recording, closer to the hands-on process he used in his '70s prime.
Two of the album's singles, "Day-In Day-Out" and "Never Let Me Down," fare far better in retrospect than much of the pop-rock of 1987. The former song, despite a muddled if well-meaning message about urban poverty, boasts brassy hooks and a gutsy vocal performance from Bowie; the latter is a mix of crooning atmosphere and sultry danceability drawn straight from his Let's Dance playbook. Meanwhile, deep cuts and B-sides like the anthemic "Zeroes" and the stripped-down, infectious "Julie" were overlooked in the rush to tag Bowie as yet another '60s-spawned rocker who, by 1987, had lost his luster.
It's easy to see why Never Let Me Down left so many Bowie fans and critics crestfallen. After a three-year break from releasing studio albums, this trailblazer known for his restless innovation and reinvention seemed content to tread water. But judged on its own merits, the album reflects an interplay between social consciousness, rosy nostalgia, and Bowie's growing desire to reconnect with his craft—the superstar remembering he's a songsmith.
Nowhere is that more evident than on "Glass Spider." Buried in the middle of Never Let Me Down, the track is a throwback to Bowie's high-concept work of the '70s, most obviously Diamond Dogs and The Rise and Fall of Ziggy Stardust and the Spiders from Mars. It begins with a poetic, spoken-word monologue detailing a mythic creature who would decorate its web with the bones of its prey, "creating a macabre shrine of remains." What follows is a haunting phantasmagoria tailor-made for newbies who had bought into Bowie after his major work of 1986—a starring role in Jim Henson's dark fantasy film Labyrinth. At the same time, it dog-whistled to his longtime fans who missed the theatrical, science-fictional Bowie of old. Stark and exquisite, "Glass Spider" remains one of Bowie's great, underappreciated songs.
The Glass Spider Tour was a more complicated affair. Bowie launched it in May of 1987 with a series of press releases around the world, in which he claimed that the upcoming concerts—spread across seven months and three continents—would be "overflowing with makeup, costumes, and theatrical sets." It being the excessive '80s, quantity conferred quality. The set included a 60-foot-tall illuminated spider that hovered menacingly over the stage. Bowie descended from that monstrous prop every night, seated in an office chair and reciting his monologue from "Glass Spider," except for the nights when it was too windy to safely permit it. The stage show was comically extravagant, with up to a dozen dancers and instrumentalists flanking Bowie at any given time. A loose narrative drove parts of the performance, but the interstitial bits mostly added up to flimsy excuses for catwalks, scaffoldings, garish jumpsuits, astronaut costumes, and lots of gold lamé.
Yet this was Bowie. Although he'd dialed back his thespian tendencies since Let's Dance, was it really so unreasonable to see him back under the veritable proscenium arch? Critics thought so. This was the year that the most buzzed-about rock album was U2's The Joshua Tree, released in March—an album that heralded a wholesale rejection of early-'80s glitz in favor of a gritty, earnest air of dressed-down authenticity. Framed in that context, the magazine Sounds dismissed the tour as "frenzied schlock and half-baked goofing." Chris Roberts, a former staff writer at Melody Maker admitted in David Buckley's book Strange Fascination, "There was overwhelming peer pressure not to like [The Glass Spider Tour]." Yet, Roberts added, "It was ambitious, challenging, weird, strange, mental, and barmy, and that's got to be good."
Indeed, The Glass Spider Tour is as underrated as Never Let Me Down. Released as a concert movie in 1988, Glass Spider shows an acrobatic, outlandish troupe backing their equally larger-than-life frontman. The famed guitarist Peter Frampton, a childhood friend of Bowie's, adds a fluid virtuosity to the longtime guitarist and bandleader, Carlos Alomar, who performs intrepidly with his hair sculpted into punky spikes. The set list ranges from classics like "Rebel Rebel" to fan favorites like "Sons of the Silent Age," and from fresh singles like "Day-In Day-Out" to covers of two of Bowie's prime influences, The Stooges and The Velvet Underground. It's spectacular, beautiful, charmingly pretentious, and weirdly magical. Dwarfing everything is the six-story spider hunched over the stage—as impossibly grandiose, intimidating, and iconic as Bowie himself.
After the tour ended in New Zealand in November, the band and crew ceremoniously destroyed the massive prop. "It was so great to burn the spider in New Zealand at the end of the tour," Bowie recalls in Strange Fascinations. "We just put the thing in a field and set light to it. That was such a relief!" Whether or not he realized it at the time, it was a symbolic act. Soon after returning home, Bowie began a new project that would signal a rebirth of sorts: the rock band Tin Machine, a lean, back-to-basics quartet whose self-titled debut in 1989 presaged the rise of alt-rock and grunge. Having hit the height of ego and extravagance on The Glass Spider Tour, Bowie submerged himself in a humble group that erased his name from the marquee. Tin Machine wasn't particularly well received either, but it put Bowie back on the path of relentless reinvention he'd been walking since the '60s. He didn't have to hit rock bottom to get there; he had to be hoisted 60 feet in the air.
Never Let Me Down may indeed be a midlife crisis set to music, an album expressing longing for the glamour of youth as well as a confused desire to recapture it. But there's nothing inherently wrong with that; it's no less valid than an album written in the passion of post-adolescence or under the shadow of death. Bowie himself delivered all of the above, and everything in between, throughout his half-century-long career—up to and including his sprawling swan song, 2016's Blackstar. But with Never Let Me Down, and the attendant spectacle of The Glass Spider Tour, Bowie unwittingly painted a jumbled, overambitious self-portrait of a veteran artist in the throes of metamorphosis. It was uncharted territory, even for a man who built an identity around changes. Which is why, for all its flaws, Bowie's 1987 work remains some of his most audaciously dazzling, and some of his most human.