Why Saturday Night Live Is Actually Going Live
The show will air at the same time across the U.S. for the first time ever starting in April—thanks to social media.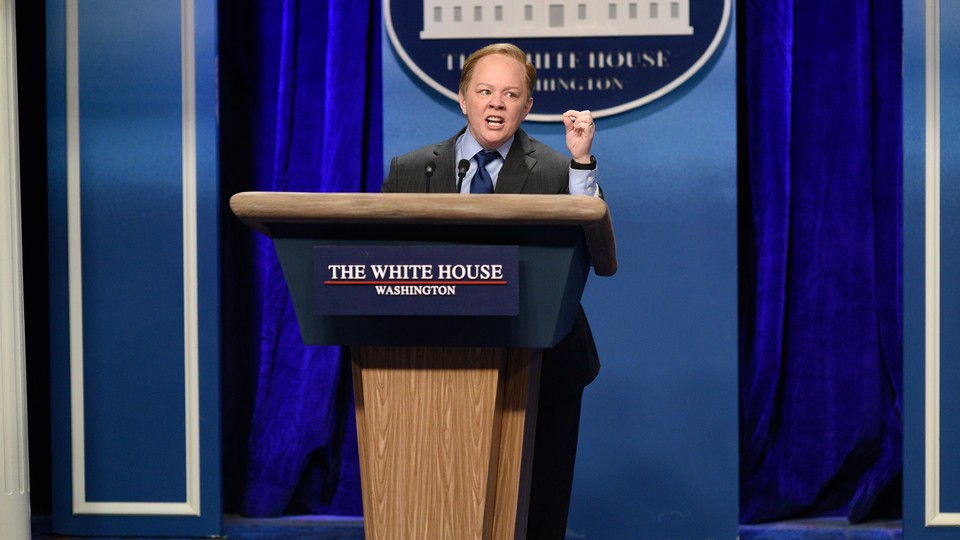 In its 42 seasons, Saturday Night Live has been hosted by politicians and world leaders, has spun off countless films and television shows, and has served as America's flagship sketch-comedy series. There's one thing it hasn't done, though—aired live for the entire country. For all these years, SNL has been live at 11:30 p.m. Eastern and 10:30 p.m. Central Time, then showed on tape delay for viewers in the Mountain and West time zones. That's because the later time slot has been of paramount importance to the show's longevity and ratings success. But for its final April and May episodes this season, SNL will be live for all American viewers.
This season of SNL has been a ratings powerhouse, beating every network offering except for The Big Bang Theory in the "key demo" (viewers aged 18-49) as its political satire and guest appearances by Alec Baldwin and Melissa McCarthy have captured the public's attention. That kind of viewership is especially impressive considering audiences today tend to be happier binging shows online later or catching up on their DVRs. SNL is that rare non-sports, non-news broadcast show that works better if you actually watch it live, especially now that social media freely "spoils" the best laughs for viewers on the West Coast. So why not grant that experience to viewers across the U.S., even though it means some will have to tune in earlier?
Of course, for most of SNL's long history, it didn't really matter that California viewers saw the show more than an hour after the live broadcast had ended, since word couldn't spread that quickly. But in an era of Twitter and Facebook, it's been amazing to see how quickly the online reaction to a sketch can calcify within minutes of its airing. There was already a backlash to the initial David S. Pumpkins backlash brewing by the time the sketch reached the West Coast. Meanwhile, the shock of realizing McCarthy had dropped by unannounced to play Sean Spicer was half of the fun—fun that much of the country didn't get to enjoy.
This is not to say that all SNL viewers are on their phones on a Saturday night—but more are every season, and the sacred 11:30 p.m. time slot has increasingly become less important. This may be hard to believe now, but when SNL premiered in 1975, Saturday was one of the biggest ratings bonanzas on the TV schedule—that's when hits like The Jeffersons, The Mary Tyler Moore Show, Starsky and Hutch, All in the Family, and S.W.A.T. aired. But over the years, it's become devoid of proper programming, leaving the 8:30 p.m. prime-time slot (where SNL will air in the Western time zone) wide open.
Traditionally, shows that air later have been associated with more irreverent and risqué humor; SNL has always had that "late-night" branding, and has been more willing to push the envelope on NBC's content restrictions. Airing at 8:30 p.m. Pacific Time (9:30 p.m. Mountain Time) may dilute that idea, but it's quite old-fashioned for a TV show to have any kind of identity associated with its time slot. Many Americans watch "late-night" clips at their office desks during workplace hours now, and "adult" HBO classics like The Wire or Oz are available to stream at the touch of a button.
SNL's experiment is a smart one—the only question now is if it'll be permanent. The show only has five episodes left this year, and the final four will broadcast live around the country. They'll be hosted by Jimmy Fallon (April 15), Chris Pine (May 6), Melissa McCarthy (May 13), and Dwayne Johnson (May 20), though for some reason the April 8 episode hosted by Louis C.K. will follow the old format. The time shift could be a temporary gimmick, but it probably shouldn't be. If the solid ratings hold despite this change, the 43rd season of the show may be the first for which Saturday Night Live is true to its name.