When Saturday Night Live Loses Alec Baldwin
The show's current Donald Trump impressionist is signaling his imminent departure, and there doesn't seem to be a backup plan.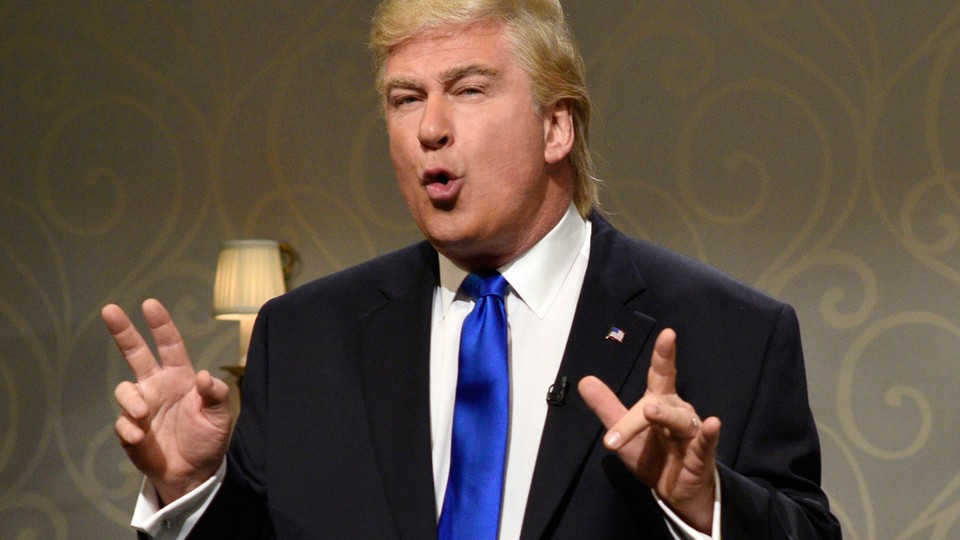 Here's a fairly uncontroversial statement: Alec Baldwin's portrayal of Donald Trump is the most consequential presidential impression Saturday Night Live has featured in 15 years. Part of that is simply a lack of competition. Since Will Ferrell (who remains the best remembered George W. Bush) left in 2002, the show has seen the following: a rotating cast of Bush replacements (none of whom distinguished themselves in the role); Fred Armisen's embarrassing casting as Barack Obama; and Jay Pharoah's far more technically accurate work in the same role (his sharp impersonation still struggled to nail down any kind of comedic character).
Then came Baldwin, whose appearances as Trump have corresponded to a huge ratings increase for SNL (it's up some 30 percent over the year before) and have even attracted the public ire of his target. His impersonation has been a genuine cultural phenomenon, but it's one that's guaranteed to come to an end at some point—sooner rather than later, according to Baldwin. "Trump just overwhelmingly lacks any sportsmanship. He remains bitter and angry," he said Tuesday on Extra. "His policies aside, which you can hate, I thought he would have just relaxed. The maliciousness of this White House has people worried ... that's why I'm not going to do it much longer, the impersonation. I don't know how much more people can take it."
Though Trump has been an omnipresent newsmaker since taking office, Baldwin is still just a sporadic guest on SNL, sometimes leaving the show to scramble for other ways to satirize the new administration when he isn't around. Baldwin's absences are notable; without him, the show's political punches land less cleanly. It doesn't make much sense to argue that SNL should avoid overloading audiences with Trump, since it's certainly the biggest reason they're tuning in. But though SNL producer Lorne Michaels's decision to cast Baldwin (replacing a lackluster Darrell Hammond) in the role last year was a successful gambit, it was obviously one with an expiration date.
Whether Baldwin sticks it out for the rest of the season or not, SNL has no clear replacement for him within the cast. Leslie Jones hilariously satirized this fact in a recent sketch in which she auditioned for the role. Hammond (who retired from the show but occasionally returns as an impressionist) could reprise the role, but his take on Trump related more to the president's role as host of The Apprentice and never quite matched his more rancorous political persona. If there's a great Trump impression amongst the show's ensemble of white male actors (Beck Bennett, Kyle Mooney, Pete Davidson, Mikey Day, Alex Moffat), no one has seen it yet.
Perhaps unsurprisingly, the cast member best suited to the role is probably Kate McKinnon, who is SNL's one undisputed star at this point. But she already has so many topical roles on her plate, and adding Trump to it would only help underline how shallow the show's bench has gotten. Michaels could cast around for another special guest star, or a new cast addition like Anthony Atamanuik—whose no-holds-barred impression has become an internet favorite not only for its technical accuracy but also for its extremely dark humor.
But Michaels has long been wary of adding cast members simply to perform one impression. When Obama was elected, SNL had only one African American cast member (Thompson, who is physically the wrong type for the role). Donald Glover (then a writer on 30 Rock), Jordan Peele (at the time a MadTV cast member), and Jordan Carlos (best known for his appearances on The Colbert Report), three luminous comedic talents who would have vastly improved SNL, auditioned to play Obama. Michaels passed, handing the role to Armisen instead, a decision that seems even more baffling in retrospect.
Whatever ends up happening, SNL will soldier on. Perhaps Baldwin's eventual departure will rob it of some of its viral relevance, though the show has weathered worse ratings and critical drubbings many times before. Now would be the moment for the program to learn from its past mistakes—to not turn the Trump role into a hot potato, but to properly prepare a cast member to step into those shoes, whether they're on the show right now or not. In the past, SNL has treated impersonation-related cast changes as a game-time decision. But today, this is one area where there's no reason to stick to tradition.