Trial and Error Wackily Spoofs the True-Crime Craze
The new NBC series makes a mockumentary out of a poetry professor accused of murdering his wife.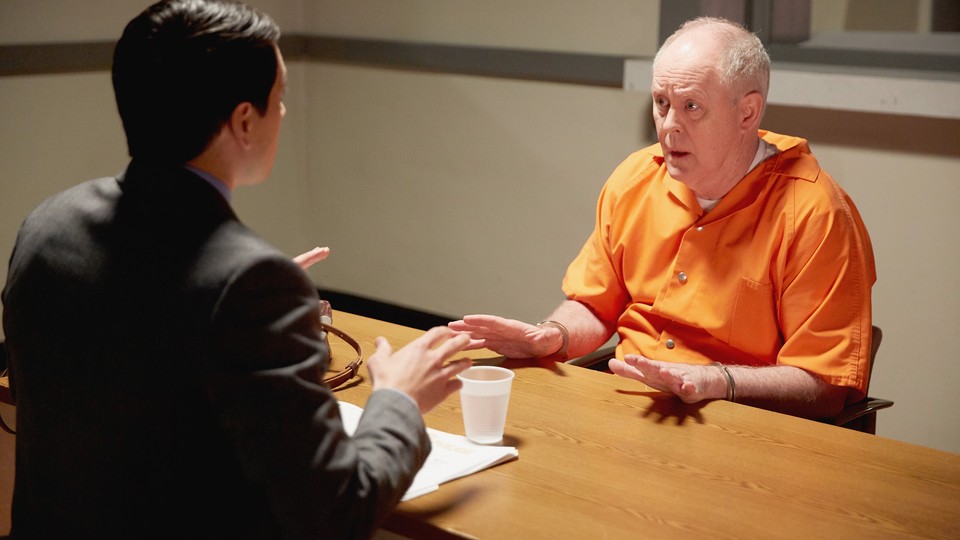 Is true crime, as a genre, really ripe for satire? On the one hand, the recent resurgence of interest in real-life murders thanks to podcasts and documentaries offers plenty of opportunity for comedy gold—think Fred Armisen's shuffling, mumbling Robert Durst in season two of Unbreakable Kimmy Schmidt, or Saturday Night Live's Christmas-themed parody of Serial. But to build an entire series around a murder is a tricky proposition: Either you delicately use humor to illuminate a larger point about trial-by-media and the absurdities of the justice system, or you throw caution (and propriety) to the wind. Trial and Error, a new NBC mockumentary whose first two episodes air Tuesday, mostly does the latter, hoping audiences will laugh enough at its portrayal of a backward southern town that they'll forget the considerably less hilarious nature of the source material.
Trial and Error, created by  Jeff Astrof and Matt Miller, stars John Lithgow as Larry Henderson, a nutty and impulsive poetry professor accused of murdering his wife. It's loosely based on the 2004 French true-crime miniseries The Staircase, which followed the trial of the novelist Michael Peterson. In the opening scene, Larry calls 911 after finding his wife unconscious in their home, but his strange behavior (he puts the ambulance dispatcher on hold while he speaks to the cable company and has a yen for roller skating) soon makes him the prime suspect in her murder. Josh Segal (Nicholas D'Agosto) is the upstart New York lawyer sent to Larry's fictional small town of East Peck, South Carolina, to defend Larry, with roughly 90 percent of the subsequent jokes directed lazily at how retrograde the town is. ("This whole trial is a witch hunt," Josh proclaims in one hearing, before being informed that the witch hunt is actually on November 4.)
Josh's defense team, installed in a local taxidermist's office, includes Dwayne Reed (Steven Boyer), a moron expelled from the police department after he shot up his own car, and Anne Flatch (Sherri Shepherd), a legal assistant afflicted with a bewildering array of real and fake neurological disorders (she can't recognize faces, she tells Josh, but penises are a different story). Josh's soon-to-be nemesis is Carol Anne Keane (Jayma Mays), a power-hungry, sexually frustrated prosecutor who needs a death penalty conviction to secure her run for DA. She's rooting for electrocution, she tells Josh, because it's the kindest method of execution, since "technically, death by a bear is still on the books in this county."
At its best, Trial and Error sometimes feels like a wackier version of Parks and Recreation, being essentially a workplace comedy about a gang of misfits led by an ambitious but well-meaning hero. That show, also on NBC, struggled initially before striking a winning balance between incisive satire and warmheartedness. Trial and Error is blunter in its punchlines, but still frequently charming, mostly thanks to Lithgow's daffy appeal and D'Agosto's genial frustration as the straight man in a room full of kooks. Occasionally, when it stops treating Larry's alleged crime as a punchline and considers his very real grief, the show demonstrates its potential.
It falters, though, in comparison to The Good Place, NBC's unexpected fall hit starring Ted Danson as an angel who welcomes Kristen Bell's undeserving mortal to heaven thanks to a clerical error. That show, created by Michael Schur (Parks and Recreation, The Office), proved how deftly human nature can be explored with comedy that's both sunny and sharp. Within the frame of its conceit, Trial and Error could skewer the justice system, the media's fascination with gory crimes, and the innate prejudice of both institutions, but it seems far more into mocking how inbred and hokey East Peck is. Carol Anne can't find a boyfriend because she has a strict "no first cousins" policy; Josh has to inform Dwayne that the "books" he likes to read in the fifth aisle of the grocery store are actually greetings cards. It's weak humor that quickly starts to grate, especially given the abundance of opportunities within the setup.
The 13-episode series is reportedly framed for potential reboots each year, with Josh and his misfit team set to defend other high-profile murder suspects. With so many new true-crime shows in the offing, Trial and Error will have oodles of cases to lampoon. If it can shift its sights to a more demanding target, there's potential here for a fresh and ingenious new kind of comedy. But it requires sharper writing to make murder funny than the show currently possesses. There's more to satire than simply taking a serious subject and stuffing it full of gags.