The Voice's Empty Promise of the American Dream
The NBC reality singing competition has been selling glittering visions of fame for 11 seasons, but has rarely delivered on them.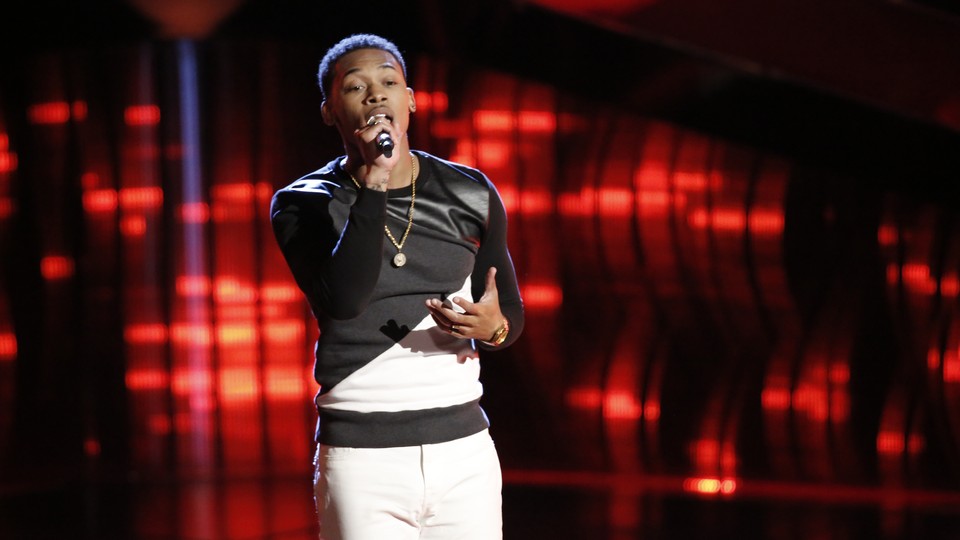 The Voice's auditions are some of the best reality TV you can watch. Early in each new season of the NBC show, celebrity coaches will listen to contestants sing with their backs turned. If coaches like what they hear and want to recruit someone for their "team," they press a button, and their giant red chair spins around for a grand reveal. (If more than one turns, the contestant gets to pick his or her coach.) I see those chairs a-swivelin' in a commercial, and I can't resist Hulu-binging several hour-and-a-half-long episodes of these blind auditions.
Still, I've never made it through an entire season of The Voice. I get enticed by the auditions, and usually stick around through both the battle and the knockout rounds, when coaches pair members of their teams in head-to-head sing-offs. But I always stop watching during the bloated live shows, where couch potatoes actually get to vote for their favorite singers. At that point it's just American Idol-style voting in broadcasts padded with backstage fashion and performances by the coaches, and oh-so-many commercials between contestant performances, and the unique energy has faded. By this, the 12th season, I should really know better.
But the auditions are so compelling because they create moments that feel undeniably real in the way reality TV rarely is. The Voice is as packaged as most, and the banter from the coaches—this season, regulars Adam Levine and Blake Shelton are joined by Gwen Stefani and Alicia Keys—is often stupidly staged. But the moment a coach presses their "I choose you" button and turns around for someone—you can see it in their eyes, the feeling that their life has changed. Even more affecting are the families' reactions backstage. They cry, they cheer, they break down, they attack the host Carson Daly with hugs, overcome with the sight of their loved one making it, often after years of struggling to break through. Watching The Voice blind auditions is like repeatedly stabbing yourself with an EpiPen filled with the diluted essence of the feeling you get watching your little sister open a college-acceptance letter. She made it; she deserves it.
The most heartstring-tugging audition this season was probably that of 23-year-old Malik Davage, who sang Miguel's "Sure Thing." In his intro, he'd talked about growing up in a rough neighborhood, and said of his young daughter, "I just want to do better for her—this opportunity right here means everything to me." Only Levine turned around for him, and as soon as Davage finished introducing himself to the coaches, he doubled over in tears, crying first on Stefani's shoulder, then Levine's. "I'm just a young guy from Washington, D.C., just trying to do what's best for my daughter," he said. Then his daughter toddled out from backstage, reaching her arms up for a hug from her dad, and I was crying, too.
The conceit of The Voice is that because the coaches can't see the contestants when they first audition, the singers are being judged on pure talent. The implicit comparison is American Idol, which had age cutoffs and on which the judge Simon Cowell once made rude comments about a contestant's weight. The Voice is meant to be the softer, cuddlier singing competition. Contestants are added to one of the coaches' "teams," and get mentored, rather than criticized. But at the same time, the show really leans into this idea of the audition as a "make-or-break" moment for the contestants—the moment that, thanks to the benevolence of The Voice, the American Dream fulfills its promise to them.
Contestants with stories of hardship, like Davage's, are played up during the auditions, as if to remind viewers that in America, struggle can be transmuted into success through one golden opportunity. "Dreams" are constantly invoked by name. Stefani pleads with a young girl to choose her as her coach by saying "Blake has never lived your dream the way I've lived your dream." Missy Robertson, an employment specialist who quit her job for The Voice, said before her audition, "I've spent a long time helping other people find jobs, and today is my day to get my dream job." She was eliminated in the battle rounds.
"Coming up, a family man takes one last shot at his dream," is the way Daly introduces one contestant this season, Josh Hoyer. This is a strange thing to say, considering Hoyer is already a working musician, with a band, Josh Hoyer & Soul Colossal, that has toured internationally. This isn't to criticize Hoyer, or the many other contestants over the years who already made a living through music, for striving for more. But it is to criticize the show for reinforcing the pernicious idea that moderate success doing what you love is not the modern American Dream—superstardom is.
"Survey research from the United States has revealed that becoming famous is now viewed as a key part of the American dream," writes Timothy Caulfield in his 2016 book Is Gwyneth Paltrow Wrong About Everything?: How the Famous Sell Us Elixirs of Health, Beauty & Happiness. For the book, Caulfield went to an American Idol audition and found that "the vast majority [of those auditioning] seem to be swinging for the fences. Big-time fame is the goal."
But unlike American Idol, The Voice has yet to prove that it can help deliver big-time fame to anyone. Some previous winners like Cassadee Pope, Danielle Bradbery, and Sawyer Fredericks  have released records, and last season's winner, Sundance Head, is going on tour with his coach Blake Shelton, but there's nary a Kelly Clarkson or Jennifer Hudson to be found among The Voice's graduating classes. Six years and 12 seasons of The Voice have yet to produce a star with the visibility or name recognition of Idol's biggest hitters.
"The Voice suffers from an obvious storytelling glitch," Paul Brownfield wrote in a 2014 Billboard cover story on the show. "As a dream factory, it has anointed six winners—and they've all since vanished like loved ones on The Leftovers." Rather, he writes, the show provides the most benefits to the already famous musicians who serve as its coaches. To some degree, the contestants are just fuel on the fire of the coaches' celebrity. Stefani, for one, successfully used the platform of The Voice to boost her comeback, performing singles from her first solo album in 10 years on the show, and recording a duet with her fellow coach Blake Shelton. (She and Shelton started dating in 2015 after meeting on The Voice, and the show could not possibly be playing that fact up more this season.)
That's not to say there are no benefits to the contestants—the mentorship of an established, bona-fide famous musician is not to be discounted. And that relationship may well open doors for them after the show, even if it doesn't lead to any chart-topping hits. Still, The Voice is "better viewed as a TV show that offers wannabe stars a finite lifespan rather than a launching pad to everlasting fame," as Maura Johnston wrote in Dame Magazine in 2013. While other reality competition shows like America's Next Top Model and Project Runway haven't given many people fame beyond the finite lifespan of their shows either (with Christian Siriano of Project Runway as one notable exception), they also make smaller promises—a little visibility, a little money, and a little career boost if you win.
Even within that finite lifespan, The Voice is not the pure meritocracy it would like to present itself as. "You could win this whole thing," Levine, with his transparent smarm, promises almost everyone he turns for during the auditions, and it's the same promise that draws the contestants to the show, that drives any person with a dream. Sure, you could technically win "the whole thing," whatever "the whole thing" is to you, just like you do have a chance at winning the lottery. But the contestants don't necessarily realize that he's diluting that statement through endless repetition. Surely they're taking some of these promises with a grain of salt, but even for experienced singers, it must be hard not to be disarmed when Levine compares you to Prince and says "you are the number-one priority on Team Adam if you come to me," as he did to Kawan DeBose this season. DeBose picked him, and Levine's promise turned out to be an empty one—DeBose was eliminated in the battle rounds, when Adam chose Davage over him.
In the way the audition broadcasts are edited, the show is already privileging some contestants over others by giving them more screen time. Some auditions don't get shown in full on TV, whether because the performances are less compelling, or the backstories are insufficiently sad, or the coaches' post-performance banter is insufficiently interesting. You'll get just a snippet of these contestants singing, and a "Gwen also picked up So-and-So," before the show moves on. The same is true for the battles, where some get a summary, but aren't actually shown. This hurts those barely seen contestants, even if they do make it to the live shows where viewers vote for their favorites—the audience hasn't gotten the same chance to love them. Although "America" ultimately chooses the winner, the machinations of the auditions, battles, and knockout rounds before voting even starts keep it from being a completely democratic process.
And in the battle and knockout rounds, there's a dissonance between the warm and fuzzy mentorship of both the coaches and the celebrity advisers they bring in (like John Legend and Céline Dion), and the fact that these rounds are designed to have two team members face off, and make their coach choose between them. The Voice is a competition, sure, but the meritocracy is again undermined by the fact that these battles aren't always a fair fight. In one of Shelton's battles, 14-year-old Brennley Brown was paired with the more experienced 25-year-old Lauren Duski—who, according to her website, has opened for established country acts in the past with her band. (Brown lost, but was stolen by another coach.) Emily Yahr at The Washington Post has previously pointed out that because, unlike American Idol, The Voice doesn't require contestants to be amateur singers, "people with lots of show business experience have an unfair advantage." The Voice, much like the real world, offers some an easier path to the fairytale ending than others.
Of course, after 11 seasons of fizzle-outs, it doesn't look like The Voice is in the business of really making superstar dreams come true. But it has perfected the art of selling the glittering El Dorado promise of the American Dream, a myth so enticing that it still draws seekers, though all evidence suggests they probably won't find what they're looking for.