The UConn Huskies Make Perfection a Thrill to Watch
The unparalleled University of Connecticut women's basketball team is hoping to claim its fifth NCAA Tournament championship in a row—an outcome that seems all but inevitable.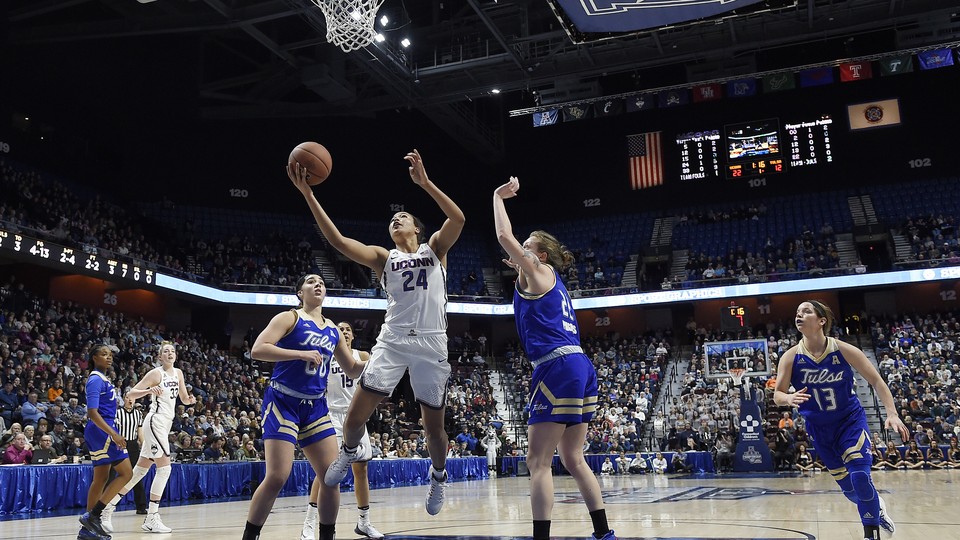 Among the most dominant teams in sports—the NFL's New England Patriots, the NBA's San Antonio Spurs, the United States women's soccer team—the University of Connecticut's women's basketball program stands alone. The Huskies have won 107 straight games, spanning three seasons. They have claimed four straight national titles. Even after losing Breanna Stewart, the three-time player of the year who graduated last spring, they feature three finalists for this season's award; no other school has more than one. Contemporary comparisons fall flat: To put UConn's current run in perspective, you'd have to turn to the great UCLA men's basketball teams of the '60s and '70s, who won 10 championships, or leave the realm of athletics altogether. The Huskies are to women's basketball as New York is to skylines, as Paris is to pastries. They are not so much contestants as standard-bearers.
Saturday morning, UConn will open its pursuit of a fifth consecutive championship with a first-round NCAA Tournament matchup against Albany. The Huskies will almost certainly win, and so will likely begin another chapter of success both expected and unprecedented. They figure to coast into the later rounds and, even if they encounter some drama there, to prevail. Their predictable triumphs have led to charges from some corners that they are bad for their sport, that they hog glory and tamp competition. But while UConn's preeminence might prohibit some of the raw excitement that defines the men's tournament—upsets abounding, brackets busting—it also lets fans see something much rarer: sustained and total mastery, perfection as a near-permanent state.
Late in the third quarter of a December game that qualified as a nail-biter by UConn standards—the Huskies led fourth-ranked Maryland by only 13—Katie Lou Samuelson, a remarkably accurate three-point shooter and the team's leading scorer, faced a double-team behind the arc. Coolly, she slipped a pass to the do-everything forward Gabby Williams at the free-throw line. Williams in turn faked a shot, drew the defense outward, and rifled the ball to center Natalie Butler for a layup. In a matter of seconds, with a couple of tic-tac-toe passes, a precarious position had become an easy one, and the basket came with a message: The Huskies could score whenever they pleased.
It was a representative play, mirrored and added to by hundreds more over the course of the season. The Huskies boast plenty of talent, to be sure, but they do not win by way of one-on-one heroics. Rather, they overwhelm with correctness. Their players cut constantly, share cheerfully, and seem to enjoy the geometry of playing more than the points that come as a result. Their individual gifts—Samuelson's shooting stroke, Williams's precise (almost psychic) passing, the freshman point guard Crystal Dangerfield's blazing speed—are leveraged for each other's benefit. In the Huskies' possession, the ball whirls from side to side and inside and back out, each movement an advance or misdirection. To call their style "clockwork" would be to insult it. They play like an ecosystem: fluid, adaptive, and, to opponents at least, only superficially knowable.
The head coach Geno Auriemma, who looks about 50 but will turn 63 during this year's tournament, talks about his team with the giddy wariness of a CEO presiding over a period of unexpected growth, whose priorities have shifted from building prosperity to maintaining it. "Fear paralyzes you, and desire to win inspires you," he said in a recent ESPN interview. "We talk about eliminating that fear." Even as the Huskies extend their records with each win, he prefers that the players focus on shorter-term goals. "The 100-win streak isn't all theirs," Auriemma said after UConn beat South Carolina in February to set the mark, "They carried the streak across the finish line. But if they win the national championship, it's all theirs."
Few coaches in any sport would dare speak that openly about such high objectives, and the fact that Auriemma and UConn are in a position to do so rankles some. Whenever a new record is broken or championship won, pundits wonder whether one team's dominance stifles the growth of women's basketball on the whole. "The UConn women are so good they have stripped their sport of all drama and competition and made it similar to performance art," wrote the Boston Globe's Dan Shaughnessy last March, when the Huskies were on the cusp of yet another title. "Sports are supposed to be a contest, not a violin recital," added The Guardian's Dave Caldwell.
Such arguments, though, underestimate the breadth of what sports can be. Back-and-forth struggles and Hollywood comebacks thrill, to be sure, but so does peerless excellence. Watching the Huskies disassemble their opponents, every cut and drive and bounce pass calibrated, brings to mind that class of athletic superhero that includes Babe Ruth, Muhammad Ali, and Serena Williams. Certain figures and teams make the excitement of a close scoreboard seem cheap. The real joy is in simply seeing them move.
"It's not the number, really, that's so special," Gabby Williams said after the hundredth straight victory. "It was the environment, the fans, the alumni being here, the amount of coverage we had, and how many people were watching the game. That's what was special for me." For players and spectators alike, UConn basketball is sport-as-festival, a celebration of what the game can be when played at its highest level. The how matters more than the what; all those gaudy numbers only make the magic official.
As if in response to their detractors, this year's Huskies are not quite untouchable. Slipped in among the blowouts—a 49-point win over the University of Houston, a 66-point win in their conference championship game against the University of South Florida—are a couple of close calls. In the third game of the season, UConn edged Florida State by only a basket, and a February visit to Tulane, a team they had walloped by 44 earlier in the year, produced just a three-point victory. The statistical website FiveThirtyEight gives the Huskies a 52 percent chance to win the tournament, and while that's more than double the odds of the second-likeliest team (and more than triple the odds of the men's favorite, Villanova), it suggests that the other entrants have a shot.
That will be something to keep in mind if the Huskies cap a perfect season with another trophy. Some will call it boring and grumble about competitive balance and the need for a real challenge. But it will not have been easy for UConn, as it hasn't been for all these years—it will only have looked that way.