The Hate U Give Enters the Ranks of Great YA Novels
The bestselling young-adult book by Angie Thomas looks at police violence through the eyes of a teen girl.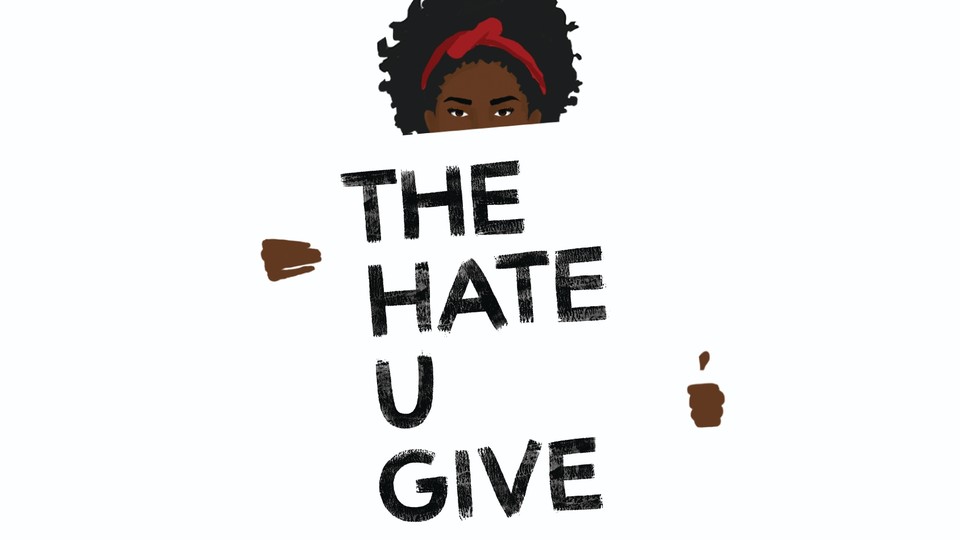 "They finally put a sheet over Khalil. He can't breathe under it. I can't breathe."
The last words of Eric Garner, adopted and amplified by the Black Lives Matter movement, echo again in the early pages of Angie Thomas's young-adult novel The Hate U Give. By the time she's 16, Starr Carter, the protagonist of the book, has lost two of her childhood friends to gun violence: one by a gang drive-by, and one by a cop.
As the sole witness to her friend Khalil's fatal shooting by a police officer, Starr is overwhelmed by the pressure of testifying before a grand jury and the responsibility of speaking out in Khalil's memory. The incident also means that the carefully built-up boundary between Starr's two worlds begins to crumble. For years, she has spent her weekdays at a private, majority-white school, where she explains, "I'm cool by default because I'm one of the only black kids there." Back at home, she lives with her father "Big Mav," a former gang-member who wants to make their crime-ridden neighborhood a better place, and her mother Lisa, who wants to move away in order to keep her family safe.
Now in its third consecutive week at number one on The New York Times bestseller list for young-adult novels, Thomas's debut novel offers an incisive and engrossing perspective of the life of a black teenage girl as Starr's two worlds converge over questions of police brutality, justice, and activism.
Thomas's book derives its title from the rapper Tupac Shakur's philosophy of THUG LIFE—which purportedly stands for "The Hate U Give Little Infants Fucks Everybody"—and it's a motif the novel returns to a few times. The acronym tattooed across Tupac's abdomen could be read as an embrace of a dangerous lifestyle. But, as Khalil explains to Starr, just minutes before the cop pulls them over, it's really an indictment of systemic inequality and hostility: "What society gives us as youth, it bites them in the ass when we wild out."
This question of appearance versus reality recurs throughout The Hate U Give. Starr, familiar with perceptions of her neighborhood, community, and herself, code-switches to adapt to her environment and others' expectations. After the shooting, a new narrative—one that paints Khalil as a drug dealer threatening a cop—surfaces, but an emboldened Starr challenges this simplistic framing of her friend. The novel goes on to raise cogent and credible counter-arguments to the flattening narratives often presented by authorities and echoed by many media outlets in shooting cases involving young black males.
As a book written for teens, The Hate U Give reminds readers of just how often racialized violence is carried out against that age group (Michael Brown was 18 when he was killed; Trayvon Martin was 17; and not-yet teen Tamir Rice was 12). And it illustrates how young people of color who might speak out to defend their late friends are unfairly criticized, as happened to Rachel Jeantel when she testified against her friend Martin's killer, George Zimmerman. Thomas's novel keenly understands the dangers of defaulting to the cop/vigilante versus "thug" framing device: The deceased get put on trial, rather than their killers.
The Hate U Give has many of the markers of a typical young-adult novel, too: At times, Starr feels judged and out of place in school, she's navigating a friendship with a "mean girl," and is a year into her first real romantic relationship. But each of these plotlines is inevitably complicated by race. For example, Starr hides her white boyfriend from her father. "I mean, anytime he finds out a black person is with a white person, suddenly something's wrong with them," Starr explains. "I don't want him looking at me like that." She's wary, too, of sharing her role in the investigation at school because she doesn't trust one of her closest friends to be sympathetic to her situation, and she feels self-conscious about the easy stereotyping of her neighborhood as "the ghetto."
Thomas's intimate writing style and the novel's first-person perspective taps fully into Starr's shock, pain, and outrage during the shooting and its aftermath. As a result, The Hate U Give allows some readers to see the complexity of their lives mirrored in literature; for others who may be removed from Starr's experience or haven't lived through similar tragedies, it can help generate deeper understanding.
In addition to being an engagingly written story, Thomas's novel is a vital new contribution to the white-dominated publishing industry. Lee and Low Books's 2015 Diversity survey found that about 80 percent of industry respondents were Caucasian. And while the number of black characters in children's books has grown over the past decade, the Cooperative Children's Book Center found that the number of books written by black authors has held relatively steady. In 2016, out of 3,400 new children's books counted, 278 were about African Americans—a record for 12 years of surveying. But, out of the thousands of books the center receives, the number of African American writers has hovered between 70 and 100 for the same time period.
Appealing to readers across age, not just race, is a goal for Thomas as well. In a recent interview with Cosmopolitan, she explained, "'Young adult' is a critical age, and I knew that if I showed Starr going through these types of things, I could provide a mirror for some young adults and a window for adults—a lot of [whom] read young adult books—who might bring open hearts to a story that I told from her perspective, when they might normally look at a topic like this and say, 'No.'" But thanks to Thomas's absorbing storytelling, those who read The Hate U Give will be right beside Starr, grappling with understanding entrenched prejudice, where it comes from, and what role she—and those at home—have in exposing and combatting it.