The Ethical Minefield of Missing Richard Simmons
Who, in the 21st century, has the right to be left alone?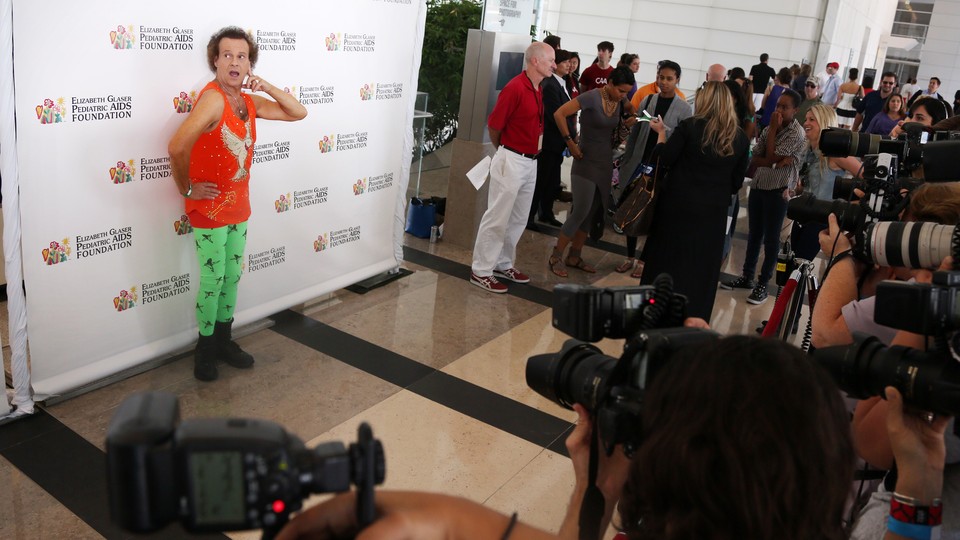 Richard Simmons, by his own account, and by the accounts of his brother, his manager, his publicist, and officers in the Los Angeles Police Department, is fine. The former home-fitness guru and television personality is not being held hostage by his housekeeper, nor is he suffering from debilitating depressive episodes. But he does want to be left alone, to live quietly and privately, out of the public eye. Which makes the conclusion of the podcast Missing Richard Simmons—which released its final episode early on Monday—so perplexing. "I can't say that Richard feels better as a result of the podcast," Simmons's manager, Michael Catalano told the podcast's host, Dan Taberski. "Perhaps you do. I think you've really created more worry and speculation."
This heightened focus on a subject who's repeatedly expressed a desire for privacy is an odd thing for someone who describes himself as a personal friend of Simmons, as Taberski does, to initiate. It also speaks to the wobbly lines defining exactly what Missing Richard Simmons is: part documentary series, part gossip column, part intervention from a purportedly concerned acquaintance, all done in the most excruciatingly public way possible. Taberski, a producer who previously worked on The Daily Show, doesn't seem to think of himself as a journalist, but he undertook journalistic work in investigating why Simmons might have decided to recede from public life, interviewing family, friends, and hardcore fans over the course of several months. He ambushed Simmons's brother at his home in New Orleans. He showed up uninvited at Simmons's own house, asking to see him, and was turned away. ("I'm creepy. I'm a creepy friend," he confessed during the stunt.)
Taberski did all this seemingly without wondering what effect it might have on his subject to be thrust back into the public eye, three years after he deliberately withdrew from it. He rehashed questions about Simmons's sexuality, his mental health, and the rumor that he was transitioning from male to female. He weighed his subject's desire for privacy with his own desire for information and closure, and decided that the latter was more important.
Only Simmons can ultimately conclude whether this makes Taberski a bad friend. The Society of Professional Journalists' code of ethics, though, offers fairly definitive proof that he's broken numerous reportorial rules. The six episodes of Missing Richard Simmons are instructive in that sense, showing someone unused to reporting grappling with allegations and counterallegations, trying to shape a story that keeps changing in real time. They demonstrate how quickly media has evolved—how virtually anyone with a cellphone can become a broadcaster of news, or a filmmaker, or a reporter. But they also prove that figuring out how to minimize harm along the way is a lot more complex.
* * *
Missing Richard Simmons sets its own tone right away. Taberski, not much of an exercise guy by his own admission, recalls how he grew up watching Simmons goof around on TV, sampling interviews Simmons did with David Letterman and Ellen DeGeneres. In adulthood, after learning that anyone could exercise with Simmons at his "rickety one-room studio" in Beverly Hills, Taberski pays $12 for a class, where things take a strange turn. "In less than 30 minutes," he recounts, "I find myself bare chested, surrounded by step-clapping, middle-aged women, as Richard wipes the sweat off my torso with my t-shirt, and then shoves it down his shorts. The entire class is 90 minutes of that."
Taberski is an engaging and absorbing storyteller, conveying a sense of Simmons's manic and all-encompassing charisma, as well as his documented eccentricities. He recalls how he and Simmons became friendly, and how they had dinner at his house, where they seriously discussed Taberski making a documentary about him. Then, in less than four minutes, he gets to the point. On February 15th, 2014, Simmons didn't show up to class. This happened again the next day, and the next, until after months of his not showing up and not responding to messages from his numerous devotees, it became clear that he wasn't coming back.
"Three years ago to the day, Richard Simmons completely and inexplicably stopped being Richard Simmons, and I want to find out why," Taberski says—as clear a mission statement as he'll offer. His primary motivation, he explains, is that getting to know Simmons only stoked his existing fascination with him. Plus, he adds, there's the fact that people are worried about him.
As framed, it certainly seems like a remarkable story. What could compel one of the most outgoing personalities in American media to abruptly become a recluse? While Simmons isn't the first celebrity to shun the spotlight, the suddenness of his shift—from courting the cameras to wanting to be alone—was striking. Then, there are the more salacious allegations that have swirled around Simmons since they were reported in a Daily News story in 2016—claims from his former masseuse, a Brazilian artist named Mauro Oliveira, that Simmons is being held as a virtual hostage by his controlling housekeeper, Teresa Reveles.
There is, however, still the question of consent. Simmons, up until the last three years, was indisputably a public figure, but all his actions since have indicated his desire to be a private citizen. "Just because Richard Simmons was a flamboyant and bold public figure, doesn't mean he needs to remain that way throughout the entirety of his life," Katy Culver, the director of the Center for Journalism Ethics at the University of Wisconsin-Madison, told me. "If ... he just decided enough was enough and he wanted to retreat, that's a decision he gets to make; that's not a decision a podcast author gets to make for him."
Taberski states that he was pitching Simmons on a documentary project about his life. Simmons, presumably, either declined to be part of such a project, or stopped responding to queries about it. And then Taberski went ahead with it anyway. "I had decided to start shooting it as a documentary project, shooting it myself," he told Vogue's Julia Felsenthal. "I was just too curious and there were too many people who were worried about him. I met with the people at First Look Media who produced Spotlight, Citizenfour. They said, oh, this is a podcast."
But does it also qualify as journalism? Culver thinks it doesn't matter. "I try to avoid putting that label on things," she told me. "I'm a big fan of the argument that we're in this time where there should be an ethics of public communication, not just an ethics of journalism … All of us have the means to publish, so we all have the responsibility that goes along with that." Regardless, though, listening to Missing Richard Simmons made Culver uncomfortable, so much so that she chose not to listen beyond the first episode. "I felt that, through listening, I was maybe contributing to something that should not be happening the way it was happening," she said. (We've reached out to the producers of Missing Richard Simmons for comment, and will update if they have a response.)
Culver cites the way Taberski plays up the mystery of it all, and his emphasis on the more titillating aspects of the story. In the second episode, he goes into detail about Simmons's mental fragility, his habit of frequently bursting into tears and baring his soul in class with alarming abandon. He teases a charge of elder abuse against Simmons reported to the LAPD, which he explores more in the third episode, an in-depth catalog of Oliveira's allegations against Reveles. In that episode, Taberski states plainly that Simmons has never discussed his sexuality in public, and that he also isn't going to do so, but he precedes the statement by clarifying that Oliveira was Simmons's masseuse, and he follows it by emphasizing that their relationship was "bigger than just employer/employee. They were close. They hung out. My husband Jay and I went on a double date with them once. They traveled together for pleasure." The implication is clear.
Taberski replicates this dance throughout the six episodes: raising a provocative subject, implying that it's unethical to delve into it, and then basically doing so anyway. In the fifth episode, he rehashes rumors reported by The National Enquirer that Simmons is transitioning, while also stating that he doesn't believe them. The option of simply not reporting them in the first place doesn't appear to occur to him. Ditto summarizing the rumors that Simmons is suffering from severe depression, or may have gained all the weight he so famously lost. Even Simmons's 2016 phone call to The Today Show, prompted by the Daily News story, and during which Simmons assures Savannah Guthrie that he's happy and healthy and just doing what he wants to do, as he's always done, doesn't convince Taberski to leave him alone. "Look, Richard Simmons should spend his time any way he wants," Taberski says. "I really believe that. But all he has to do is say goodbye. Why won't he give that to people?"
* * *
This is, to my mind, one of the most troubling aspects of the podcast. Taberski, by his own admission, is using it to try to force some kind of response from Simmons—a final goodbye for his thousands of devoted fans, who've come to rely on him for their own mental equilibrium. In the fifth episode, Taberski teases some kind of stunt, possibly involving throwing an item over a wall of Simmons's house, or a confrontation with Reveles. But it never happens. "A lot of people thought we were joking when we said we didn't know how Missing Richard Simmons was going to end," Taberski says. But, in the end, "a lot of stuff ... got the boot," including the aforementioned dramatic intervention, and a reveal about Oliveira that had previously been teased. Taberski doesn't explain why, beyond saying that he wanted to be "true to the story, and where it went."
And where it went was, after all that, where it started. Simmons is, as his manager and his brother have both assured Taberski, doing fine. He simply wants to not be Richard Simmons the personality anymore—wearer of spandex, shrieker of show tunes, emotional supporter of countless Americans. Taberski seems tentatively convinced, but has no regrets. He offers no substantial explanation for why he changed his mind about whether Oliveira's allegations were trustworthy (the Daily News story, for the record, notes that in 2015, long after Oliveira had last seen Simmons, Oliveira asked Simmons's accountant for money, and was declined). Nor is there specific walkback on Oliveira's allegations against Reveles, which included that she practiced witchcraft and exercised mind control over Simmons, although Taberski does own that, "Based on all this information, I believe that Teresa Reveles is just doing her job."
In the last episode, too, the lines between entertainment and reporting get even more blurred. Hollywood has long perpetuated the idea that dramatic, stalkerish gestures will inevitably earn a happy ending, as my colleague Megan Garber has written. For six weeks the public got to see Taberski test this theory, as he collected account after account from Simmons's devotees, all of whom missed him dearly. "Richard really digs a grand gesture," he says. "Foolish or not, this podcast was my grand gesture to Richard. And I was hoping it would be impossible to ignore." In other words, the podcast was intended to provoke a public reaction from Simmons: to shake him out of his solitude.
Again and again, Taberski expressed his belief that Simmons owed all his friends a proper goodbye; that, having given them so much of himself for so long, it was churlish of him to just leave without warning. "What if the person who spent a decade saving your life told you that they want you to pretend it never happened? I think that's how some people feel," Taberski asked Simmons's manager, Michael Catalano. "I don't think he's asking any of them to pretend it never happened," Catalano countered. "I think he's just asking them to understand that it no longer is. And to please respect it."
It was a totally predictable conclusion. But missing from all the debate over who was owed what was any acknowledgment of Simmons's desire to be left alone in the first place. Now, a precedent has been set. Missing Richard Simmons was, during its short lifespan, the #1 most downloaded podcast on iTunes. This week, Richard Simmons is on the cover of People. The most intimate details of his life have been rehashed all over again to a bigger audience than Taberski or Simmons could have ever imagined. Countless news articles—including, yes, this one—are analyzing the contents of the podcast's six episodes, and thus perpetuating the ongoing media focus on Simmons.
In the final episode, Taberski indulged in a minute amount of soul-searching. "If he is fine," he wondered, "what does that make me? The guy who just can't get himself to believe it?" His focus, once again, was misdirected.