The Enduring Legacy of the Pocahontas Myth
Four hundred years after her death, misperceptions of the Native American icon continue to shape the cultural image of indigenous peoples—though that's starting to change.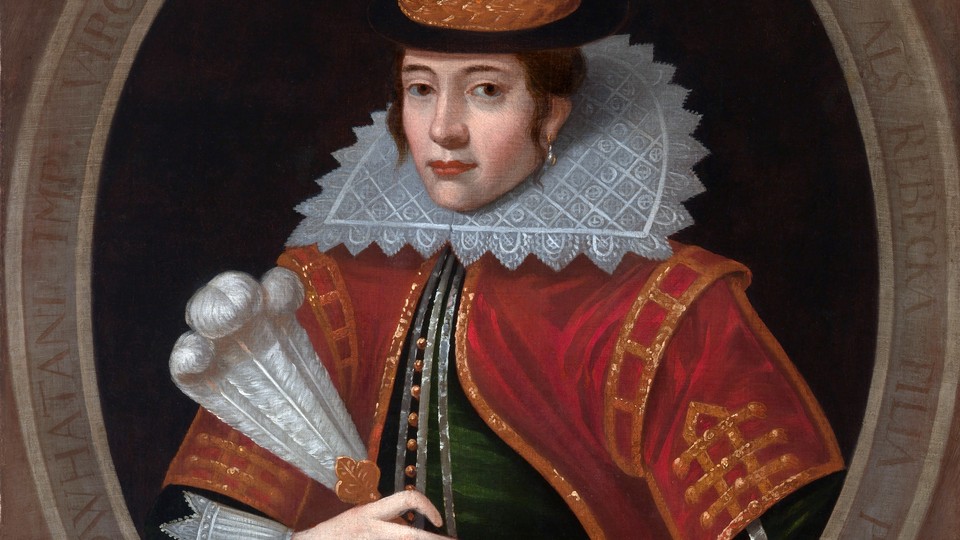 On March 21, 1617, a 21-year-old woman from Virginia's Pamunkey tribe died at Gravesend, England. She went by many names—Matoaka, Amonute, and, at her passing, Rebecca—but she's best remembered today as Pocahontas. Her death was unexpected: Pocahontas had arrived in England the previous June and spent months touring the country, celebrated by the press as an "Indian princess." Pocahontas's tale of trans-Atlantic travel, her marriage to the Englishman John Rolfe, and her alleged conversion to Christianity became part of a compelling cultural narrative that helped promote white colonial interests, especially in the Virginia Company.
Despite the brevity of her life and the mystery surrounding the cause of her death, Pocahontas remains one of the most recognizable Native icons in American culture today. Hollywood movies have portrayed her as royalty—or as Smith referred to her in his 1616 letter to Queen Anne, "Lady Pocahontas"—whose dramatic act of self-sacrifice saved the lives of Smith and the settlers at Virginia's Jamestown colony. This story of romantic heroism—the stuff of legend—has defined Pocahontas's image for centuries. Crucially, these early 17th-century descriptions of the young Pamunkey woman established a cultural template for European and white American representations of Native Americans. Whether Pocahontas, or Lewis and Clark's faithful guide Sacagawea, or the quintessential sidekick Tonto, indigenous people have appeared in a variety of cultural productions as mere props in the larger drama of colonialism in North America.
Today, Native portrayals in Hollywood continue to be mediated largely by non-Native writers and filmmakers to widely varying effect, in shows such as Fargo, Unbreakable Kimmy Schmidt, and Longmire and in films like The Revenant, The Ridiculous Six, and The Lone Ranger. But things have begun to change. Over the past generation, Native American creators have found ways to tell their own stories, often by going the independent-cinema route and organizing their own film festivals, including the upcoming Pocahontas Reframed Film Festival in November. And as the festival's title indicates, almost any Native effort to reclaim the cultural image of America's indigenous peoples must grapple with the 400-year-old legacy of the stubborn Pocahontas myth.
* * *
Many Americans would likely claim familiarity with the life of Pocahontas, despite the absence of evidence to back up some of the more popular details of her tale. For starters, it's not clear that Pocahontas ever met Smith, much less saved his life. During the 17th century, Pocahontas was a common name among the Pamunkey, the largest and most powerful community in the once-mighty Powhatan chiefdom. Smith himself didn't mention Pocahontas in his initial accounts of the Powhatan Indians. Not until Pocahontas's tour of England did Smith begin romanticizing his encounter with her, which he later elaborated on in his 1624 book, The Generall Historie of Virginia. In this book, Smith, whose credibility has been debated by historians almost from the start, planted the seed of a legend that continues to thrive.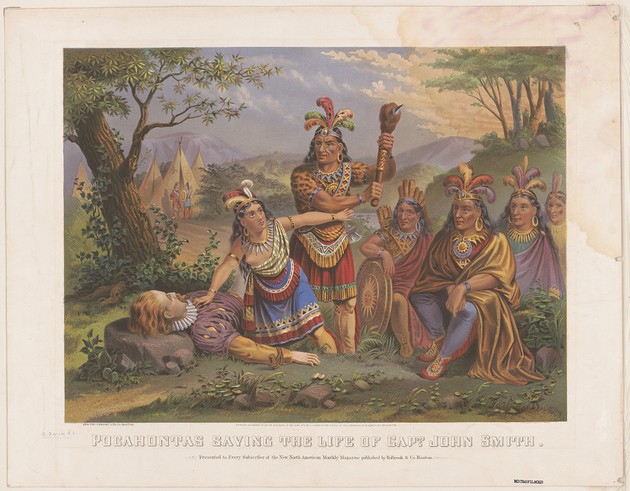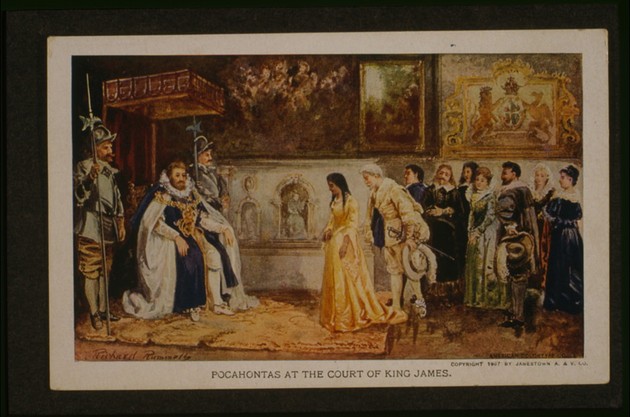 While Pocahontas did marry the Virginia colonist Rolfe and gave birth to a son, Thomas, there's no archival evidence that she ever converted to Christianity or was baptized. If Pocahontas did express an interest in Christian values, those expressions were more likely examples of her acting as a diplomat for her people and trying to bind the English to trade networks dominated by the Powhatan—contrary to the pure enlightenment narrative peddled by the British press at the time.
Pocahontas's diplomatic engagement with the English came at a time of widespread mistrust and violence in Anglo-Indian relations, something Pocahontas experienced firsthand when the English abducted her in 1613. For the early English settlers, too, the Jamestown colony was a site of privation and extraordinary brutality. The English needed all the help they could get if the colony hoped to not only survive but also to grow its population and financial investments. And so for the Virginia Company, a joint-venture company that founded Jamestown, Pocahontas became the perfect marketing tool.
Her tale became so compelling, in fact, that for a short time in the late 19th and early 20th centuries, Pocahontas's Pamunkey descendants used her legend as a means of asserting their Native identity. The Pamunkey Players acting troupe, for example, recreated the story of Pocahontas saving John Smith at the 1907 Jamestown Exposition. In 1928, Pamunkey Chief George M. Cook spoke wistfully about Smith being "rescued by little Snow Feather, better known as Pocahontas." But by the latter half of the 20th century, the tribe recognized that it had unreflectively embraced a historical narrative popularized by colonizers. As Robert Gray, the tribe's current chief, recently told me, the Pamunkey eventually acknowledged that they'd gone too far in perpetuating the Pocahontas myth and finally put it "back in the attic."
* * *
Less interested in dispensing with the myth were American film studios, which embraced Pocahontas starting in the earliest days of Hollywood. During the silent era, movies such as Pocahontas (1910) and Pocahontas and John Smith (1924) featured the "Indian princess" saving and falling in love with the first Englishman she met. Such films portrayed the English settlers in a heroic light while using white actors in "red face" to represent Native characters, similar to how white performers wore "blackface" and "yellowface" to play African American and Asian roles.
During the Cold War, much of the Western genre and adventure films like Captain John Smith and Pocahontas (1953) reinforced images of Native American simplicity and savagery. But few movies in more recent decades have done as much to perpetuate Native American stereotypes than Disney's animated Pocahontas (1995). Like its sequel Pocahontas II: Journey to a New World (1998), Pocahontas is a glib rewriting of a much more complicated reality, notably transforming a child who would have been between 9 and 12 years of age into a Barbie-like object of sexual desire. It's a fantastical tale in which Pocahontas sings and talks with the flora and fauna and falls more deeply in love with Smith before saving him from death at the hands of Powhatan warriors. A similar narrative (minus the singing and animal sidekicks) drives Terrence Malick's acclaimed 2005 film, The New World, suggesting such revisionism still has a place in Hollywood in this century.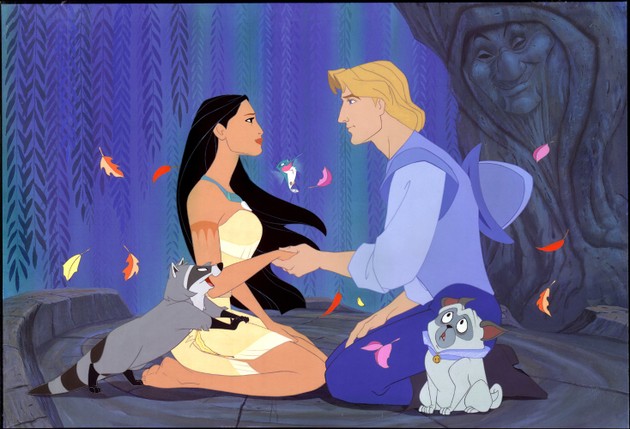 With so few well-known, realistic images of Native people available today, Pocahontas remains stuck as a symbol—whether as an agent of peace or an object of mockery. President Donald Trump, for example, has continued to refer to Senator Elizabeth Warren as "Pocahontas" in reference to her claims of Cherokee ancestry, with some Native American groups noting his slur-like usage of the name. As the historian Kathleen DuVal told me, the Pocahontas myth has been used by Americans "to justify English (and later U.S.) conquest of Virginia and North America." The consequences of that conquest remain evident today, most recently in the thwarted tribal efforts to halt the completion of the Dakota Access Pipeline through sacred land in the Standing Rock Indian Reservation. Reflecting on the shadow of colonialism in the lives of Native Americans, the Cheyenne and Arapaho filmmaker Chris Eyre told me, "Pocahontas is alive at Standing Rock."
Given that fewer than 1 percent of Hollywood films feature Native characters—to say nothing of behind-the-camera hiring—it's no surprise that the singular image of Pocahontas both dominates and endures. Artists like Eyre, who's among the organizers of the Pocahontas Reframed Film Festival, have been working to fix this vacuum of meaningful Native portrayals in American culture. Another festival organizer, the Cree actor and filmmaker Georgina Lightning, told me she saw virtually no indigenous role models in movies or on TV during her childhood, with Natives so often shown in "leather and feathers." Her 2008 film Older Than America, which tackled the legacy of boarding schools in Native communities, joins other powerful examples of indigenous storytelling—including 2001's critically and commercially successful epic drama Atanarjuat: The Fast Runner and the Cree filmmaker Neil Diamond's 2009 documentary Reel Injun.
In the face of Hollywood inaction, festivals like Pocahontas Reframed can do a lot to combat the relative invisibility of indigenous peoples. Joining older efforts such as San Francisco's American Indian Film Festival, Pocahontas Reframed will show Native short and feature-length projects, as well as documentaries; fittingly, it will take place in Richmond, Virginia, near Pocahontas's birthplace. As the Pamunkey tribe's chief Gray told me, the event is a singular opportunity for Native filmmakers to "tell our own story" to the world. Eyre, whose films such as Smoke Signals (1998) and Skins (2002) have used all-Native casts and crews, also said he hopes the works screened at Pocahontas Reframed will help weaken Hollywood's current monopoly on Native American representation. For her part, Lightning said she wants the festival to ultimately become "the Oscars of Indian Country."
Pocahontas, meanwhile, is being celebrated—and remembered—much differently across the Atlantic in the English town where she was laid to rest. Throughout 2017, Gravesend is hosting a series of events that frames her story in a Disney-esque, romantic light. "Pocahontas was a remarkable young woman, who set out, on a small craft, across storm-tossed seas to promote how despite differences, we can live, function, and adapt for that cause of peace through unity," said Jordan Meade, a councilor in the borough of Gravesham. Native American media have criticized the commemoration for continuing to promote historical inaccuracies. That such a stark divide continues to exist after 400 years suggests there's still work to be done before Pocahontas can be the most famous figure in Native American history without also being the most misunderstood.