The Bachelor Gets Political
The show's seasonal The Women Tell All special could be read as a cocktail-dress-clad invocation of current events.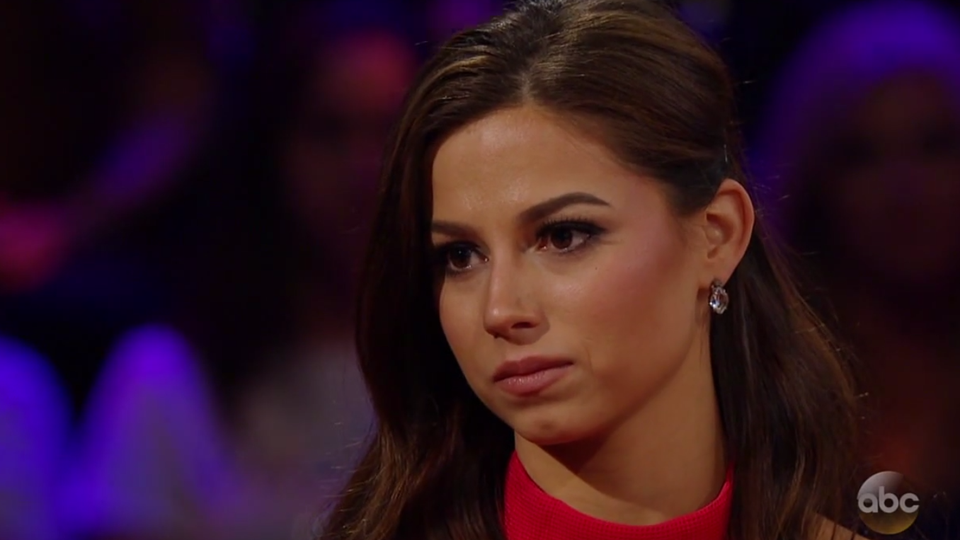 This post reveals "plot" points of episode 11 of The Bachelor season 21.
In November of 2016, just after the U.S. presidential election had been completed, Michael Moore, filmmaker, firebrand, and progressive activist, gave an interview to New York magazine. He talked about the president-elect. He talked about his film Michael Moore in Trumpland. He also talked about The Bachelorette.
Moore watches that show, he told E. Alex Jung, along with American Idol and Celebrity Apprentice. And "I think more people on the left should pay attention to what America watches," he said.
And sometimes it's entertaining. Kaitlyn [on The Bachelorette], everyone thought she was going to pick Nick. She went with Shawn. And the whole country's coming apart: What the hell is she doing? Clearly Nick was the winner! Shit happens in this country. It's a large country with lots of different kinds of people. And you can choose to live in the country, or live in your bubble. I understand why people live in the bubble. It's comfy in there. It's cozy, it's warm. It smells like cinnamon.
The Bachelor franchise refers to itself and its legions of viewers, collectively, as "Bachelor Nation"; it is a collective that has been premised on the notion, just as Moore suggested, of a big tent so big that it covers the whole of America—a political body that is self-consciously apolitical. The Bachelorette, and The Bachelor, certainly, are conservative in their premises: They celebrate marriage in its most traditional forms, and a highly structured means for the young and straight and beautiful to enter that institution.
For the most part, though, Bachelor Nation tries to live up to that (self-appointed) name: It tries to be inclusive, if only—and this is no small thing—because inclusivity means good ratings. The shows of Bachelor Nation, whether The Bachelor or The Bachelorette or Bachelor in Paradise or the late, lamented Bachelor Pad, generally eschew the divisive world of politics in favor of hot tubs and roses and, if viewers are really lucky, bounce castles. That it took the franchise more than 20 seasons to cast a star of color is evidence of the show's pervasive conservatism; it is also evidence, however, of how deeply allergic Bachelor Nation is when it comes to reflecting the world beyond its gleaming borders.
In that sense, Monday's episode of the show—a three-hour-long affair, capped with The Bachelor: The Women Tell All special—was remarkable. And not merely because Corinne used it as an opportunity to serve the crowd Raquel's (in)famous "cheese pasta." This particular Women Tell All episode, which traditionally gives the broken-up-with women the opportunity to resolve (and, more often, rehash) the season's fights, and to get clarity from their collective ex-boyfriend, took a decidedly political turn. The host, Chris Harrison, invited Kristina—the woman who had been adopted, as a Russian orphan—to the show's "hot seat."
And then, via Kristina's own narration and via Bachelor-producer-created compilation clips, the show re-told her story: the way she had been neglected by her birth mother in Russia, left nearly to starve. That she had ended up at an orphanage. That a caring teacher had told her, when the opportunity for adoption by U.S. parents came up, that "if you stay in Russia, your life will be in black and white … and if you go to the U.S., it will be in color."
Kristina went on to explain to the Women Tell All's studio audience that, by a "black and white" life, the teacher was suggesting the fate that befalls many women who have to make their way alone in the world: prostitution.
The crowd—mostly women, mostly clad in cocktail dresses, save for one fan who had come, as tribute to the marine-life-loving contestant Alexis, in a head-to-toe shark suit—gasped. This was not typically the sparkly, air-whipped stuff of The Bachelor. It was real. It was deeply sad.
And they loved it. Kristina's fellow contestants cried. The audience applauded her warmly. The show brought more.
"So you made the choice to come," Nick told Kristina in a clip the episode re-aired.
"I mean, it wasn't easy," she replied. "I was bawling my eyes out the whole time—and leaving all of them behind, knowing that I probably won't ever see them again. That's why it's so hard."
It was a marked departure from traditional Bachelor fare. The show concentrates, myopically, on the romantic relationships it fosters as its primary narratives and dramatic forces; until things move to the "hometown dates," as only a few contestants remain, The Bachelor reveals next to nothing about who these people are outside of the Bachelor mansion. (This feels like a good time to re-mention the fact that this is a show that regularly defined two contestants' professions as "Twin.") And yet here, with Kristina, was a backstory. Here she was, presented not just as a contestant, but as a full and hurting human. Here she was, the participant being turned into the star. (The Women Tell All special kept Kristina on its "hot seat" for two separate segments.) Here was the intimate, and tear-inducing, story of a woman who had given up a life in one country for a life—a better life, she firmly believes—in a new one.
Here, in other words, on the Bachelor stage, was a very broad argument for the human-side benefits of immigration—and for the political implications of empathy. (Indeed, "empathy" was a term that came up often during the Women Tell All conversation, and only partially via Taylor, the show's EQ-loving mental health counselor. As Dominique told Nick of his surprise breakups with several of the season's women, "What was disappointing to me personally was that I expected a little more empathy from you.") None of it was explicitly partisan—this is The Bachelor, after all, and Bachelor Nation would not stand for such a thing—but it was certainly political. Here were the debates taking place on Fox and MSNBC and CNN, transported to the twinkly world of The Bachelor. Here were women, celebrating—and talking about—empathy. Here was Liz, a long-ago-dismissed contestant, injecting a note of feminism into the proceedings by declaring: "As women, especially in these times, we should be building each other up, not trading each other down."
In these times. Liz's meaning here was merely implied, but also fairly clear. And so, later in the program, was Chris Harrison's. As the host noted when introducing the special's traditional blooper reel, "America, you've asked for it." He paused. "And America, quite honestly—we all need it."