The Bachelor: Fame Conquers All 
The show's Season 21 finale was ambivalent about love, but extremely excited about the promises of celebrity.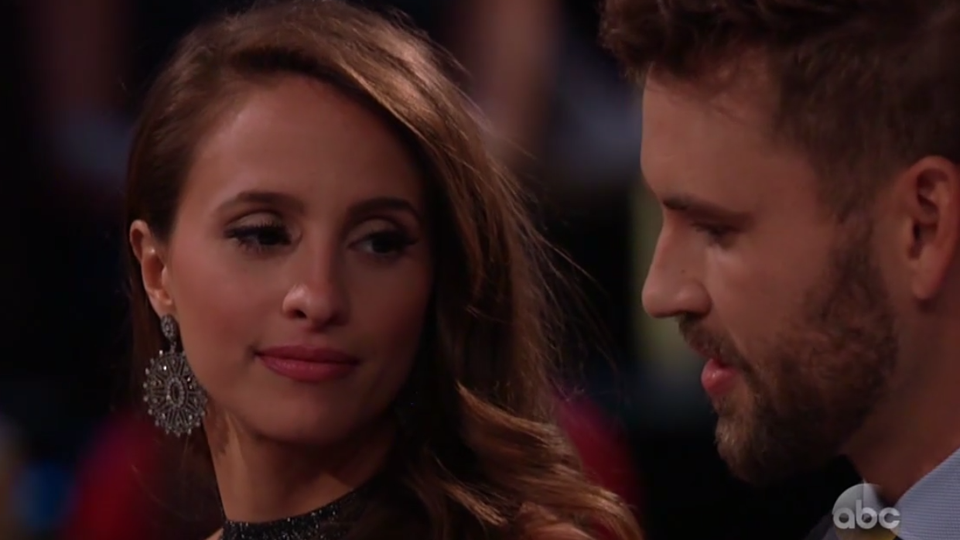 This post reveals "plot" points of episode 14 of The Bachelor season 21.
"You guys all right?" Chris Harrison asked Nick Viall and Vanessa Grimaldi. The couple—the Bachelor and the "winner" of the 21st season of The Bachelor—had just kissed each other for the first time, in public, as an affianced pair during The Bachelor's After the Final Rose special on Monday.
It was perhaps a strange way to greet the couple who was making, according to the long-established rituals of the Bachelor franchise, their first triumphant appearance as a newly betrothed couple. (It was the same freighted appearance that, for the still-engaged Bachelor couple Ben and Lauren, had nearly culminated in a live-televised wedding.) Harrison's greeting, though—"You guys all right?"—was also the only one that made sense, under the circumstances. Vanessa and Nick's appearance together on Monday, the capper to Nick's season of The Bachelor, was decidedly … not triumphant. It was instead decidedly awkward. That's because it was full of something The Bachelor is not terribly well-calibrated to accommodate: honesty. Bluntness. Clear-eyed realism about what The Bachelor's particular brand of extremely traditional and extremely non-traditional romance is all about.
"Long distance isn't easy," Grimaldi confided to Harrison, The Bachelor's host and the show's appointed confidant. She told him about the challenges her new relationship with Nick has brought—challenges mostly related to the fact that she met her fiancé via, and has known her fiancé only in the context of, reality television. "There were moments where I had to understand 'Nick the Bachelor' and 'Nick the guy that I was dating' and the individual relationship that I had going with him," she told Harrison. "So it was hard sometimes to separate the two."
Grimaldi's interview (per the 21-season ritual, a setting where the winner of the season in question acknowledges the challenges of reality-televised love but mostly talks about how happy she is to have been picked, and how hopeful she is for the future) was studded with such realism—and realness. "You know, like I said, some days have been easier than others," told Harrison. And: "It's like any real relationship, you know." And: "I think for us, going into this, we both realized how difficult things could get, and we were aware of it, and we expressed it."
It was an ambivalence that continued even as Nick joined Vanessa onstage. "I know you are extremely happy," Harrison told the couple. "But."
"We're realistic," Nick said. "And I think it's something we're looking forward to tackle together." He added, "I think Bachelor Nation, they're always great and loyal, and they want to see the couples work out. And I think we want that, too .… We know we have a long way to go. And we're still—we're realistic. We're still getting to know each other. Um, that's the reality. So it's…." He trailed off.
The other "But." in the room, though: The couple, while they may be "still getting to know each other," are taking much more readily to the other element of Bachelor-provided love—the fame that comes with that Final Rose. The late-night appearances. The US Weekly covers. The famous-for-being-famous status in American pop culture. What After the Final Rose made more clear than anything else was that Vanessa and Nick, in another longstanding Bachelor move, will be using the celebrity the show has offered them to propel their careers—not at "home," but in Hollywood. Nick, once billed by the Bachelor franchise as a "software salesman," long ago pushed pause on that career. He will now be appearing in the soon-to-start new season of Dancing With the Stars—a traditional transition taken by many former Bachelor and Bachelorette stars, from one ABC show to another. He will ostensibly be, for the foreseeable future, living in LA.
He will be there, it seems, with Vanessa—who is not just what the show billed her as, a special education teacher, but also, it seems, a fledgling actor who has already appeared in three other (non-reality) TV shows. The announcement of Vanessa's move was striking, if not surprising. Vanessa, perhaps more than any other contestant on The Bachelor, had been framed not just as a strong, speak-her-mind kind of woman, but also as one who was deeply invested in her life at home, in Montréal, Quebec. When she brought Nick to Canada to meet her family, she had made a point to introduce Nick to her students, and vice versa. She had told Nick that one of her "values," as a person, was the Sunday-afternoon meals she shares with her large family in Montréal. She had told Nick that her life was in Montréal, and her people were in Montréal, and she therefore would not want to leave Montréal.
On Monday night, however, she talked about moving to what Nick called "the good old U-S-of-A." She and Nick made subtle jokes about how the immigration process has changed since the new presidential administration took power, as the studio audience laughed knowingly. Harrison focused on the bigger question. "I mean, I know you have a wonderful career and some amazing people back home…" he told her.
"I do," Vanessa replied. "But I'm also in the process of putting together a charity for people with learning disabilities. So I'm kind of taking my life in Montréal with me."
Left unsaid, of course, was that she will not be taking her students, or her family, with her on this new "journey." She will be, contra the convictions she had previously expressed on The Bachelor, leaving them—ostensibly to work on her relationship with Nick, but also to work on her career. Not as a teacher, but as a budding celebrity. It was a fitting conclusion for a season of The Bachelor that has been, by way of this particularly ambivalent Bachelor, ambivalent about love itself—but a season that has also, like its predecessors, never wavered in its conviction that fame conquers all. As Harrison might say, of the romantic illusions that have animated the show for so many seasons: Take a moment, and say your goodbyes.