Spoon's Hot Thoughts Is a Triumphant Experiment
The rockers' ninth album dabbles in mystery and psychedelia without sacrificing the band's appeal.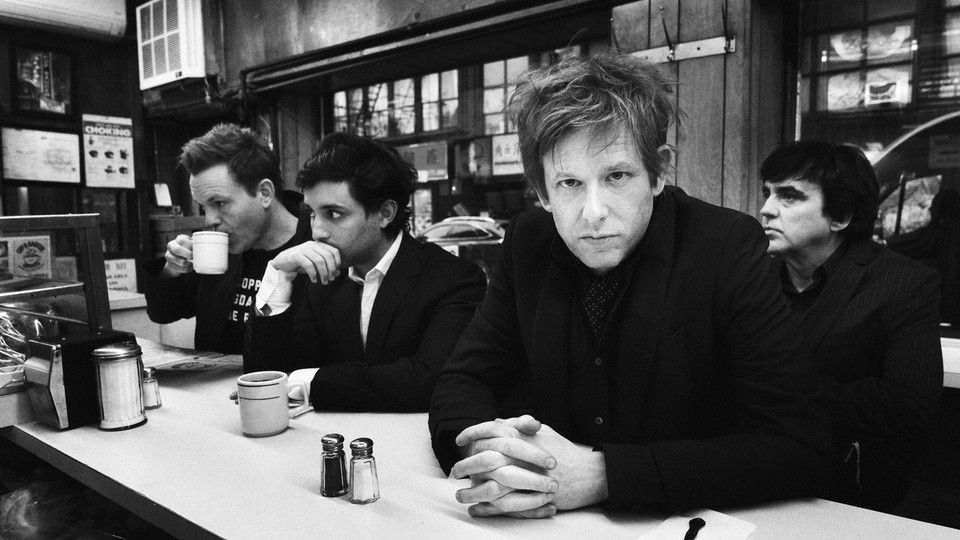 The reigning narrative about Spoon is that there really is no narrative. "In a career that spans more than 20 years, Spoon has perfected a kind of ruthlessly airtight efficiency," writes Stephen Thompson at NPR, summing up the common take on the group. "Every few years, the Austin band returns with a new batch of perfectly compact three-minute pop-rock songs. As consistent as it is beloved, Spoon never fails to hit its mark—delivered forcefully, and with hooks for days."
Little about the publicity for Spoon's ninth album, Hot Thoughts, would indicate that Spoon is messing with the approach that made the band aughts-rock's most reliable resource. There's no inspired-by-life backstory provided in the press material, and the only biographical trivia of late is that this is the group's first album for the label Matador since their 1996 debut and their first without multi-instrumentalist Eric Harvey in more than a decade.
But Hot Thoughts turns out to be that rare thing in Spoon's catalogue, a big change-up. To be sure, the band members have always been well-mannered experimentalists, sneaking small innovations and surprising shading into taut, orderly rock songs. And increasingly over the past few releases, they've blurred the lines between crunchy rock and atmospherics. But for Hot Thoughts, they indulge these tendencies fully with a tricky, moody, downright weird album. It has some gobsmackingly great moments, and it gives the impression that Britt Daniel & co. let their ids lead more than usual.
The title track and opener announces the new direction. Strings, bells, and synthesizer add hues that make the the album art seem synesthetic, but what's more remarkable is how the band's old resources are deployed. Daniel sings in a Prince-ly falsetto with a ragged edge, guitars flourish in mid-verse bursts and then disappear, and Jim Eno's drumbeat is swaggering and hip-hop inflected, like many of the beats on the album are. The hot thoughts that Daniel is singing about involve some sort of troubled romance, and the song itself conveys a lot about the experience of secret desire—mystery, lust, pain.
The album from there forms a double helix of wispy musical exploration and grinding, body-minded rock. "WhisperI'lllistentohearit" makes that duality explicit with an opening drumless passage of trembling synths followed by a migraine-inducing squall of distortion as the band gallops into roadtrip-rock mode. There's another soft-loud experience in "I Ain't the One," in which the ballad-like tune perks up midway only to seem to melt on itself as the temperature rises. With darbuka, saz, and Daniel singing in a sleepy whisper, the loungey reverie "Pink Up" sums up the album's trippy-vibes side; its main melody recurs in the gloomy-beautiful instrumental closer "Us."
But the best songs see Spoon's long-running interest in classic radio pop shining through the album's swirling mist. Most excellent is "First Caress," in which a piano riff thrillingly seesaws to higher heights and lower lows than one expects while an itchy, unerring disco beat acts as a fulcrum. Daniel gives a blazing performance as he calls out to an ex-lover, makes the word "dispossessed" sound passionate, and sneaks in an oddly endearing reference to coconut water.
Two funky tracks with questioning titles, "Do I Have To Talk You Into It" and "Can I Sit Next to You," strut uneasily, with touches like eastern-music motifs and carnival-midway synths contributing a sense of suspense. Amid all the anxiety and ambivalence, there's one blast of optimism in the piano rocker "Tear It Down," featuring a possibly political chorus about destroying walls that stand between people who could love each other but have never met. Also possibly topical is "Shotgun," a literal fight song: Daniel talks about being baited into a confrontation with a "little man" who "had to go show his stuff." Somewhat shockingly, its jumpy dance-rock transforms midway through into a smooth, grooving house track—before guitars bite back in.
Again and again, Hot Thoughts strike a balance between experimentation and excitement that feels fresh, though some Spoon fans may feel disoriented. The clean, manicured style of classic singles like "Turn My Camera On" and "The Way We Get By" has been replaced by layers of gooey, unplaceable noise attributable to the veteran psychedelia producer David Fridmann. And at only 10 tracks long (with one of them an instrumental reprise), the experience of listening to Hot Thoughts sticks out as unusual within the band's catalogue. But keep playing it and it becomes clear that Spoon's crisp, smart sensibility remains; it's like the band's famously solid core has become a physical force, unseen but exerting its influence on a whole new environment.