Song to Song Is a Dizzying Romance With Little to Say
Set in Austin's music scene, Terrence Malick's new film boasts an all-star cast and will test viewers' patience like the master auteur's other recent movies.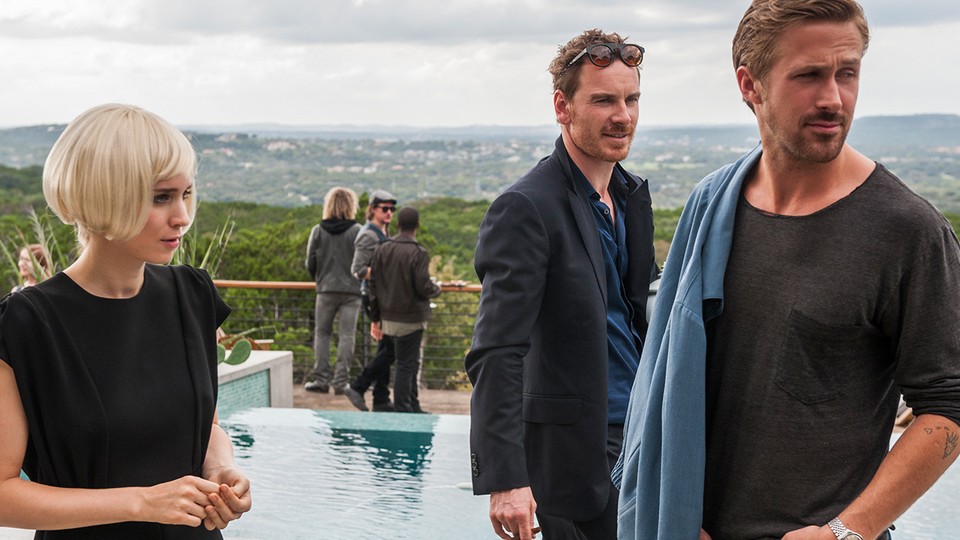 With the release of Song to Song, it's time to come up with a name for this creatively fertile, aggressively poetic period in the beloved auteur Terrence Malick's career. Much like The Tree of Life, To the Wonder, and Knight of Cups, his new film is light on plot and heavy on portentous voice-over. The characters are thinly defined at best, but they're also all the camera cares about, emphatically twirling around them as they dance, canoodle, and wrestle with all of life's quandaries.
Perhaps you could call it Malick's "contemporary architecture" period, since these films see their heroes trapped in postmodern buildings of glass, steel, and sumptuous infinity pools. Or maybe it could be titled his "freestyle dance" period, since all of his characters express their thoughts and feelings through movement, rather than dialogue. Whatever the name, Song to Song fits firmly into Malick's non-narrative approach: A tale of musicians falling in and out of love against the backdrop of Austin's music scene, it's as confounding and oblique as his other recent efforts.
Though there's certainly a hypnotic quality to Song to Song, this is a film that traffics in very broad story ideas and lets the viewer fill in the details. Like To the Wonder (about a marriage torn apart by infidelity and temptation) and Knight of Cups (about a depressed screenwriter fumbling his way through life in Los Angeles), Song to Song seems vaguely autobiographical. Malick grew up in Austin, Texas, and has faced the kind of artistic hurdles the movie's characters seem to run into. But as with To the Wonder and Knight of Cups, there's just not quite enough to grab onto here. And like those films, Song to Song seems destined to be remembered only by Malick's most die-hard fans, who can pore over its semiotic details for years to come.
The movie follows Faye (Rooney Mara), an aspiring young musician in Austin who's under the wing of bigshot producer Cook (Michael Fassbender), then falls for an up-and-coming performer named BV (Ryan Gosling). Though BV and Faye's romance is distinctly Malickian—soaringly sentimental, with lots of tummy-kissing and clothed tussling in bed—it is quickly disrupted by Cook, who has a sexual history with Faye and a tangled professional relationship with BV. Later, Cook splits off from them and falls for a waitress named Rhonda (Natalie Portman), and Cate Blanchett also briefly appears as a rebound fling for BV.
I call these characters musicians, but there's very little evidence that any of them actually do anything with their lives. They mostly just tumble around in the sheets or yell at each other in abandoned buildings, with Malick's camera (faithfully operated by Emmanuel Lubezki) swinging around them and shooting them from every angle imaginable. Knight of Cups included some experimentation with the grainy, portable GoPro camera; Song to Song is filled with fisheye lenses and candid on-stage footage shot at various Austin concerts back in 2012 (though there's very little contemporary music on the soundtrack). But aside from that, the two movies don't feel too different.
They're both tales of the entertainment industry that try to capture what a kinetic, smothering, bewildering thing it can be to work as an artist. Both marry those feelings to similarly wild stories of passion and despair, and focus on the intenseness of romantic connection, turning the emotional into the physical. But both, in the end, feel frustratingly distant, never allowing viewers to truly understand their characters.
The Tree of Life, which took in Malick's childhood in Texas, had much of the surreal, non-narrative poeticism of these films, but its characters were far more grounded and identifiable. Meanwhile, the ensemble of Song to Song seems like a collection of vague archetypes. The movie constantly interrupts itself any time it feels like it's establishing a rhythm, cutting to entirely different characters or introducing previously unseen plotlines (like the sudden appearance of Blanchett) that vanish just as quickly. Song to Song is a roomy 129 minutes long; like Knight of Cups, it probably holds up well to re-watching and further analysis, but that'd require a deep well of patience.
Malick is already hard at work on his next film. The famously reclusive director has even given some interviews recently, and noted that he's planning to move on from the style he's recently embraced, and back toward the more traditional, linear approach he deployed in masterpieces like Days of Heaven, The Thin Red Line, and The New World. It's been exciting to see Malick use his brand name to release some truly experimental work and junk every traditional storytelling device American cinema has to offer, even if the results are often disappointingly opaque. Song to Song is at best a fascinating curio, but it's one that doesn't come close to the emotional resonance of Malick's best work.