Remembering the Italian Baking Expert Carol Field
The prolific cookbook author, who introduced ciabatta to Americans, died at age 76.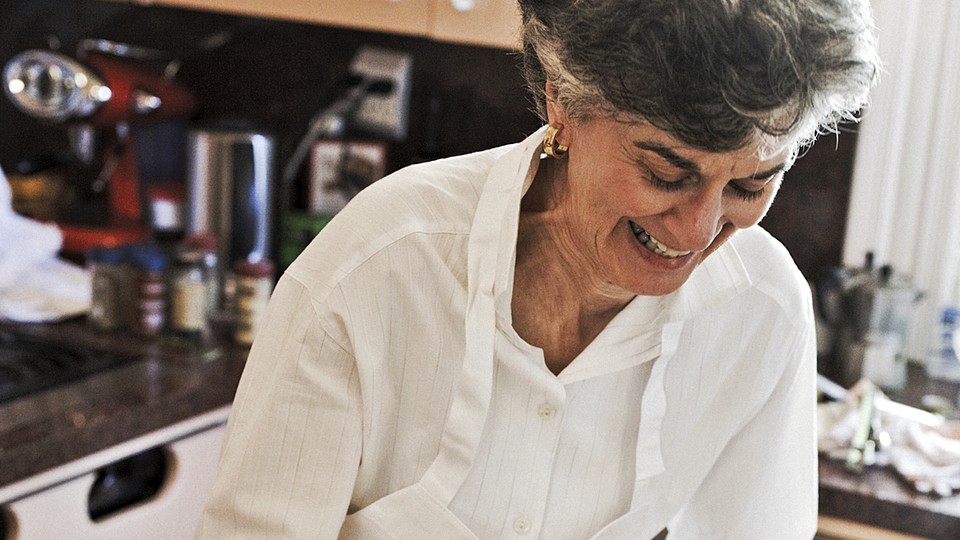 If you've ever bought a ciabatta at the bakery or ordered focaccia at a restaurant or made a no-knead loaf, or wondered what the Pugliese or Emilia version of pumpkin ravioli would taste like and how to make it, you've been influenced by Carol Field.
Field, who died last Friday after suffering a stroke the week before, will long be remembered for her 1985 book The Italian Baker, revised in 2011. The book mapped out a world unknown to the bakers who had spent days learning to turn out a baguette following the endless master recipe Julia Child spent months perfecting for the second edition of Mastering the Art of French Cooking. The Italian Baker introduced Americans to breads that are commonplace now but were new even in Italy when Field wrote. No one had heard of ciabatta, for example, from the word for "slipper" and a baguette competitor trademarked by a baker in Verona in 1982. Its low, wide shape, which forgave a lack of experience in making a perfect-looking baguette or a conventional sandwich-style Pullman-pan loaf, and more important the sourdough starter that gave it initial flavor, were landmark contributions of her book. Biga, "a simple saltless mixture of flour, water, and a minute amount of commercial yeast," as Field defined it, "left to ferment at cool room temperature for five to sixteen hours," was far easier to knock together than a full sourdough starter but a potent way to achieve developed flavor. It was simple and, for home bakers, revolutionary. The French term for the same starter, levain, acquired commoner currency in French-oriented baking circles. But Field's biga led the way.
So did her the-wetter-the-better overnight-rise coccodrillo bread, from the word for crocodile bread. Though the New York City baker Jim Lahey (by way of Mark Bittman) would popularize it by baking a no-knead bread in a terra cotta cloche, it was Field who stressed that an unmanageably wet dough and long, cool rise overnight in the refrigerator would make a beautifully moist, holey loaf with a marvelously hard, crisp crust perfect for dipping in olive oil.
Nothing like her guide existed in any language, in fact. Most recipes in the few Italian sources she had began with "Take 500 grams of bread dough you've bought from your baker." As in France, people didn't make bread at home. (Even her father, the longtime chair of the English department at the University of California, Berkeley, who brought her scholarly volumes on Italy, assumed that the only good bread was French bread.) The need for an independent bakery in every tiny town helped preserve the regional particularity she fell in love with when she accompanied her architect husband, John, and their two then-small children, Matt and Alison, to make a documentary on small-town Italy in the 1970s. The funding eventually fell short, but the experience became her first book, The Hill Towns of Italy (reissued in 1997), with evocative and marvelous photographs by Richard Kauffman and essays by Field that showed a mastery of history and a loving respect for the life and soul of small and intimate communities—themes that would inform all her future work.
Relying on the town bakery also preserved the hyper-regionalism that allowed her to learn dozens of different breads for her book. "How could it be otherwise," she wrote of one restaurant host who became visibly disturbed when she assumed the bread he brought to the table was from a town ten miles away, "in a country scarred in medieval times by cities that chose to fight ferociously with the closest neighbors to prove their supremacy, their dedication to local alliances finally leading them to stamp their own identity not only on the landscape but on the foods as well?"
Field brought a new rigor to historical background in a cookbook. (The scholarship was leavened with good fun: A whole page of The Italian Baker is dedicated to Italian phrases and proverbs related to bread, some of them earthy.) She studied mythology, as the introduction to The Italian Baker, with its references to Demeter and Persephone and fertility (and breads shaped like women's sexual organs), makes clear, and religion; her 1990 book Celebrating Italy, organized around regional celebrations of dozens of festivals, traced most Catholic feasts and fasts to pagan rituals and even geology, and served as an introduction to Catholicism as well as a guidebook and recipe collection.
She also brought humanity to all her research. For the bread book she had interviewed dozens of bakers up, down, and across Italy, but not had the chance to tell their stories. In Nonna's Kitchen, published in 1997, told the stories of the women who are the engine of Italian culture: grandmothers. She narrowed the list to several dozen, of course focusing on their recipes but also on their lives—which naturally mirrored the history of twentieth-century Italy. During the editing process she wrote me that she feared she would be asked to downplay the stories of wartime poverty and scarcity that ran through the women's lives, and to focus only on the relatively few rich grandmothers she had interviewed. The most inventive cooking is of course based on thrift and need, and she was determined to show how hardship could result in beauty. Luckily, her editors recognized that. The book is a model of how to tell personal history and tell people how to make good food, as I wrote on this site when it was published.
The books broke ground in their depth of research and consideration of food as an integral part of regional culture. But they were also models of clear instructions and good sense. (For bread: "The one ingredient and technique not listed in this section is patience. Rome wasn't built in a day, and some of its breads need a little time to let their character mature … don't let bread baking dictate your day." And, in a letter to me, "I always wrap the loaf in foil before putting it in a ziplock bag. I think foil is crucial for holding moisture in—plastic wrap doesn't quite do the trick on its own—or maybe it's just double insurance.") Fred Plotkin, the author of Italy for the Gourmet Traveler and Recipes from Paradise and himself an exemplar  of research and love of every corner of Italy, wrote me when I told him the sad news about Field, "I was recently interviewed about food topics and some of the questions required a lot of consideration before I could answer. However, when asked who my favorite cookbook author is, I immediately responded 'Carol Field.' Her recipes are impeccably rational but infused with cooking wisdom that a mere writer could not achieve. Her sense of context—that every dish has a 'somewhereness' about it—made discovering it more meaningful and pleasurable."
"In every word and turn of phrase," he added, "there is the wonderfully kind heart, elegance and unassuming generosity that were Carol's most exquisite traits."
All her friends felt this way about Field. Her children gave me the honor of speaking at a memorial service for Field and her husband, who though separated by ten years died within three weeks of each other, and as research for my remarks I went through the 792 emails I had in my files from her—many of the "see you there" variety but many, too, about the travails of writing ("Of course, I'm very anxious about [In Nonna's Kitchen]. The food is really good—I think—and incorporates a lot of really easy fast dishes with others that are really time consuming.  That's grandmothers for you"), the rigor of research, her perfectionism in recipe testing, and life on a book tour (my recounting doing a TV spot for my book The Pleasures of Slow Food prompted her to "remember some terrible program I was on in New York about which I asked the publicist why she hadn't just told me to lie down in the middle of Fifth Avenue and let the traffic run over me"). What came through was her bottomless empathy and generosity.
I also had the chance to say how much, in our travels together in Italy and my many visits to her and her husband's house in San Francisco, I enjoyed simply looking at her: the shock of dramatic salt and pepper hair, the expressive, high, arched eyebrows, always ready to be surprised or amused—she seemed to listen as much with her eyebrows as her eyes—the features arranged by Modigliani or John Singer Sargent, and her impossibly long neck, always the most graceful surprise though I'd seen it a hundred times before. (For an idea of what I mean, the obituary in the San Francisco Chronicle reprints a recent series of photographs of her making bread which shows her innate elegance.)
As awful as her death so soon after her husband's is to their friends and family, it also made a kind of sense they all recognized. As she wrote in the preface to The Italian Baker and other books, her marriage lay at the heart of her work and life. When John Field died, I wrote her that I always anticipated visiting them in San Francisco "not just for the beauty of your house and the perfection of your hospitality but to observe at close range your utter companionability. You were and will remain my models for the complete and caring civility with which two people can treat each other."
That care and civility comes through in all her books. So does a fierce love of Italy in all its peculiarity and love of food. I'll long be reading and relying on Field's books, and so will everyone who's been to Italy or wanted to go.