March Madness, Plus Future NBA Stardom
Beyond busted brackets and buzzer-beaters, the men's NCAA tournament offers the broader public an early look at likely professional draftees.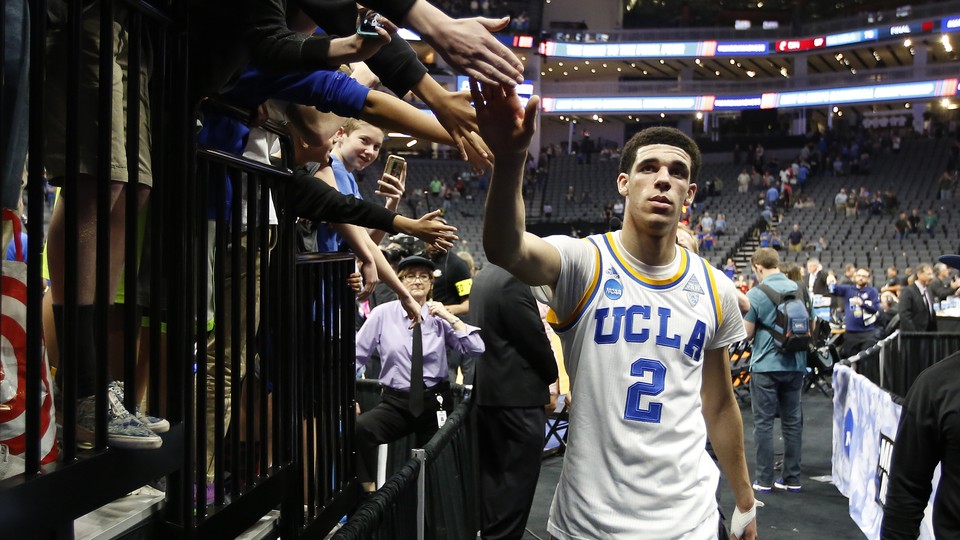 March Madness gets a charge from its immediacy. The NCAA basketball tournament, now rounding through the second of three weekends, is a single-elimination event, so every game means everything. A win signals survival—for a few more days—and a loss brings the end not only of a season but also of certain college careers. The stakes couldn't be higher, nor could the outcomes be starker.
So that's one reason to watch: to pin your hopes to a favorite team or a labored-over bracket and wish for the best. The tournament holds a secondary appeal, though, for fans with an eye to the longer-term: It shepherds future NBA draftees into the national spotlight. Since the league instituted a rule in 2005 raising its minimum age threshold to 19, almost every big-name American prospect spends at least a year in the college ranks. March doesn't mean all that much, generally, to their ultimate outlook—professional scouts have pored over countless hours of game film by the time the tournament comes around—but it gives the larger public an introduction. It's essentially a crash course in the stars to come.
This March's crop of talent is better than most. Notably absent is Markelle Fultz, a dynamo point guard for the University of Washington and the presumptive first overall pick in the upcoming draft; his team failed to land a Madness invite. But the other principals of what has been called one of the best and deepest NBA draft classes in recent memory have been out in force. Arizona's 7-foot, sweet-shooting center Lauri Markkanen spent his first weekend on the national stage draining three-pointers before the Wildcats lost to Xavier Thursday night. Kansas's versatile Josh Jackson has blocked shots, thrown down dunks, and sent deft passes to every corner of the court. Even as the heavily favored Duke fell to South Carolina in the second round, its freshman star Jayson Tatum scored 15 points and held onto his can't-miss status; he officially declared for the draft days later.
NBA forecasting gives March a helpful B-story, and Friday evening that plotline figures to come to a head. The Sweet 16 matchup between UCLA and Kentucky will feature three players considered possible top-10 picks and two more who will likely be selected in the first round of June's draft. UCLA's kid wizard Lonzo Ball, who will likely be the second pick after Fultz, is the headliner, but he's joined on the marquee by Kentucky guards Malik Monk and De'Aaron Fox, the former a dead-eye shooter, the latter maybe the fastest player in all of college basketball.
These stars have already made their imprint on the tournament. In the final minute of Kentucky's second-round victory over Wichita State last Sunday, Monk blocked a pivotal shot, and as time ran out, his fellow freshman Edrice "Bam" Adebayo blocked another one. UCLA beat Cincinnati later that night largely thanks to Ball's team-leading 18 points and 9 assists; the 19-year-old played a come-from-behind second half with the opportunistic calm of an NBA veteran. "He has a great feel for the game," UCLA head coach Steve Alford said of Ball after the game. "Not good. Great."
That's the type of praise that was once given to heady seniors, not soon-to-split freshmen, and it highlights a shift in college basketball that not all fans welcome. The sport is increasingly a stopover, at least at its highest levels—a spot for future millionaires to touch down for one requisite season. The college stints of Ball and Monk will, someday soon, likely seem like little more than footnotes to their NBA careers.
One of the joys of the tournament, though, is that experience still has its say. Kansas's Frank Mason guides the Jayhawks as a senior and the likely national player of the year; Gonzaga's top-seeded team is full of third- and fourth-year players. Come next weekend's Final Four, there will still be plenty of fodder for the soft-toned pregame stories TV networks adore, highlighting the dutiful growths of freshman backups into upperclassmen leaders.
In the meantime, March Madness's middle section has a prognosticatory thrill. Casual observers might not be familiar with all the youngsters in Friday's UCLA-Kentucky showdown, but they'll quickly learn, as Fox does 100-meter dashes up the sideline and Ball bends space with crosscourt passes. A couple of the featured players could soon join the likes of Stephen Curry and LeBron James and become household names. And the tournament, so treasured as an event unto itself, will also have been for them a sort of start, the moment when they first stopped in to say hello.