A 50-Song Memoir Brilliantly Argues Music Can Change Lives
The tracks on the Magnetic Fields' new album take on Stephin Merritt's biography year by year, but the underlying story is about art itself.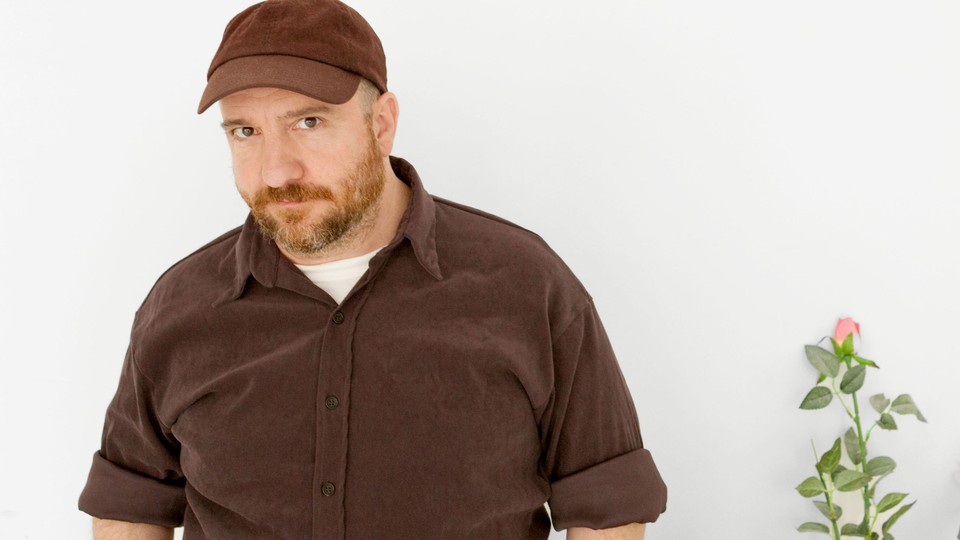 When Stephin Merritt of the Magnetic Fields was five years old, his mom took him to see Jefferson Airplane. The year was 1970, and Grace Slick had a message about the Vietnam War to deliver to the crowd: "I know we're not supposed to care, but they're killing children over there."
At least, that's how Merritt remembers it on 50 Song Memoir, an album with one song for each year of his life up to 2015. "Even for my age I was small," he sings in a deep deadpan as a simple, questioning bass line thumbs behind him. "I thought she meant a massacre was taking place inside that hall." It's one of those terrible and hilarious miscomprehensions of childhood: Over there, to a kid who had no idea about the larger world, just means right over there.
This is one of the many, many great punchlines of the lovable and frequently brilliant 50 Song Memoir. But just as importantly, it's one of the album's many potent descriptions of how a brush with music can shake up a life.
The influential indie vet Merritt has long used arch nursery rhymes and toy-box arrangements to note the way that feelings aren't always hitched to intellect: He rolls his eyes at tears, he gags at infatuations, but his characters cry and become infatuated all the same. So it is with his own emotions, here, as he flips through the years with songs closer to curated snapshots than tell-all memoir chapters. But the excellence of 50 Song Memoir lies in the way he leavens his sarcasm with rare moments of childlike wonder—usually to describe his relationships not with people, but with art.
The Magnetic Fields' masterpiece is 1999's 69 Love Songs, whose title sums up the three-disk concept. 50 Song Memoir is an admirable follow-up, using sonnet-like simplicity to allow for a range of musical and lyrical approaches. On "'76 Hustle '76," a stiff groove and background "oh-oh-oh"s mimic the disco he obsessed over at age 10 ("Big melodies with simple beats … Lyrics, alas, not for aesthetes"). On "'08 Surfing," Dick Dale-vandalized-by-Dinosaur-Jr. rockabilly sneers at California's most famous hobby ("Surfing was 'transgressive' and 'cool' / Now the oceans are full"). Here and there, the band's signature chamber-pop sound fully emerges as the glinting high tones of backup vocalists Claudia Gonson and Shirley Simms mock Merritt's sad bellow (Merritt on "'04 Cold-Blooded Man": "You need a cold-blooded man" / Gonson, chipperly: "In a serial-killer van!").
The outline of Merritt's life as presented here doesn't have a hero's arc. Rather it's an EKG stagger between far-flung places and emotional states. He warns us this is how it'll go with the opener "'66 Wonder Where I'm From," a lackadaisical ukulele number that mentions his parents shacking up in St. Thomas, his birth in Yonkers, and his infancy in Germany. "Rarely stayed in one place more than a year," he explains, and if this rootlessness is a source of angst—or a lifelong emotional influence of any sort—he doesn't outright say it.
But as the album wends on ("wends" being a word Merritt re-inserts into the vernacular on "'03 The Ex and I"), it's tempting to impose a psychological narrative onto the scattered vignettes. Bouncing around the world with his hippy-dippy mother ("she draws the line at crystal healing," he sings on the "Within You, Without You" sendup "'75 My Mama Ain't"), he develops a kind of stony skepticism, described best on the glorious anti-gospel of "'74 No." Eventually his life becomes defined less by place or people than by art. During a blizzard on a commune in Vermont, he digs into science fiction novels and starts up a series of bad garage bands. The songs of his teenage years revolve around music, from his fondness for synthesizers in spite of a rockist would-be stepdad ("He clearly hated Neu! and Can / Postured at Eno and Japan"), to his exploration of the counter-culture of London and New York City.
The beginning of his legitimate rock career is signaled by "'89 The 1989 Musical Marching Zoo," a love letter to an admirably anonymous band from the '60s. But paradoxically, that's the point on the album when his attention turns from music to love. And the results are not so fun. Aside from one portrait of carefree group-house life in his 20s, the album makes it appear that Merritt spent all of the 1990s (as well as much of the aughts) heartbroken and depressed. This won't surprise many fans, nor will the notion that he tackles melancholy creatively, as when he delivers suicide talk amid ABBA cheer on "'97 Eurodisco Trio." Personal health crises and a public one—the AIDS epidemic among gay men—also figure into his blue periods.
Yet Merritt's approach and the album's format make it so that the gloomier portions feel less urgent than the rest of the material. Partly it's his self-consciousness: You're meant to scoff at, rather than relate to or understand, his despair. In the dirge "'96 I'm Sad!" and the crowd participation number "'91 The Day I Finally…," rock bottom is presented in caricature. And whereas his love affairs with music are rendered in concrete detail, his actual love affairs are blind items, left off-stage, so that the heartbreak songs feel interchangeable across the years. Maybe this is all a comment on the gray, samey nature of depression. But it's still a slog.
That slog does help clarify the album's high points, almost all of which are rooted in pop culture. The regal swirl of "'69 Judy Garland" tackles gay liberation through the image of a screen icon; the gooey chorus of "'83 Foxx and I" celebrates the shapeshifting magic of electronica; the ecstatic folk of "'88 Ethan Frome" pays tribute to one of Merritt's favorite novels; the graceful end of "''00 Ghosts of Marathon Dancers" reveals the song to have originally been recorded for a movie that was never made; the catchy bustle of "'12 You Can Never Go Back to New York" portrays a city too vibrant to ever be fully known. Most magnificent might be "'02 Be True to Your Bar," a grand ode to writing songs in watering holes. Ideally it'll be sung at said watering holes into eternity.
Merritt's love for music is so full, so earnest, that by the penultimate track "'14 I Wish I Had Pictures," you get the sense that he has finally gotten a little embarrassed about it. In a poignant, familiar melody that skirts the maudlin, Merritt laments the ways memories fade and wishes to be a different kind of an artist: a charcoal painter, a poet, an actor, all of whom supposedly can conjure the past with greater precision than he can. "But I'm just a singer, it's only a song," he sighs. This is another moment of self-deprecation, another performatively cynical barb at his own desires. But the listener by this point has been convinced of the one spiritual belief that's driven Merritt's life: A song can accomplish anything.