Kendrick Lamar Will Battle Until the Apocalypse
"The Heart Part 4" seems to announce a new album while taking aim at rivals, Donald Trump, and the state of the world.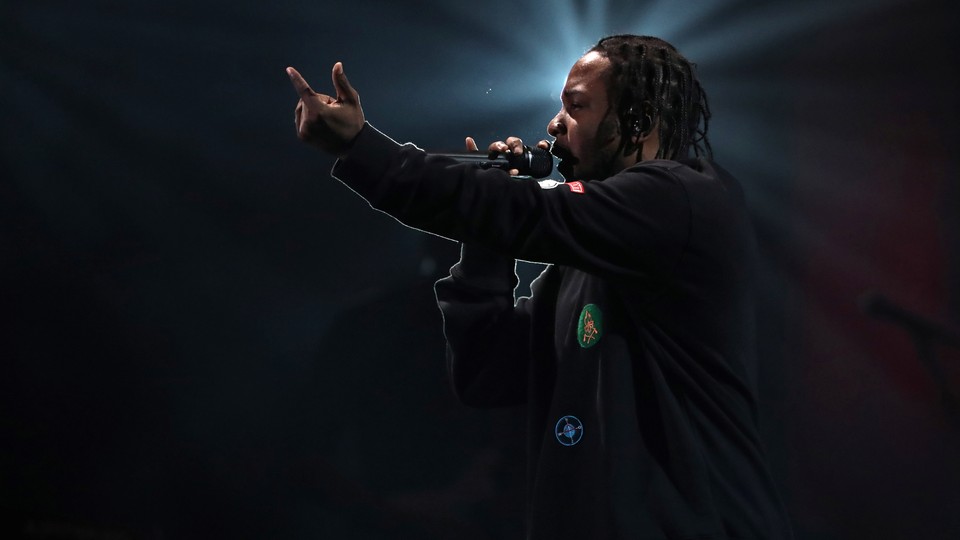 "The Heart Part 4," the song Kendrick Lamar posted online Thursday night, sounds like a preview for two things. One is the acclaimed Compton rapper's fourth album, whose release date may or may not be tipped in the final line "Y'all got till April the 7th to get ya'll shit together." The other is the apocalypse.
"The whole world goin' mad / Bodies is adding up, market's about to crash," Lamar raps. After listing some signs of civilizational decline including "whites that do the dab," Lamar mentions Donald Trump ("a chump"), Russia ("y'all up to somethin'"), and "electorial votes" ("look like memorial votes"). Things are seeming sketchy, but Lamar counsels, "Tell 'em that God comin'."
God is always coming in Lamar's songs. His first two albums, Section.80 and Good Kid, M.A.A.D City were grounded in narratives about surviving gangs and drugs and police scrutiny in Compton, then 2015's jazz opus To Pimp a Butterfly and last year's EP-sized untitled.unmastered saw him exploring more allegorical realms. But throughout the phases of his career, catastrophe has loomed. 2010's one-off "The Heart Part 1"—which today's track is a sequel to—invoked the Mayans' prophecy about the year 2012. To Pimp a Butterfly closed with a recording of Tupac predicting a brutal race war.
The specter of Revelations informs a lot of Lamar's music, including the traits on display in the thrilling, unpredictable "The Heart Part 4." There's the frantic energy ever-present in his voice, the way the beat and flow repeatedly mutates as if there isn't enough time to fit in all of his ideas, and the continual focus on reconciling his material success with his suspicion that wealth, the hip-hop world, and America itself is touched by the devil. That final tension has increasingly come to the fore in his work, including on this song.
"The Heart Part 4" is widely being talked about as a nettle of subliminal thorns against other rappers, prime among them Drake, whose latest release Lamar now threatens to overshadow. "Don't tell a lie on me / and I won't tell the truth on you," Lamar sings in the chorus, interpolating James Brown. Two verses and one beat switch-up in, he starts describing an unnamed rapper who (ironically, perhaps) is "tiptoeing" around Lamar's name, begging forgiveness in private after seeming to throw shade in public. The boasts here are excellent, with a fun countdown ("One, two, three, four, five / I am the greatest rapper alive"), insinuations of messianic status, and a mention of the "difference between accomplishments and astonishments."
Longtime fans will realize that these ego-driven, rap-world mind games were exactly the sort of thing he warned against in "The Heart Part 2": "We used to beefing over turf, fuck beefing over a verse / Niggas dying, motherfuck a double entendre." Yet Lamar's work is so exciting in part because he barrels headlong into contradiction, indulging the earthly and then describing the spiritual toll he pays for doing so. "I ain't sanctified enough to say that I won't shoot ya," he raps today, which is to say that until the world ends he can't help but battle.