Hulu's Harlots Takes a Modern View of 18th-Century Sex Work
Starring Samantha Morton and Jessica Brown Findlay, the series has a surprisingly sharp perspective on the dynamics of pleasure and power.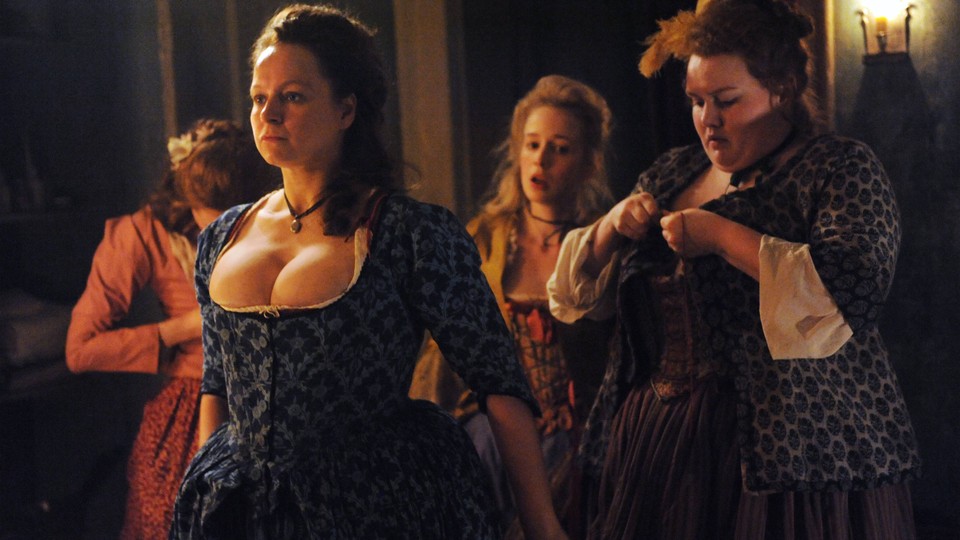 In 1763 London, Harlots baldly reveals in its opening scene, one in five women made a living by selling sex. It's a provocative statistic that—coupled with images of petticoats trailing in the filthy streets and corseted bosoms thrust skyward—sets the series up to be a genially bawdy historical drama. But Harlots, a co-production with ITV that debuts on Hulu Wednesday, is something more complex. Created by Alison Newman and Moira Buffini, it takes an unflinchingly clear-eyed look at the 18th-century sex trade, seen from the perspective of the women who participate in its frequently brutal and unforgiving hierarchy. It doesn't romanticize sex work, but neither does it ignore the realities of an economy that left women with few other options.
In that, Harlots mostly pulls off a tricky balance of substance and tone. It's infinitely more jocular than Starz's 2016 show The Girlfriend Experience, which undertook a similarly ambiguous and anatomical analysis of sex work, but no less thoughtful when it comes to the dynamics of sex and power. Margaret Wells (the superbly accomplished Samantha Morton) is a "bawd" (a brothel keeper) in Covent Garden, with aspirations of setting up a more refined shop in Soho. Her girls operate a strata above the women working on the street, but are looked down upon by Lydia Quigley (Lesley Manville), who runs a higher-class establishment for noblemen. Loftier still is Margaret's daughter Charlotte (Jessica Brown Findlay, better known as Downton Abbey's Lady Sybil), who's become the mistress to a buffoon of an aristocrat (Fleabag's Hugh Skinner).
Mrs. Quigley is a cheerful villain, locking women in their rooms at night, tricking wide-eyed innocents new to London into giving up their freedom, and subjecting her girls to sexual and physical violence. Margaret is harder to categorize. Her actions are often monstrous—the first episode shows her auctioning off the virginity of her 15-year-old daughter Lucy (Eloise Smyth) at the opera—but she's more altruistic as a boss, and reluctant to see her daughters enter the same business she was sold into at 10 by her mother for "a pair of shoes." While the role doesn't give Morton the same room to flex her acting muscles as, say, Woody Allen's Sweet and Lowdown, she gives depth and moral conflict to a character who could easily be a pantomime dame in the wrong hands.
Harlots is adamant about depicting sex from the point of view of its female characters, which means it's anything but sexy (its writers and directors are all women). From a distance, the scenes might resemble the choreographed background couplings of Game of Thrones or True Detective, but they're more realistically awkward close-up. Lucy, whose virginity is sold not once but twice, hasn't yet learned to fake enjoyment as efficiently as her older sister, and her visible discomfort is painful to watch. Her contrast with Charlotte's enthusiastic responses serves as a pointed reminder of how often pleasure is a performance, both onscreen and off. It's an antidote to the mindless abuse of women in so many prestige dramas, but not an easy one to digest.
Harlots is thoughtful, too, in its portrayal of how easily women can be persuaded to participate in the abuse of other women when there are no other means of power available. "Damn you for a stupid slut, you need to be his property," Margaret tells Charlotte in one scene. "Men don't respect whores." Later, she laments how "money is a woman's only power in this world." Even the aristocratic wife of Charlotte's nobleman isn't immune, telling Charlotte that her husband is frittering away her fortune on his mistress, though in the eyes of the law, it's his to spend. For the most part, the show takes a dim view of its male characters, although Margaret's dependable and understanding partner (Danny Sapani) is a notable exception.
After the first two episodes, the show loses some of its momentum. There isn't really an overarching plot leading anywhere, beyond a conspiracy among noblemen to despoil virgins that's only loosely gestured at, and Margaret's ongoing attempts to elevate her business. In that, it sometimes feels structured more like a British soap opera than a prestige-TV miniseries. But it's fun nevertheless to engage with the characters of Harlots, who are vividly written, outspoken, and frank. "I'm clawing my way upward in the world, Mr. Gibbon, not down," Margaret tells a john in one of the earliest scenes, after the girls have perused their reviews in Harris's List of Covent Garden Ladies—a real publication that inspired the show. It's perhaps not quite how Sheryl Sandberg envisioned leaning in, but it's a gratifying 18th-century approximation.