Is Girls Heading Toward a Conventional Happy Ending?
Hannah Horvath's latest decision is an unexpected twist for the HBO show.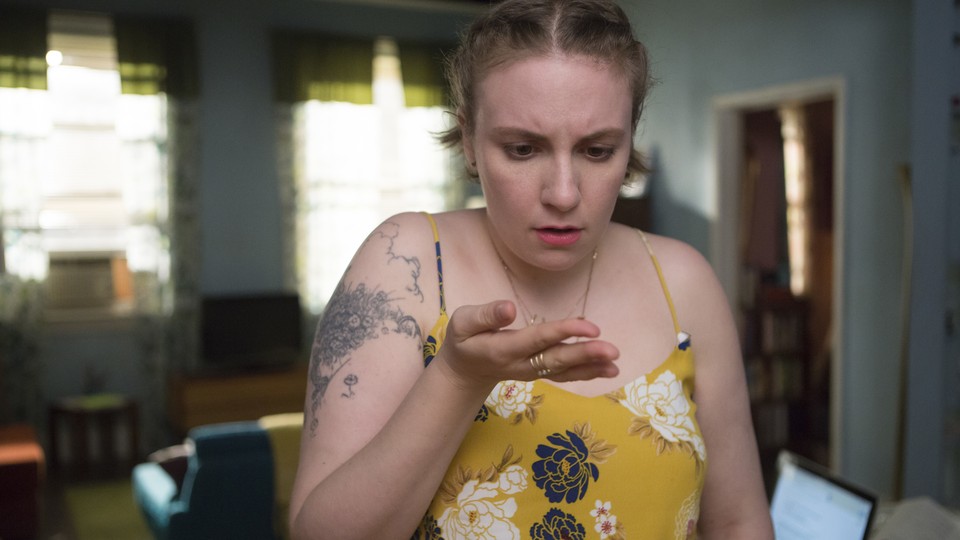 Hannah Helene Horvath—flasher of principals, abuser of Q-tips, stealer of housekeeping cash—is pregnant. Thanks to a brief, blue Curaçao-fueled liaison with a sweet but vacant surfing instructor in a bunkbed in Montauk, Hannah (Lena Dunham) is unexpectedly host to a six-week-old fetus, which is (the internet informs her in Sunday's episode, "Gummies") currently the size of a lentil. This presents a conundrum for Hannah as a character, but also for Girls as a show, which is no stranger itself to making artistic decisions that will be endlessly analyzed. No unplanned television pregnancy can occur in a vacuum; each one takes its place among a significant collection of characters mulling a woman's right to choose, from Maude Findlay to Miranda Hobbes. So, Hannah's instinct to keep her baby could be read as the show veering toward an unexpectedly conservative happy ending for the character. Or, maybe it's not that simple.
Just to preempt any rebuttals at this point that Girls is only a television show and thus has no bearing on what people do in the real world, TV pregnancies do matter. Hannah admits as much herself to Elijah, when she details her primary model for single parenthood. "I don't have to be boring," she argues. "I could be a cool single mom, like, you know, Lorelai Gilmore." Fictional or no, there's power in how pop culture explores unplanned pregnancies, and how its stories filter down to young women. In 2016, a number of popular TV shows seemed to take a deliberate (and fairly revolutionary) stand when they presented the choice to get an abortion as a not-particularly big deal. Hannah's apparent decision to keep her baby and raise it alone is a statement, whether the show likes it or not.
The question is, what is Girls trying to say?
The specter of getting pregnant has hovered around the show since the beginning, when, in the second-ever episode, "Vagina Panic," Jessa (Jemima Kirke) is scheduled to have a termination. Her friends are extremely supportive—"I could not be more proud of you for getting this abortion," Shoshanna (Zosia Mamet) gushes—even while Jessa, and Hannah, seem nonchalant about the decision itself. "What was she gonna do, have a baby and take it to her babysitting job?" Hannah asks Adam. "It's not realistic." Ultimately, Jessa gets her period midway through a bar hookup with a stranger, with the show electing to cop out via the classic TV trope of the convenient miscarriage.
At the time, a frank storyline involving abortion on a high-profile show was rare enough to be noteworthy, even though the procedure itself was merely theoretical. Entertainment Weekly pointed out that Girls was busting taboos merely by having the characters repeatedly use the word "abortion" (11 times, compared to a Sex and the City episode ten years prior that largely relied on euphemisms). But unlike its HBO predecessor, Girls gave short shrift to the gravitas of the issue at hand, tackling the topic with bravado, but only superficially.
Three years later, it tried again. In the fourth-season episode "Close-Up," Adam (Adam Driver) pressures Mimi-Rose (Gillian Jacobs) to go running with him. After politely declining once, she explains, "I can't go for a run because I had an abortion yesterday." Then she sits up and smiles at him. Adam's visceral shock, and his outrage that she chose to terminate his baby without consulting him, tapped into one of the more ethically complex debates about pregnancy, and how much say men should have when it comes to a baby they won't have to carry. "While you watched the Oscars, Girls did a super-chill abortion episode," Jezebel wrote, approving of the episode's "straightforward and fairly realistic" treatment of Mimi-Rose's decision, if not the improbable facility with which her abortion was procured and managed.
Granted, Mimi-Rose was an ancillary character, not one of the show's primary forces. But there are echoes of "Close-Up" in Hannah's pregnancy now, even though her choice appears to be a very different one. For one thing, Hannah doesn't seem compelled to involve Paul-Louis (Riz Ahmed), either in the process of her decision, or in the hypothetical future of her child. "He's like a random waterski instructor I'm never going to see again," she tells her mother, Loreen (Becky Ann Baker). And for another, she doesn't particularly care what anyone else thinks. After being told unceremoniously that she's pregnant by her one-time hookup, Dr. Joshua (Patrick Wilson), she storms out when he assumes that ending the pregnancy would be her de facto choice. And though she cries when Elijah cruelly informs her that she's going to be a terrible mother, she doesn't let his judgment remotely inform the future she's leaning toward.
Inevitably, Hannah's impulse to keep her baby will urge comparisons to the previous work of the show's executive producer, Judd Apatow. In 2009, the New York Times columnist Ross Douthat wrote, "No contemporary figure has done more than Apatow, the 41-year-old auteur of gross-out comedies, to rebrand social conservatism for a younger generation." Apatow, Douthat deduced, made his feelings clear in the 2007 movie Knocked Up, in which the primary character gets pregnant from a one-night-stand and yet barely considers the option of not having the baby. If Girls decides to use pregnancy as a device to make Hannah finally grow up, the show will be neatly hewing to the Apatowian model, not to mention the example set by Gilmore Girls and The Mindy Project, as Slate's Kathryn VanArendonk has pointed out.
And yet Girls doesn't seem like it's making a conservative choice. You could argue that abortion has become so socially acceptable in some circles that choosing to have a baby in your 20s is actually the more radical option. (E.J. Dickson explored this dynamic in an essay for New York last month, commenting on how shocked people were that she decided to have a child in her 20s as a married woman.) Certainly, for Hannah, abortion doesn't seem to be something she has objections to, or even particularly strong feelings about. But she does seem to have an impulse to go through with the pregnancy that even she can't really explain.
Hannah: I just get this feeling ...
Loreen: That this is your baby.
Hannah: That this is my baby.
"Gummies" made some cursory attempts to defend Hannah's potential parenting chops, having her trawl through Brooklyn looking for Loreen, who, high on medical marijuana and vomiting all over herself at dinner, seemed very much to have switched roles with her daughter. But more than anything, it seemed to be emphasizing that this is Hannah's choice, and that's all that matters. Forget the question of whether it's a bad one, or whether it's narratively unrealistic, or whether Lena Dunham and Jenni Konner are leaning toward an overly conventional happy ending. The thing of significance is what Hannah wants, and what Hannah decides to do. In the end, that's one of the most progressive messages a 21st-century television show could preach.