Drake's Playful More Life and the Limits of Ambition
His latest project borrows sounds from around the world for a successful party—but also hints at burnout.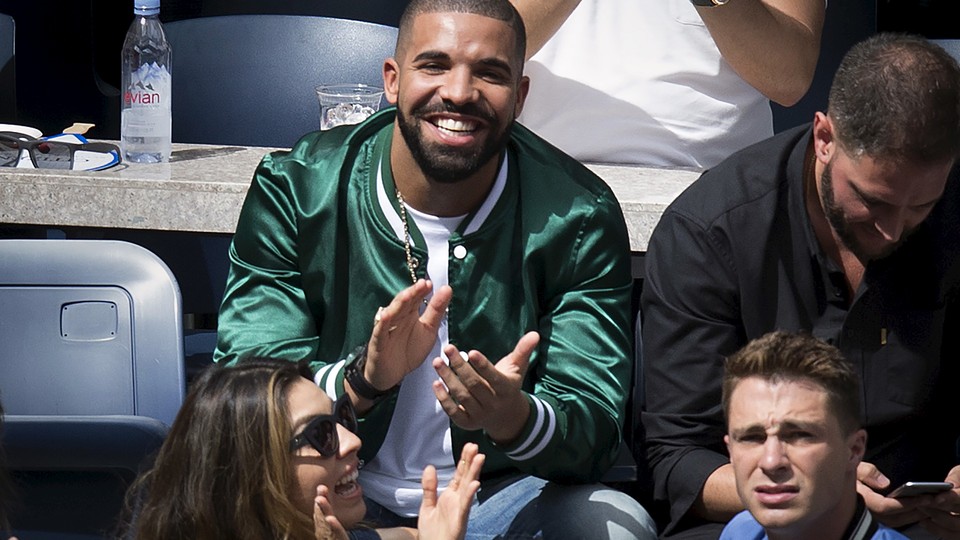 The title of Drake's More Life comes from a Jamaican encouragement, and a lot of listeners might take it as a carpe diem or live long and prosper or another zap of inspiration. But you could read the phrase more darkly—as a reference to the drag of mortality, as a gripe at another day on this rock. Someone might sigh "more life" around big birthdays, or after big achievements. That thing your whole life has been leading up to has happened. Now what? Just more life.
Drake turned 30 in October, during the period when his album Views was fulfilling every prophecy he'd made for himself. His long-desired No. 1 hit? Views gave him it. Becoming the biggest name in music? Views sold more than any album last year. The 81-minute release also drew an unprecedented amount of criticism to him—for indulgence, for sameness, for petulance. What's more life after that? Laws of gravity and fame would suggest a likely answer: descent.
But Drake greatest talent is in scrambling pre-expected narratives on the way to achieving the only thing he cares about: his own validation. And so now comes a "playlist"—you can say "album"—to keep the buzz of success going while he charts a new longterm plan. A surprising profusion of disparate sounds across 22 new songs, More Life can be read as a brainstorming of future directions, a cleaning of house or, most plausibly, just a victory celebration. Spent, he indulges a travel kick, brings some friends together, hits play, and then just mingles—though with a palpable sense of unease.
More Life teems with voices other than his own, making for a medley of accents, tones, and delivery styles from across the continents. The women, including Australia's Nai Palm and Sweden's Snoh Aalegra, often sound sped up and higher than human (save for a sample of his maybe-ex Jennifer Lopez that is slowed down, sinisterly). Meanwhile the men, many hailing from the UK grime scene, are close-up, raw, and deeper-voiced than Drake. Sometimes the guest vocals are seasoning and sometimes they are entree: The rising R&B singer Sampha showcases his wounded coo for an entire track; Atlanta's amorphous Young Thug raps on two songs, each time modulating his delivery for genuine novelty.
But the album's star element is the production, which—like the vocals—has been selected with a fashion designer's sense for contrast and likeness. On a clutch of intoxicating dance songs, patient grooves play out with a sense of eternity, whether with denuded strings on "Passionfruit," rubbery house bass on "Get It Together," or reggae-dusted drum skitters on "Blem." For the straight-ahead rap songs, Drake's beatmakers build momentum with little innovations: a sound like a psychedelic zipper-pull on the sublime "Sacrifices"; a slow-rolling storm of syncopation and synth washes on "Can't Have Everything."
If I'm making it sound like Drake has receded a bit on his own album, he has. But when he does make his presence known, it's with typical calculation and finesse (two traits he explicitly brags about here). There's a new, laconic flow on "Sacrifices," a sense of fly-off-the-handles chaos beneath his words on the opener "Free Smoke," and precision and purpose while dressing down rivals on "Do Not Disturb" and "Lose You." The oh-so-gentle singer persona the masses met on "Hotline Bling" recurs on the dancier songs—"Passionfruit" in particular is as soft as sorbet—as well as on the oddly lumpy Kanye West collaboration "Glow."
But there's a nagging disconnect between More Life's vibrant sound and Drake's typically sour subject matter, even if the playlist does have him doing the age-appropriate thing of taking stock of his years so far and wondering what's next. "Free Smoke" is among the better started-from-the-bottom narratives he's provided, packed with sharp details like the fact that he needed hand sanitizer to count the cash at his early gigs. "Lose You" is a landmark of score settling, with Drake stating the goal that will define his career henceforth: "We got it, now we just gotta keep it." He mentions his own exhaustion multiple times across the album; he makes clear he's not satisfied; he closes by saying he's taking a year off.
What's fascinating is that Drake seems dimly aware that "keeping it"—it being his place at the top of the heap—might involve shifting his approach. At one point, Drake raps, "Better attitude, we'll see where it gets me." Later, his mom leaves a voicemail saying she doesn't like his recent "negative tone" and advising: "When they go low, we go high." But it's not clear whether we're supposed to scoff given More Life's other content. A line like "I could never have a kid then be out here still kiddin' around," seemingly aimed at Meek Mill or one of the other rappers-slash-dads who've come for him, is not going high when they go low. Nor are the standard-issue airings of disappointment toward women and grim congratulation for his own self-making.
Drake has spun the story of his own rise again, again, again over the years, and each time he's given the impression that the only thing that drives him is the impulse to win. Sometimes he'll mention the need to pay his mom's bills; other times, he'll bring in a sense of lifting up his community in Toronto. But as he's grown more famous and more powerful, those causes have still never been the main one—"My life is centered 'round competition and currency," he says in More Life's final moments. Even love has gotten edged out in the name of ambition: He raps that he's spending too much time at the studio to be a "Romeo," and then wonders, "Who knows where I end up when that shit gets old? / Maybe it never gets old and that's just how it goes."
Grabbing cleverly from an array of international styles with an ear for fun, as he's done here, is a way to renew his appeal in a moment when it seemed he'd have to stall out. Writers like Brittany Spanos at Rolling Stone have smartly suggested the project is "redefining the borders of blackness in pop" by drawing from across the African diaspora—yet if that's the driving idea, Drake doesn't ever quite say it. It might help him to do so. The mission to keep beating the world seems unsustainable without, well, a bigger mission that transforms the prove-yourself hunger of Drake's 20s into something more solid.
Then again, he's defied the logic of career arcs before. Perhaps more life for Drake means the music gets more exciting while the man at the middle just scowls, his success being the least satisfying kind: existing only for its own sake.