More Life Is Another Smart Career Swerve for Drake
The latest music-category mindbender for the internet age: Why is the rapper's new release a "playlist" instead of an "album"?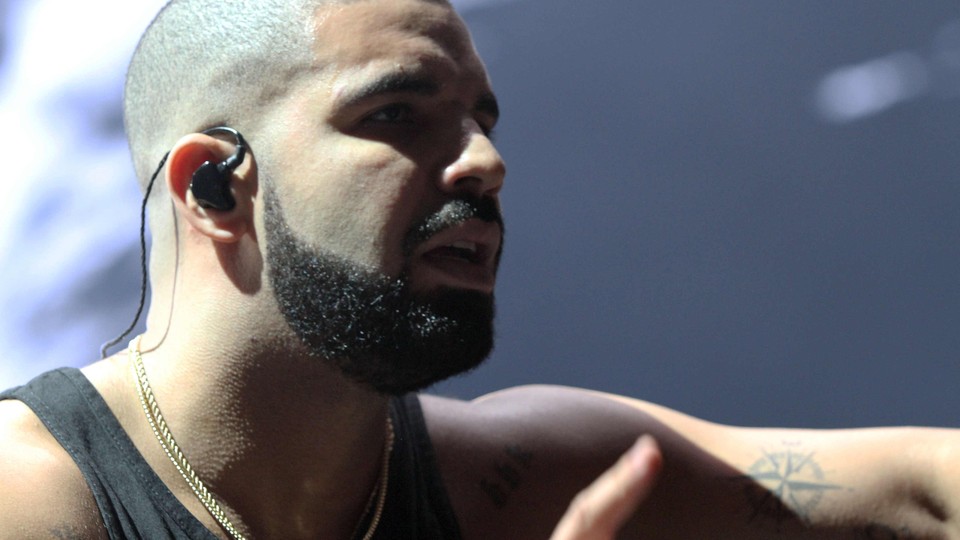 The playbook for pop stardom keeps adding chapters in the internet age, with the surprise album, the visual album, the retail mixtape, the hit-containing deluxe edition, and the album-in-progress all representing new answers to the once-settled question of how best to package and release new music. Now Drake has offered up another categorical mindbender, calling his latest release, More Life, a "playlist," despite the fact it's made up of new songs whose primary author, by iTunes designation, is Drake.
Many write-ups are putting "playlist" in scarequotes—"It's just an album, dude," as The Ringer puts it—because on a technical level, calling More Life a playlist creates a distinction without a difference. But for Drake himself, the new term seems to signal a special sensibility, and the Toronto rapper's influential career has shown that Drake's evolving sensibilities—especially as they relate to maintaining cultural relevance—are worth understanding.
More Life follows 2016's Views, a hugely popular album that earned an Album of the Year Grammy nomination after breaking chart records and producing Drake's first No. 1 single ("One Dance"). The album had been hyped since 2014, looming as Drake's great forthcoming opus even while he enjoyed success from his mixtape If You're Reading This It's Too Late, his Future team-up What a Time to Be Alive, and the one-off hit "Hotline Bling." When Views finally arrived, its cover had Drake sitting at the top of Toronto's CN Tower, an image fitting the sense of culmination that surrounded it.
More Life is a stealthier, less-weighted project. Its release date was announced only a day in advance; it dropped on a Saturday night rather than the industry-standard music-delivery time of Friday morning; there aren't physical copies. And rather than presenting itself as a comprehensive reckoning with Drake's place in life and in his career, it's framed as a sign of generosity, a bonus, another helping—"more chune for your head tops" Drake says in a sample that recurs throughout these songs like a radio-station bumper tag.
The focus here is on Drake as curator and kingpin, bringing together a diverse set of sounds from around the globe in tracks structured to deliver all-enveloping vibes rather than the suspense and release of pop hits. The producer Nineteen85 explained to Billboard that Drake has "so many good ideas that he just wants to put out without making it a big ordeal" and that he calls More Life a playlist "because he has a bunch of people in a space, hanging out…. He's so aware of what everybody else is doing musically that he likes to introduce new music and new artists to the rest of the world."
The ostensibly humbler ambitions of More Life allow Drake to pull some moves that might draw flack on another album. "Jorja Interlude" samples a song he released six years ago; "Get It Together" mostly just refurbishes a 2010 tune from the South African producer Black Coffee with new vocals. In some tracks, Drake barely appears at all. Observers know there's nothing new about Drake's self-referentiality or him swiping from music scenes less familiar to wide North American audiences—but here, the playlist conceit makes it so that the sharing of eclectic influences feels like the point. Already, the artists featured here have seen big boosts in their own streaming counts thanks to Drake listeners becoming intrigued by what they hear on More Life.
The format and somewhat muted promo also has the side effect of encouraging lowered expectations—which More Life can thrillingly clear. Critics and fans have been registering delight since Saturday, luxuriating in the glistening grooves of songs like "Passionfruit," admiring the strong guest-starring turns like the ones from the rising UK singer Jorja Smith and from rap shapeshifter Young Thug, and picking apart Drake's studiously crafted boasts on tracks like "Free Smoke" and "Can't Have Everything." The album is dense and bustling, but also laid back and chill-oriented—a balance that surely took a lot of work by Drake and his OVO team to pull off.
With 22 songs and an 81-minute runtime, More Life is just as voluminous as Views, and it'll take time to sort through all the music—I'll likely have a fuller review later on. But what's already clear is that More Life is another savvy career move from a man who, along with Beyonce, is the era's genius of redefining pop stardom. The lyrics throughout the tracklist make clear that Drake is preoccupied with the question of how to maintain the hot streak he's enjoyed since 2009, and the final verse on More Life's final song has Drake saying he's going to take the summer off and will "be back in 2018 to give you the summary." Until then, this leftfield yet satisfying release—however you classify it—should keep Drake in plenty of people's playlists.