Dave Chappelle Reckons With Himself
The comedian's two Netflix specials are loaded with brilliant storytelling, but suffer when they lose hold of his unique point of view.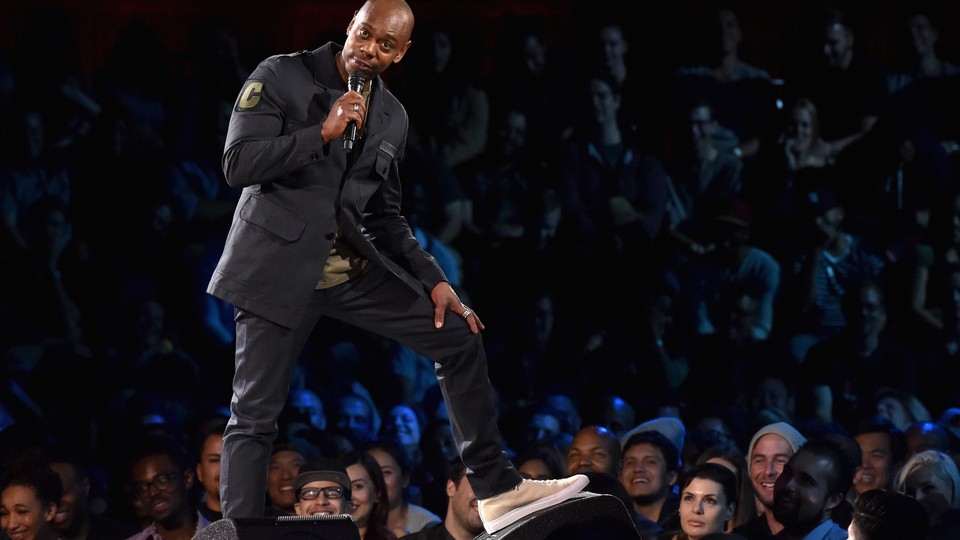 Almost exactly halfway through Deep in the Heart of Texas, the second of his two comedy specials released on Netflix last week, Dave Chappelle does something unusual: He sits down. The live-wire comic perches on a stool in the center of the stage, plops his feet onto a speaker, and asks the crowd if anyone has a cigarette. He delivers the rest of the show like that, occasionally springing to his feet to drive home a punchline, then resting back on his stool to chat with his rapt audience. It gives the show a spontaneous, conversational feel, as if he's telling stories the instant he thinks of them.
Of course, every move in a stand-up show is a calculated one, and Chappelle is a veteran of the form, using a looser approach to sell a shaggier, more anecdotal form of his comedy. It makes for an interesting contrast to his other Netflix special, The Age of Spin, a more composed, finely tuned set with an overarching structure (based around four brief encounters with O.J. Simpson over the course of his career). But though they're wildly different shows, the strengths and weaknesses of Chappelle's comedy comeback are consistent in each.
Chappelle is at his most fascinating, and funny, when he's reckoning with his own place in the comedy firmament and the consequences of his overwhelming celebrity.  But he's at his most tired and forgettable when he tries to occupy the role of social commentator and provocateur, particularly when he tries to untangle his feelings on gender identity. When Chappelle's not attempting such "searing" material, The Age of Spin and Deep in the Heart of Texas are filled with gripping, hilarious stories tinged with unease—and Chappelle really shines when he kicks up his feet, even if it's only in a metaphorical sense.
After leaving his hit Comedy Central sketch show in 2005 and largely shunning public life outside of sporadic stand-up appearances, Chappelle became as legendary for his absence as he was for his career. His full-throated return to comedy in recent years has included a memorable Saturday Night Live spot and a few film appearances. But these Netflix specials are the first truly original filmed stand-up he's released in 13 years (the Austin, Texas, show was filmed in April 2015, and the Hollywood show in March 2016).
Wisely, Chappelle uses neither hour to re-litigate the specific circumstances of his hiatus or his mindset in 2005. But so much of his material clearly wrestles with those feelings, and his general discomfort with his fame and his perceived role (especially when Chappelle's Show was on the air) as a peerless commentator on race relations in America. "I'm not going to say nothing about the police," he deadpans at one point during the Austin special. "I leave that to Chris Rock."
When Chappelle does want to dig deeper, it's usually into the alleged crimes, scandals, and tribulations of celebrities like Simpson, Bill Cosby, Ray Rice, Paula Deen, Donald Sterling, and Manny Pacquiao. Each has become an example of something terrible, a phenomenon that clearly intrigues Chappelle—the extent to which a horrendous crime, or a publicly dissected moment of racism or homophobia, can serve as a larger symbol, and the extent to which he himself can empathize with these figures or provide context for their actions.
The idea that stand-up comedy exists in a directly political realm—that you might attend a show hoping to hear the thoughts of a comedian who largely shares your worldview—is a peculiar one. Of course, most comedy is interwoven with political and social issues, but the medium has always existed in part to discuss the un-discussable. The stand-up stage is a space where comedians can open up their mind and discuss their darker thoughts—things they might not even agree with, or ideas that seem compelling when fleshed out, but that aren't necessarily right. Comedy can be polemical, of course, and can take on the appearance of a simple rant. But even those can happen in character, revealing a side of a comedian's personality he or she might otherwise never fully expose.
And yet that doesn't mean audience members or viewers at home should set aside their personal feelings or beliefs; material that might be broadly considered offensive isn't suddenly neutralized through the magic of performance. Indeed, in these two specials, Chappelle frequently and brilliantly tries to work through his most troublesome feelings, like being briefly taken in by the sheer force of Simpson's celebrity and personality, or trying to grapple with the legacy of Cosby's work alongside the dozens of sexual assaults he's accused of committing.
But a lot of the more "challenging" or "edgy" material in both specials is some of the laziest comedy Chappelle's ever attempted, such as his widely discussed efforts to flesh out his feelings on trans people and trans rights, or his digressions on "gay bloggers" accusing him of homophobia. Every time Chappelle's jokes fall flat, it's because there's no angle beyond "what I'm saying might be considered inappropriate." Too often he sets up one of these bits in opposition to a lazy straw man, rather than the complex characters that populate the rest of his stand-up.
When Chappelle is talking about other famous people, or his own close family and friends, he can conjure up a multifaceted figure for his audience to understand and engage with. But when he's grumpily recalling being chided for referring to a trans woman as "he," the anecdote feels simplistic and cheap. "I support anyone's right to be who they are inside, but to what degree do I have to participate in your self-image? Why do I have to switch up my pronoun game for this motherfucker?" he complains, ironically displaying his own lack of empathy in a story that's meant to be about a minor inconvenience the world is imposing on him.
Meanwhile, Chappelle feels genuinely captivating when he lays bare his own flaws—something he's usually willing to do. He is, after all, a comic who's happy to stare at the floor in embarrassment, to chuckle with shock and amazement at the things he's saying, and to generally own up to his own foolishness. There's plenty of that in The Age of Spin and Deep in the Heart of Texas. In these specials, there's so much evidence that Chappelle is still the great fearless and gifted storyteller that he's always been; it's when he loses sight of that unique point of view that things get away from him.