Chance the Politician
The rapper is spending his good will—and $1 million in ticket sales—on Chicago Public Schools.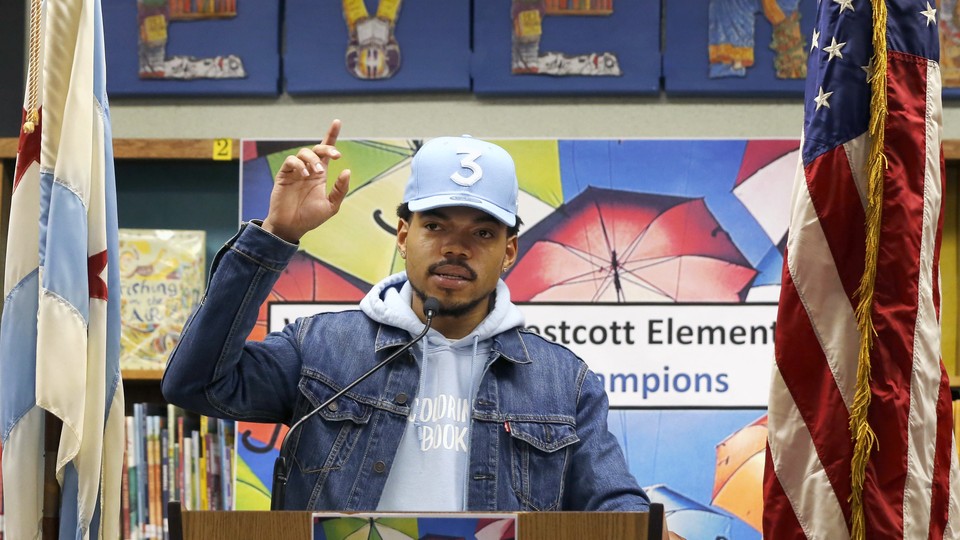 On Friday, Chance the Rapper sounded frustrated. After meeting with Illinois Governor Bruce Rauner to talk about Chicago Public Schools' funding crisis, he told reporters he had received only "vague" answers about the issue. He also leveled some complaints against the reporters themselves. "I want y'all to do your jobs," he said outside Chicago's James R. Thompson Center. "The international and national publications out there—Complex, Billboard, people that post about me walking down the street and shit—if you guys could give a comprehensive history on how we ended up here."
Publications like Complex and Billboard post about Chance walking down the street and doing other things because he is one of the hottest names in music, the subject those publications largely exist to cover. But Chance wants to use the power of pop stardom to bring attention to a decidedly unglamorous municipal struggle: the fact that Chicago Public Schools is freezing $46 million of its budget after Rauner's veto of $215 million in spending for the district. It isn't the first time a celeb has tried to leverage their platform for a cause, but Chance's move comes at a striking moment in his career arc, takes up a specific—and urgent—issue, and plays skillfully on a national moment in which politics and pop culture seem particularly entangled.
On Monday at Chicago's Westcott Elementary School, Chance announced a $1 million donation to help with the district's arts education. He also reiterated his call for the governor to use executive powers to make up the $215 million for Chicago Public Schools.  The press conference was broadcast through Chance's Instagram account; around 14,000 viewers were tuning in when it began, streaming emojis and comments ("come to Brazil!" among them) across the screen as the 23-year-old talked public policy.
A few years of acclaimed albums and mixtapes by Chance has built him a devoted audience, but his proper national arrival came at last month's Grammys, where he won Best New Artist and put on a gospel-inflected performance. At Monday's event, a reporter pointed out to him that a lot of other stars would be basking in recent successes with a vacation. Chance said he was instead getting involved with education funding because it's the right thing to do, but he added that the Grammy wins were what he "needed" to get an audience with Rauner. The suggestion is that pop influence is political influence, and he might be right. Rauner obviously cares about the star's sway, and apparently called Chance to talk more over the weekend after the rapper publicly aired disappointment with their earlier meeting.
The South Side of Chicago has been prominent in national news lately in part thanks to President Donald Trump, who holds up the area's crime rates as a symbol of the ailing "inner cities." Chance is from the South Side and has made documenting the joys and difficulties of living there central to his work. On Monday, he said he wants to "enhance" the conversation, echoing comments he made recently about how Trump refers to Chicago as if it's a foreign adversary and has yet to offer any concrete help.
He also pointed out that budget cuts might shorten Chicago's public school year by 13 days. His mention that a lack of "adult-supervised activities in June" could put kids "in harm's way" may have struck a particularly resonant note for his fans, who are familiar with his lyrics about the summer being a fraught season for him and his South Side neighbors. "It just got warm out, this the shit I've been warned 'bout … Cause everybody dies in the summer," he rapped in 2013's "Pusha Man/Paranoia," expressing a sentiment he revisited in 2016's "Summer Friends."
The $1 million check he presented at Wescott was funded by ticket sales from his upcoming tour, money that he said was made available through the cooperation of major companies like Live Nation, AEG Live, and Ticketmaster, as well as independent promoters and venues. The public linking of concert revenue and school funding brings fans into the cause—they've contributed without realizing it. He directed others who want to donate to give to SocialWorks, the non-profit he cofounded and that will chip in another $10,000 to Chicago Public Schools for every $100,000 raised.
From Kendrick Lamar to Katy Perry, it increasingly seems like pop stars who talk politics are more common than those who don't. But when musicians speak out, it's often for broad, social goals, ones that are usually already on the radar of others in the art world. And celebrity donations don't usually become social-media events. By wading into the fractious world of state funding as it affects the community he came from—a community whose struggles are central to his art—and by leveraging his good will, publicity savvy, and new name recognition, Chance is making a more surgical intervention than most.
Though his dad, Ken Bennett, was a staffer for Barack Obama and Rahm Emanuel, Chance has said a few times that he's no politician. And at Monday's press conference he spoke not with grand oratory but with his typical shy-guy humility. Hours beforehand, Governor Rauner's office laid out two policy options to help Chicago Public Schools; Chance professed not to know the legal nitty-gritty of what needs to be done, instead simply calling for the governor to "do your job" and fund the district. Complex and Billboard have already written it up.