The Soul of Big Little Lies Is in Its Music
The HBO miniseries takes a novel approach to its score: letting its characters' listening habits dictate what the audience hears.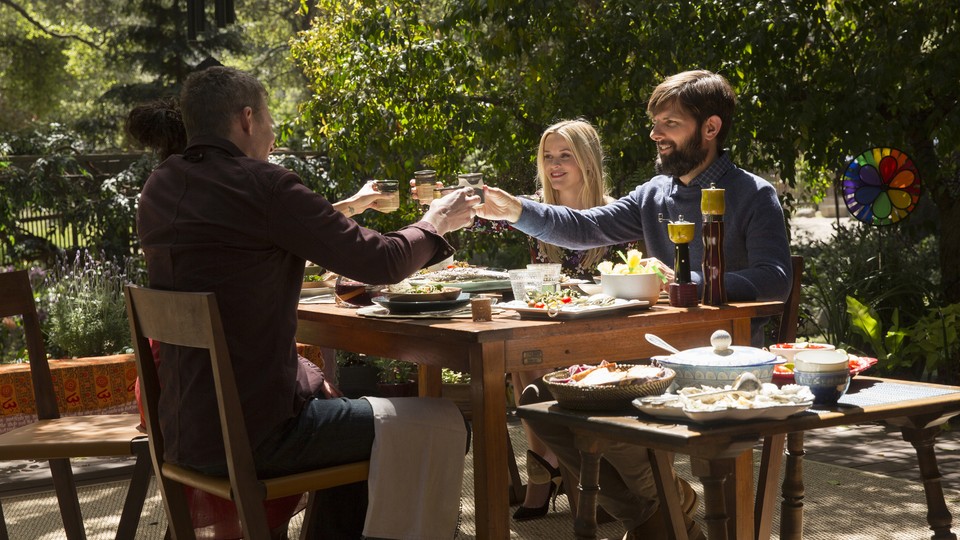 The latest Big Little Lies episode begins like a lot of Big Little Lies scenes do: with an Apple device being used to cue up a song. This time, the song is the Temptations' "Papa Was a Rolling Stone," and the occasion is an impromptu living-room party of gradeschoolers and parents. Viewers see Ziggy Chapman (Iain Armitage) and Chloe MacKenzie (Darby Camp) grooving around while Chloe's parents Madeline and Ed (Reese Witherspoon and Adam Scott) film them and then get in on the dancing themselves; we hear an iconic bassline and wah-wah guitar building excitement and tension.
But that same song plays as the camera cuts to Ziggy's mom Jane (Shailene Woodley), who's been pulled over by police for speeding, her mind racing after her having visited a man she thought might have raped her. As the episode progresses, "Papa Was a Rolling Stone" recurs again and again. That's because Ziggy has become obsessed with it, watching the Temptations on an iPad while on the way to school and practicing a dance routine when at home. But presumably there's also an artistic reason the show keeps playing this tune: It helps illustrate Jane's inner agitation.
HBO's stylish miniseries of mansion porn and murder is shaped by music on a few fascinating levels. Within its tony setting of Monterey, California, characters are constantly plugging in earbuds, practicing choreography, humming in the car, dabbling on the piano, and recommending tunes to one another. For viewers, song plays the traditional TV role of manipulating emotions (with a mysterious mood for each episode set through the title sequence's snippet of Michael Kiwanuka's 10-minute soul-rock song "Cold Little Heart"). But music seems to be doing something bigger, too: serving as a thematic tell, a grand metaphor for how volatile forces underlie placid exteriors.
The director Jean-Marc Vallée and the music supervisor Sue Jacobs have hit on a novel approach to TV music. There's no composer for Big Little Lies, and it has no orchestral score. Instead, pop songs—rock, soul, R&B, tending toward classic-radio picks—intrude consistently. And a large percentage of this music is, in one way or another, diegetic: When the audience hears a song, that often means someone in the show is hearing it, too. But once a track has been introduced into this world by a character, Vallée freely cuts to characters elsewhere in the world for striking tonal juxtapositions.
With this approach, most characters end up becoming associated with one or two theme songs. Sometimes it's a simple thematic match: the fatherless Ziggy getting down to "Papa Was a Rolling Stone," his deeply scarred mom singing along to Martha Wainwright's "Bloody Mother Fucking Asshole," the abused Celeste (Nicole Kidman) listening to Irma Thomas's ballad of painful love, "Straight From the Heart." But in other cases, characters will use music to influence others. For example, Chloe plays Leon Bridges's "River" a lot, but she does it to foster affection—between her parents, or Ziggy and his schoolyard maybe-rival Amabella (Ivy George).
Chloe herself is the otherworldly, beyond-her-years spiritual DJ of Big Little Lies. In the show's very first scenes, she announces that she wants to one day be the head of a record label, and she guesses correctly that Ziggy is named for a David Bowie character. Later, she counsels her dad to pick an obscure Elvis Presley tune to perform at the upcoming fundraising gala. The biographical source of her expertise isn't yet clear—maybe it won't ever be. But her love of music seems like a beacon of simple, positive passion in a show otherwise defined by darker, more complex desires. Her personality and Ziggy's name are signs of a matchup between the power of music and the nature of childhood.
For adults, the relationship with music isn't always so pure. In an uproarious dinner party scene from Sunday night's episode, Madeline misidentifies the Sade tune that her ex-husband's new, worldly wife Bonnie has cued up, asking "Is this Adele?" The faux pas suggests that taste is yet another status signifier in a community obsessed with them. Madeline does care about music, though—not for its coolness factor but for its ability to be an outlet for thwarted ambitions, as seen in her push to mount Avenue Q. Meanwhile, the entire Monterey village is revving up for the aforementioned fundraiser. The theme is Audrey Hepburn and Elvis Presley, arts-and-culture icons leveraged for social climbing and—as we know because of the show's flash-forward framing device—murder.
Six out of seven episodes in, the message of Big Little Lies seems to be that savage forces shape even the most mannered people and places. Idyllic marriages and unassuming individuals hide violent or sexual secrets; cute kids in well-tended classrooms inflict bruises out of sight. Pop music is often thought of as a social force and a cultural glue, but many of these headphone-encased characters seem to have profoundly solitary relationships with their songs—relationships that remind you of how the history of pop music is a history of primal screams, whether of lust or anger or ecstasy. As the show's music supervisor Jacobs explained to Vulture, "Big Little Lies is dark and has a very dark story at its core. Yet on the surface, it all looks so beautiful."
Big Little Lies's music also matters for demonstrating a special approach to small-screen storytelling. As television has increasingly allowed for high-gloss yet experimental art, it has developed a relationship with music that once only movies had. If there's to be another John Williams or Hans Zimmer, it may well be someone like Ramin Djawadi, the scorer of HBO's Game of Thrones and Westworld. Yet Big Little Lies brings some prestige back to the recognizable-pop-playlist tradition most associated with The OC. Though you can sing along with most of the songs here, what matters—as with the show's characters—is that which can be felt but not said.