Why Netflix Will Release Martin Scorsese's Next Film
A $100 million gangster epic starring Robert De Niro, Al Pacino, and Joe Pesci has become too risky a proposition for major studios.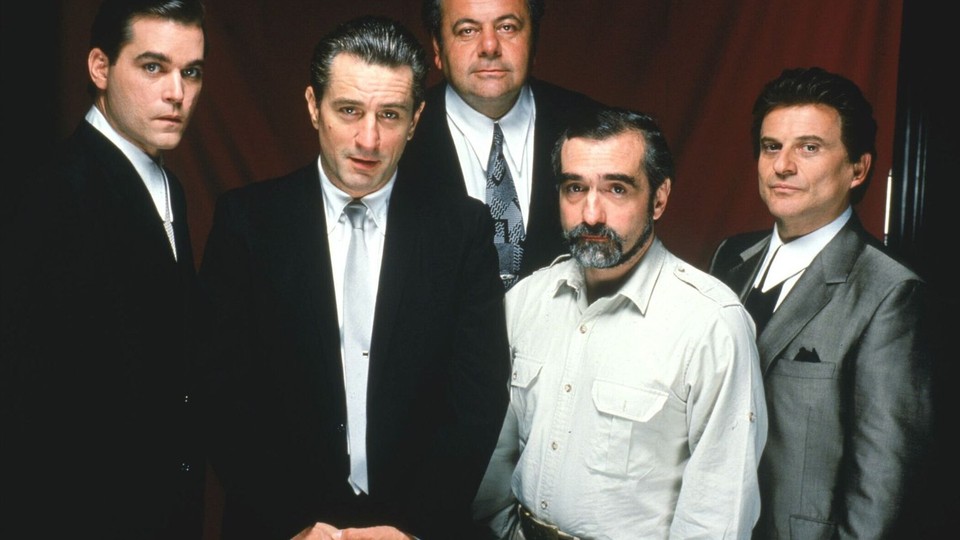 Martin Scorsese's next project, The Irishman, is as close as you can get to a box-office guarantee for the famed director. It's a gangster film based on a best-selling book about a mob hitman who claimed to have a part in the legendary disappearance of the union boss Jimmy Hoffa. Robert De Niro is attached to play the hitman, Al Pacino will star as Hoffa, and Scorsese favorites Joe Pesci and Harvey Keitel are also on board. After Scorsese branched into more esoteric territory this year with Silence, a meditative exploration of faith and Catholicism, The Irishman sounds like a highly bankable project—the kind studios love. And yet, the film is going to Netflix, which will bankroll its $100 million budget and distribute it around the world on the company's streaming service.
Netflix's ascension in the world of film distribution has largely been on the margins. Its insistence on releasing movies online the same day they come out in theaters has thus far stopped its projects from being shown in most major cinema chains. The fact that a Scorsese movie—and one this expensive, with a cast this stacked—is opting to go to Netflix rather than one of the major studios is an indication of something seismic. Until now, big directors have avoided the company, afraid it would doom their films to only be seen in people's homes. But with Scorsese aboard, that could begin to change.
Anne Thompson of Indiewire, who broke the news of the Netflix deal, noted that The Irishman had long been planned as a Paramount Pictures production. Paramount distributed Scorsese's last four movies, three of which were huge hits: Shutter Island ($294 million worldwide), Hugo ($185 million worldwide), and The Wolf of Wall Street ($392 million worldwide). Though all had big budgets, Scorsese's brand recognition is peerless. His name, and the A-list movie stars who work with him, are usually enough to attract audiences, even if the film is a baroque, profane, sexually explicit 3-hour comedy about a sociopathic Wall Street broker.
Yet, Scorsese's most recent effort, Silence, was a bomb. It cost some $40 million to produce and has grossed only $7 million, receiving just one Oscar nomination (Best Cinematography) after its late-December release failed to draw audiences. Paramount arguably botched its roll-out, though the studio was hampered by the crowded slate of awards films (including Arrival and Fences) and by being unsure until late in the season that Silence would even be ready for awards contention. The film itself is an undoubtedly punishing watch and probably would have benefitted from opening ahead of the usual glut of prestige Christmas films.
Though Silence's failure was very specific, it seems to have scared Paramount off. According to Thompson, an industry source put it this way: "Paramount is not in the position to take risks. This way, he can make the project he wants." There's no better indicator of how much the film industry is changing than the fact that a Scorsese gangster film starring De Niro, Pacino, and Pesci seems risky, and Netflix is the safe haven to make the big-budget picture of your dreams. Some of Paramount's upcoming projects might seem, on paper, riskier, such as a sequel to Daddy's Home featuring Mel Gibson; certainly, the chances at awards contention are miniscule. But that is the calculation executives made.
In the world of streaming media, Amazon has so far proven itself far more attractive to big-name directors, because it gives films a proper theatrical release and waits for months before moving them onto its online Prime service for viewers at home. That approach is how Amazon acquired Manchester by the Sea at last year's Sundance film festival and got it a Best Picture nomination, and turned Love & Friendship into one of the surprise indie successes of the year. Netflix, on the other hand, only puts its films in a handful of theaters to qualify them for awards eligibility. It mostly expects viewers to watch movies at home (an approach that has, so far, gotten the company ignored by Oscar voters and beaten to big acquisitions at Sundance and other festivals).
Making The Irishman is on a whole other scale than the small indie films Netflix has worked on so far. Though Thompson reported that the deal will include a "limited Oscar-qualifying release" in theaters, this is an expensive film that will be made for television screens first and foremost. There is a chance that the appeal of Scorsese would be enough to break the embargo big theater chains have imposed on Netflix's releases, but it's unclear if that's something Netflix even wants. After all, the primary purpose of these investments is to draw subscribers, not to make money in cinemas.
Scorsese is not the only big-budget director working with the company. This year, Netflix will release Bright, a $90 million sci-fi cop drama starring Will Smith and Joel Edgerton, set in a world where humans and Orcs co-exist. Directed by David Ayer (Suicide Squad), it also sounds like the kind of film best served on a big screen. The same goes for Bong Joon-ho's Okja; the Korean director's follow-up to the acclaimed Snowpiercer is a "multi-lingual monster movie" that features Tilda Swinton, Steven Yeun, and Jake Gyllenhaal.
Still, it makes sense that these filmmakers would be drawn to Netflix. Ayer's experience on Suicide Squad was one that saw Warner Bros. tinkering with different cuts up to the last minute. Bong fought with The Weinstein Company over the length of Snowpiercer, as the famously intrusive producer Harvey Weinstein tried to make it shorter and more accessible to a wider audience. Scorsese has wrestled with such intrusion for most of his career; Netflix is essentially offering him a blank check, and is the rare studio that couldn't care less about running time. The appeal is obvious, and if other artists follow suit and migrate to streaming companies, the impact on theatergoing culture could be profound.