Is The Walking Dead's Villain Killing the Show?
The series' heroes are finally making moves against the tyrannical antagonist Negan, but they may be too late to stop a ratings slide.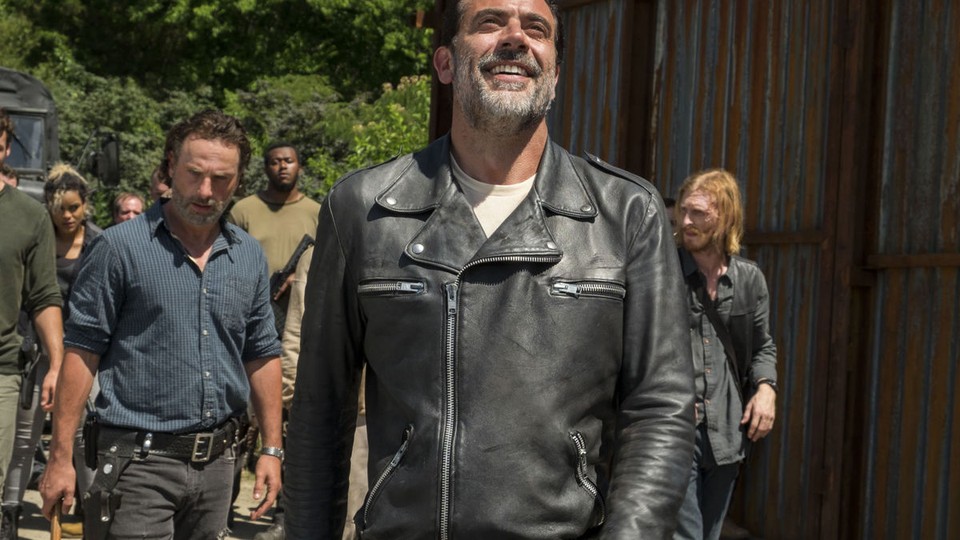 A strange thing happened after the gory, divisive, much discussed seventh season premiere of The Walking Dead last October: For the first time in the show's wildly successful history, people stopped watching. Despite airing on the cable channel AMC, it had consistently been one of the most popular programs on television in the crucial 18-49 ratings demographic. And yet, its ratings slid by 40 percent over the course of last year, the producer Gale Anne Hurd admitted to scaling back the show's violence after the negative fan reaction to the premiere, and the much hyped supervillain Negan (Jeffrey Dead Morgan) quickly proved to be a huge narrative drag on a show that doesn't move quickly even at the best of times.
For years, any argument over The Walking Dead's quality has been rendered almost moot by its enormous viewership. AMC had no real impetus to demand tweaks from a show that delivered such record-setting ratings (and yielded hit spin-offs Talking Dead and Fear the Walking Dead). But in its return on Sunday night, there was a palpable sense of panic to the episode—a promise to get things back on the right track after a year of sadistic misery. The problem is that new storytelling approach may well end up feeling just as dull and predictable.
After all, the sixth season of The Walking Dead unfolded with something concrete to look forward to: the appearance of Negan, a tyrant who rules over many of Virginia's post-apocalyptic communities with his group The Saviors. The casting of Morgan was announced long before his first appearance, the post-show hype series Talking Dead stoked fan excitement for his arrival, and readers of the Walking Dead comic books knew how crucial he'd be to future plotlines. But while in comic-book form Negan is a classic supervillain—much discussed, rarely seen, and brutally memorable every time he shows up—on TV, he was an almighty dud.
It's not so much that he didn't wreak havoc (he did). But suddenly The Walking Dead became The Negan Show, a seemingly endless exploration of a man who uses terror to achieve all his goals. The entire first half of the seventh season was about the extent to which he dominated Rick Grimes (Andrew Lincoln) and his band of zombie fighters, through murder, torment, and ongoing threats of death and destruction. It was gruesome and hard to watch, but more importantly, it was incredibly boring—an exercise in repetitive punishment designed to remind the viewer just how difficult it would be for Rick and company to resist.
Sunday's midseason premiere, "Rock in the Road," marked the beginning of said resistance. Sick of Negan's ongoing campaign of death, Rick is finally assuming a leadership role again and starting to communicate with the surrounding communities that exist under Negan's thumb to plot an organized insurgency. There are eight episodes in every half-season of The Walking Dead (starting in season three), and one imagines this rebellion will take about seven episodes to get going, building to a grand showdown for the spring finale. "Rock in the Road" mostly concerned itself with Rick asking King Ezekiel (Khary Payton), the bombastic leader of a town called The Kingdom, and Gregory (Xander Berkeley), the twitchy head of the farming Hilltop Colony, for help.
The build-up to Negan's downfall will likely be easier to watch than the build-up to his arrival; there's at least some nuance to the web of alliances he has to knit, and the different types of leaders he has to negotiate with. But it still has a dull air of inevitability, and the expected payoff may not be enough to turn ratings around. It's very rare for a hit show to rebound after its viewership begins to slide—at a certain point, you've been on too long to attract enough new viewers to replace anyone who's jumping ship, and there aren't as many daring story tricks to pull. The promise of Negan was, in many ways, more exciting than the reveal—once he arrived and proved himself to be good at one thing (hitting people with a barbed-wire-covered baseball bat), his appeal quickly deflated.
The Walking Dead's ratings are still sensational by the general yardstick of basic cable, so the show's cancelation isn't on the horizon yet. Attempts to find a proper successor for it have been mixed—the comic-book adaptation Preacher drew solid reviews but lackluster ratings, and the spinoffs Fear the Walking Dead and Better Call Saul (an attempt to draw out the Breaking Bad legacy) are not as popular as their forbears. AMC will continue to squeeze whatever they can out of their last genuine smash hit—and the comic book it's based on continues to run, so it's not like it lacks for material.
What The Walking Dead does lack for is excitement—not just from critics, but also from fans—and this half-season will be its chance to gain it back. The show can still execute a bizarre zombie-killing set-piece better than any, but its primary villains are always going to be regular people. As long as Negan is in place, The Walking Dead will feel like it's keeping time, just to make his downfall seem all the more significant. In the show's best season (the fifth), a new villain was introduced every three or four episodes and dispatched just as quickly, giving the show an appropriately apocalyptic sense of urgency. Under Negan's yoke, that's vanished; by the time it returns, it might be too late.