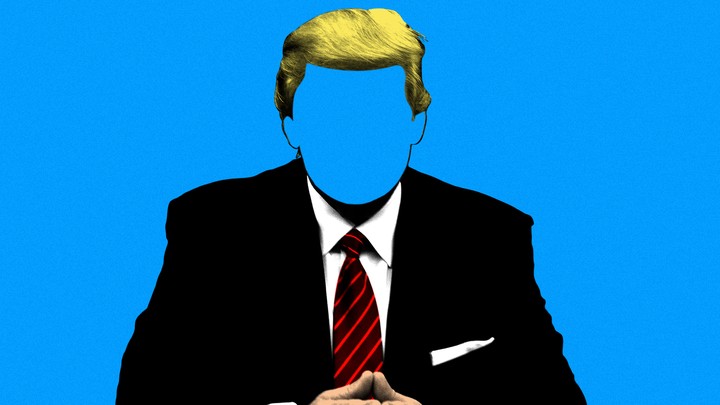 Last fall, after America learned about a videotape featuring the Republican presidential candidate bragging about groping women, Michelle Obama delivered a fiery speech in Manchester, New Hampshire, seemingly condemning his behavior. "This wasn't just locker-room banter," Obama said from behind a podium while campaigning for Hillary Clinton and her running mate Tim Kaine. "This was a powerful individual speaking freely and openly about sexually predatory behavior ... And to make matters worse, it now seems very clear that this isn't an isolated incident. It's one of countless examples of how he has treated women his whole life."
The pointed takedown became one of the most memorable moments in a memorable election cycle. But of the 3,309 words the First Lady spoke, "Donald" and "Trump" were not among them. Trump's name was also notably missing from many of her husband's speeches on the campaign trail for Clinton. When the late Gwen Ifill asked President Barack Obama why he had been avoiding saying "Trump," he replied, "He seems to do a good job mentioning his own name. So, I figure, you know, I will let him do his advertising for him[self]."
Like the Obamas, many of Trump's critics have become rather skilled at speaking about him without ever saying his name. In his January State of the State address, California Governor Jerry Brown didn't utter "Trump" once, even though the politician had been vocal and explicit about his opposition in the past. Nor was the name said by Representative John Lewis when the civil-rights leader responded to attacks Trump lobbed at him via Twitter. Meryl Streep's viral Golden Globes speech took aim at the new president while never acknowledging him by name, and "a coarse blowhard who has boasted about assaulting women" was the closest the humorist Calvin Trillin came to naming the man in a recent piece in The New Yorker. Last week, Martin Luther King Jr.'s daughter Bernice King shared a widely circulated list to her Facebook page offering tips for resisting Trump. The top suggestion: "Use his name sparingly so as not to detract from the issues."
In all of these instances, it's what's missing that is loudest. "Absences can be significant," James Sias, an ethical theorist and assistant professor of philosophy at Dickinson College, told me. "What stood out to most people about Michelle Obama's speech is what she didn't say."
For some, the refusal to name Trump amounts to denial or dissociation. But for many of the tactic's adoptees, it's a signal of resistance—an indication that the speaker rejects Trump's legitimacy. This approach didn't seem to hurt Trump's momentum during the campaign, but now that he's in office, it's one way that his opponents appear to feel able to challenge his standing.
Given the influence Trump's name wields, snubbing it is an attempt to withhold some of that power while staking out higher moral ground, said Jenny Lederer, an assistant professor of linguistics at San Francisco State University. "In his case, especially, people feel like not repeating his name is [a way of] not speaking to the brand and the value system that goes along with his political ideology." Lederer, whose research focuses on the way people talk about controversial political issues, told me that a refusal to name on this scale is only possible because "Trump" is already so omnipresent that discussion of him doesn't require any reference.
"The fact that you can not name somebody signals the conceptual salience that person has in the minds of your listeners," said Lederer, who used Streep's Globes speech as an example. Viewers would not have known whom the actress was talking about if she had gotten on stage and started commenting on something Brad Pitt did without mentioning him by name, despite the star's massive fame. Meanwhile, "the already defined links between Donald Trump and his egregious behavior allows [Streep] to not name him," Lederer said.
Trump may be the only person for whom this nameless reference is currently possible. For decades, his name has been plastered across the physical (high-rises, hotels, golf courses, wineries, airplanes) and cultural (steaks, vodka, an embattled "university") landscapes. It's become synonymous with wealth (Forbes reports a net worth of $3.7 billion, though the amount has been questioned elsewhere) and with success, at least in the eyes of Trump and his millions of fans. It has reached ubiquity since he entered the race for president, peppering front pages and homepages, airwaves and Saturday Night Live episodes. It was the third most searched term on Google in 2016, behind Pokémon Go and the iPhone 7. For comparison, "Obama" was the sixth most Googled term in 2008; "Sarah Palin" was the first.
Along the way, "Trump" has become more than a word for reality-star fame. For many, that one syllable is now so loaded with echoes of "build the wall" and "grab them by the pussy" and "a total and complete shutdown of Muslims" that some have come to view it as a grenade of ideology. When conservative students chalked "Trump" across the Emory University campus last spring, it prompted a debate over whether the name itself was an expression of hate. Meanwhile, even those associated with him pulled back from using it: Texas Senator Ted Cruz was called out for not saying it while stumping for the Republican nominee last fall, and Trump Hotels has rolled out a new hotel brand that will not bear the name.
These connotations are another motive for some to refuse to say "Trump." The word can be seen as a kind of trigger, or, as Bettina Aptheker, a professor of feminist studies at the University of California, Santa Cruz, prefers to call it, post-traumatic stress. "During the campaign, some of the things he said produced post-traumatic stress for people who had experienced predators," Aptheker told me. As an example, she pointed to a video made by survivors of gender-based violence titled "We Will Not Be Silent," in which different speakers describe the ways the president (referred to as "this man") is a painful reminder of their traumas.
It's for this reason that All Saints Church in Pasadena, California, won't pray for Trump by name. "Whereas before we prayed for 'Barack, our president,' we are now praying for 'our president, our president-elect, and all others in authority,'" wrote the church's rector, Mike Kinman, in an open letter posted to the church's website in January, before Trump took office. "This practice will continue for at least the near future. We are in a unique situation in my lifetime where we have a president-elect whose name is literally a trauma trigger to some people—particularly women and people [for whom], because of his words and actions, he represents an active danger to health and safety."
Perhaps the most prominent pop-culture example of a refusal to name is the Harry Potter villain Voldemort, who was referred to as "He Who Must Not Be Named" and "You Know Who" by fearful wizards. "It's not consistently that saying Voldemort is the brave thing and not saying it is the cowardly thing, but rather that it depends on the political situation and your personal history," said Vanessa Zoltan, a chaplain at Harvard University and a co-host of the Harry Potter and the Sacred Text podcast. "The big thing we learn [from Voldemort's name] is the impact of different traumas on how we handle something." (For the record, the series's Professor Dumbledore advised, "Always use the proper name for things.")
The Trump/Voldemort comparison has at this point been exhausted, and drawing parallels between the two runs the risk of trivializing the actions of the former. "If we turn [Trump] into a caricature, we may miss what is real," said Zoltan's co-host, Casper ter Kuile.
A refusal to use the president's name isn't so much about demonizing Trump, said Sias, who added that he's reminded of the rivalry between the Michigan Wolverines and Ohio State, which is so bitter that fans on both sides will only refer to the other as "the school up north" or "the school down south."
This is, of course, one of the preferred means of criticism and derision on Twitter, where "subtweeting," or calling someone out without naming them, also abounds. Trump is now such a regular target of subtweeting that The Washington Post offers a running list of examples. (Michiko Kakutani's New York Times review of an Adolf Hitler biography, which describes Hitler's rise while seemingly—and namelessly—making Trump comparisons, is another of the most talked-about cases.) In communication theory, this is known as the "rhetoric of agitation"—not naming or misnaming as a way of dislodging someone's position of power. "We can express contempt or disrespect just as much by misnaming as we can by refusing to name," Sias said.
During last year's campaign, the Last Week Tonight host John Oliver tried to get Trump's ancestral name, Drumpf, to catch on with the promise to "Make Donald Drumpf Again!" (A cornerstone of the push is a Google Chrome extension that swaps all instances of "Trump" out with "Drumpf.") And Trump dissenters have invented colorful epithets like "Cheeto Jesus," the Bernie Sanders-approved moniker "Tweeter-in-Chief," or the Vanity Fair editor Graydon Carter's preferred descriptor, "short-fingered vulgarian."
Plenty of insulting nicknames were used for Obama, as well, and conservatives had their own way of linguistically conveying their feelings. "Eight years ago it was really common to hear Republicans refer to President Obama as Barack Hussein Obama," Sias said. An insistence on using Obama's middle name was an attempt at framing him as foreign—a way to both otherize him and exploit the connotations most Americans had with the name Hussein (chiefly, Saddam Hussein). "There's some sense in which it's the mirror opposite of refusing to name Trump at all," Sias added. "Not only am I naming Obama, I'm using his whole name, but for a clearly political purpose."
When it comes to the current president, the refusal to use his name may be uniquely subversive because of the degree to which Trump has wrapped his entire worth, wealth, and fame up in those five letters. "You've got a perfect storm of elements here," Sias said. "Somebody whose biggest soft spot would be his name, and all of these particularly sharp and pointed acts of political resistance or political disrespect aimed at it."
We want to hear what you think about this article. Submit a letter to the editor or write to letters@theatlantic.com.