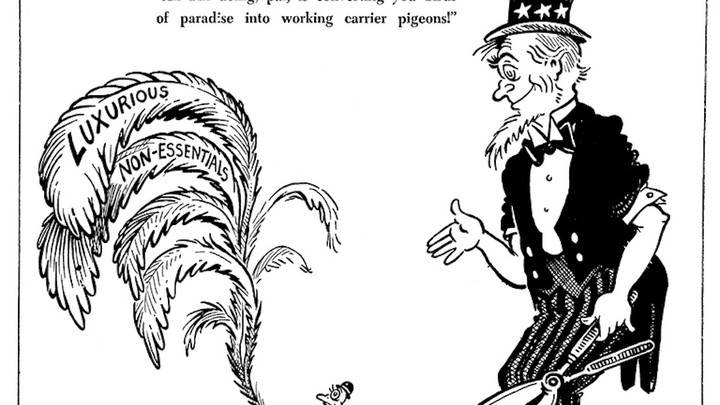 ---
Film
The 15 Most Talked-About Films From Sundance—David Sims lists some of the more exciting movies to take note of from this year's festival.
A Politically Charged Night at the SAG Awards—David Sims recaps a night at the ceremony that saw almost every actor address the Trump presidency.
Nominated for an Oscar, Barred From America—Lenika Cruz speaks to a film scholar about the implications of the immigration ban for Iranian cinema.
Should There Be an Oscars This Year?—David Sims questions the political relevance of the awards ceremony and what cancelling it would accomplish.
Rings Would Be Better Off at the Bottom of a Well—Lenika Cruz bemoans the strange sequel to the terrifying American remake of a Japanese horror classic.
The Comedian Is a Laugh-Free Nightmare—David Sims reviews the interminable new film starring Robert De Niro as a grumpy standup.
---
Super Bowl
Super Bowl 2017: It's Not Too Late to Chose a Side—Robert O'Connell helps the undecided pick a team to root for, ahead of this weekend's match-up between the Falcons and the Patriots.
How Political Will the 2017 Super Bowl Ads Be?—Sophie Gilbert wonders if the commercials at this year's sporting event will speak to the current divisive times.
Which Lady Gaga Will We Get at the Super Bowl?—Spencer Kornhaber questions if the singer, who spoke out against Trump during the election, will make a political statement at the half-time show.
---
Books
How Culture Became a Powerful Political Weapon—Sophie Gilbert talks to Nato Thompson about his new book, which explores the history of how music, TV, games, and advertising have been used to influence consumers.
'First They Came': The Poem of the Protests—Megan Garber analyzes the reemerging significance of Martin Niemöller's lines, written after the Holocaust.
Why It Took So Long to Translate a Dutch Classic—James Reith explores the reason and significance behind the much-delayed translation of Gerard Reve's The Evenings.
---
Sports
The Australian Open Turned Back the Clock—Arnav Adhikari pinpoints the significance of the finals of the tennis tournament, which saw the unlikely return of two iconic rivalries.
---
Music
Superstars May Be Rebelling Against the Grammys—Spencer Kornhaber connects the rumored absences of Kanye and Justin Bieber to the lack of inclusivity at the music awards.
Beyoncé's High-Art Pregnancy Photo—Spencer Kornhaber analyzes the visual lineage behind the singer's Instagram post, in which she announced she's expecting twins.
Pop Culture's Fraught Obsession With Celebrity Baby Bumps—Spencer Kornhaber talks to the author of Pregnant With the Stars about the larger significance of Beyoncé's announcement.
We want to hear what you think about this article. Submit a letter to the editor or write to letters@theatlantic.com.