The Biggest Moments From the 2017 Grammys
Adele swept the awards, but gave credit to Beyoncé.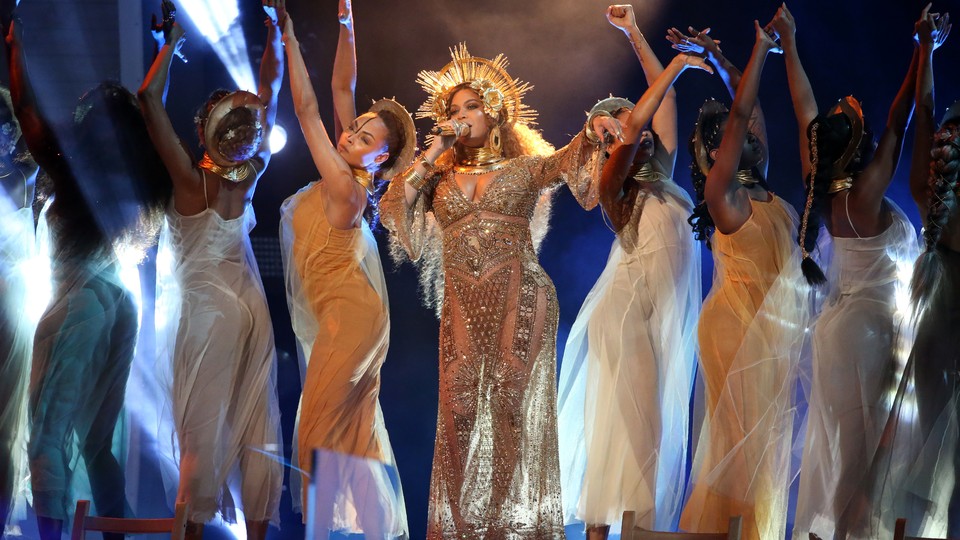 By the end of the 2017 Grammys, viewers had reason to argue about Beyoncé, the Bee Gees, and Donald Trump. Below are the winners, remarkable performances, and memorable moments of the night in reverse chronological order.
---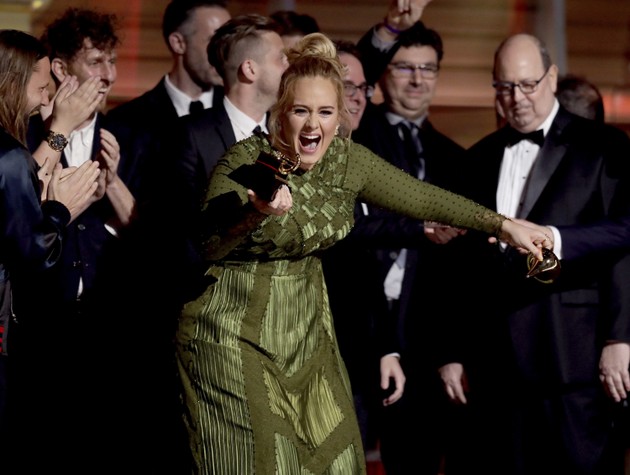 It's Adele's night: She just won Album of the Year, following wins for Record of the Year, Song of the Year, Best Pop Vocal Album, and Best Pop Solo Performance, not to mention having given two Grammy stage performances tonight. But in both of her final acceptance speeches, she deflected attention onto another nominee: Beyoncé. Saying that she "can't accept this award" for Album of the Year, Adele praised Beyoncé's Lemonade as "so monumental," adding, "the way you make my friends feel, the way you make my black friends feel, is empowering."
---
Adele's sweep continued with Record of the Year going to "Hello" over Beyoncé, Lukas Graham, Twenty One Pilots, and Rihanna. Adele let co-writer and producer Greg Kurstin speak first, quipping to the Grammy producers, "You cut him off last time!" Adele took the chance to praise Beyoncé: "You move my soul … and I want you to be my mummy."
---
John Legend and Cynthia Erivo's tender rendition of "God Only Knows" bookended a brutal in-memorium reel that included Leonard Cohen, Merle Haggard, George Martin, Butch Trucks, Keith Emerson, Muhammad Ali, Debbie Reynolds, and Greg Lake, in addition to folks already memorialized tonight: Prince, George Michael, Phife Dawg, Sharon Jones.
---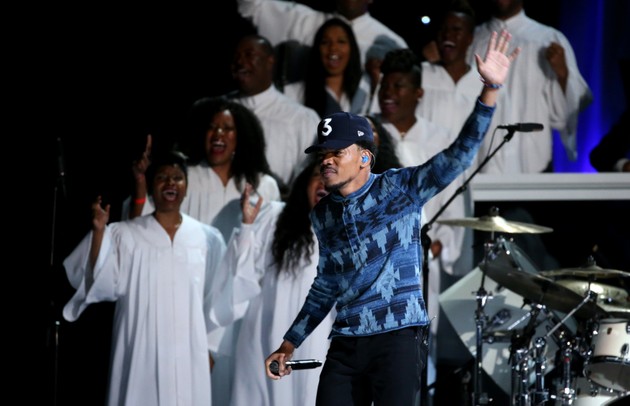 Best New Artist Chance the Rapper took the Grammys to church with a medley of songs off of Coloring Book. As gospel singers Tamela Mann and Kirk Franklin sang praises to God, Chance passionately rapped selections from "How Great," "All We Got," "Blessings," and "No Problem."
---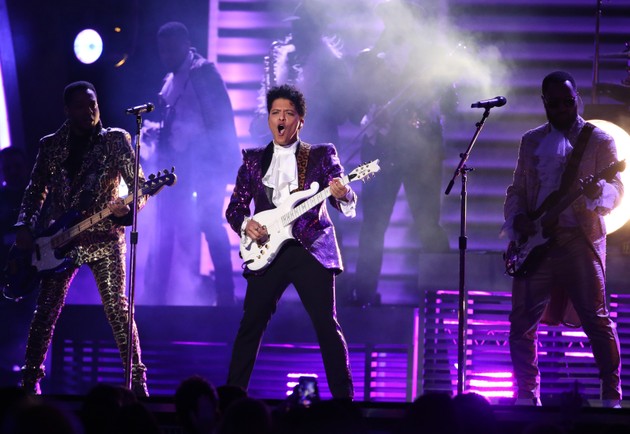 Prince was memorialized by his pals in The Time, who recreated a Minneapolis funk club circa 1985 while playing "The Bird." Then Bruno Mars showed up in ruffles and purple sequins to do "Let's Go Crazy" climaxing in a lengthy and lascivious guitar solo.
---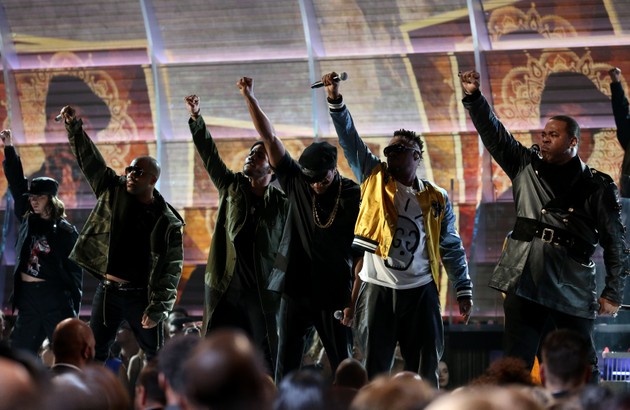 A Tribe Called Quest delivered a bold anti-Trump statement in a performance with Anderson .Paak, Consequence, and Busta Rhymes. A big wall was broken down; Busta called out "President Agent Orange" for "perpetuating evil" and an "unsuccessful attempt at a Muslim ban." During the anti-nativism anthem "We the People," the band brought up a diverse group of unfamous people—the implication being that they were endangered by Trump's policies. Fists shot into the air, and then a rallying call: "RESIST! RESIST! RESIST!"
---
Adele won Song of the Year for "Hello," beating Beyoncé, Lukas Graham, Justin Bieber, and Mike Posner. "I really do apologize for swearing," Adele said, referring to the glitch during her earlier George Michael tribute. Co-writer and producer Greg Kurstin's portion of the acceptance speech was cut off, spurring the audience to boo.
---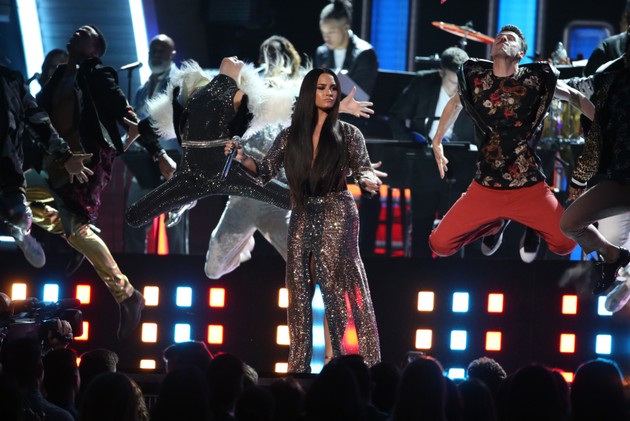 A colorful Bee Gees medley rotated through a cast of performers including Demi Lovato, Tori Kelly, Little Big Town, and Andra Day. The setlist highlighted "Stayin' Alive," "Lonely Days," "How Deep Is Your Love," and then, of course, "Stayin' Alive" again.
---
The late Sharon Jones was memorialized by Dwight Yoakam as he introduced Sturgill Simpson, who with Jones's band The Dap Kings performed "All Around You."
---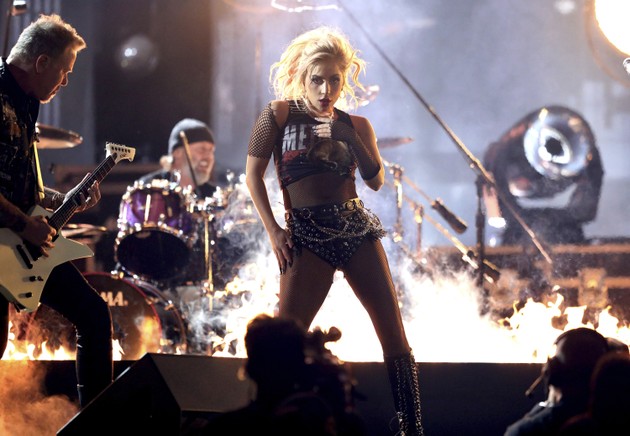 Lady Gaga and Metallica teamed up to shred, growl, and gyrate through the metal band's "Moth Into Flame." James Hetfield's mic didn't work for much of the performance, but the pyrotechnics definitely did.
---
Chance the Rapper's Coloring Book won Best Rap Album over Kanye West, Drake, De La Soul, and Schoolboy Q. A streaming-only album, Coloring Book's Grammys success is history-making: "This is for indie artists," Chance said from the stage.
---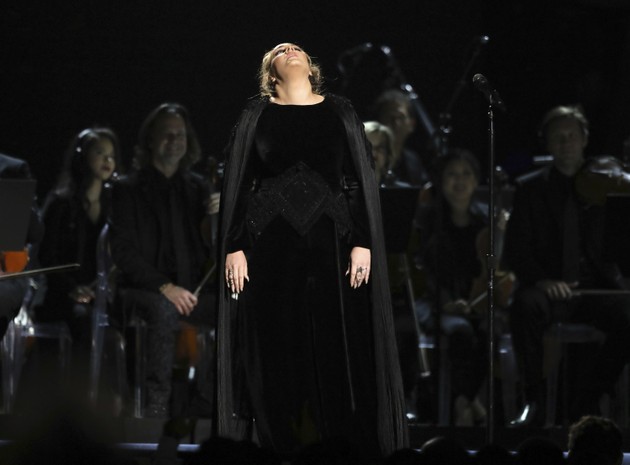 Adele paid tribute to George Michael with a spare, orchestral version of "Fastlove." Apparently unhappy with her vocals, she paused and restarted the performance midway through, apologizing and explaining, "I can't mess this up for him." She had tears in her eyes as the audience gave a standing ovation at the end.
---
Beyoncé's Lemonade won Best Urban Contemporary Album over Gallant, King, Anderson .Paak, and Rihanna. Reading from a statement, Beyoncé said "it's important for me to show images to my children that reflect their beauty" and mentioned "the news, the Super Bowl, the Olympics, the White House, and the Grammys" as places where all kids should be able to "see themselves and have no doubt that they are beautiful, intelligent, and capable."
---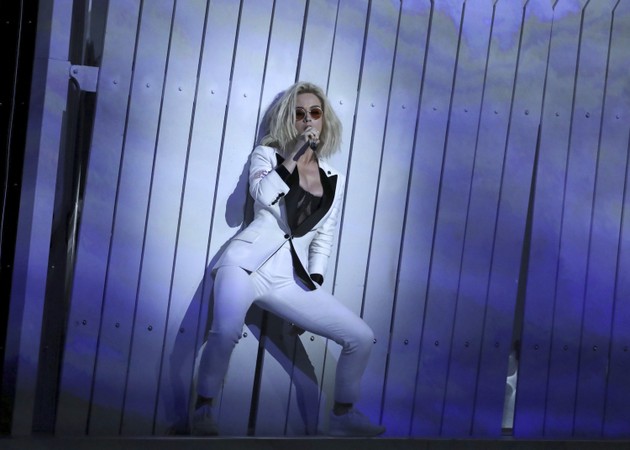 Reflecting the themes of her new single "Chained to the Rhythm," Katy Perry gave a vaguely political performance in which a drab white-picket-fence home broke apart and the preamble of the Constitution was projected behind her. "PERSIST" read a pink sparkly armband she was wearing.
---
Maren Morris won Best Country Solo Performance for "My Church" over Brandy Clark, Carrie Underwood, Miranda Lambert, and Keith Urban.
---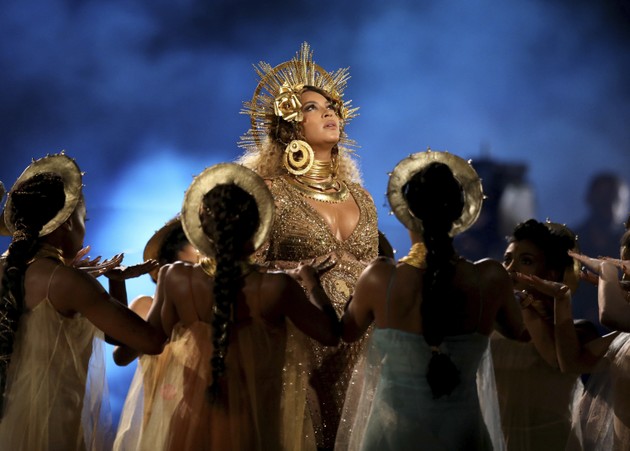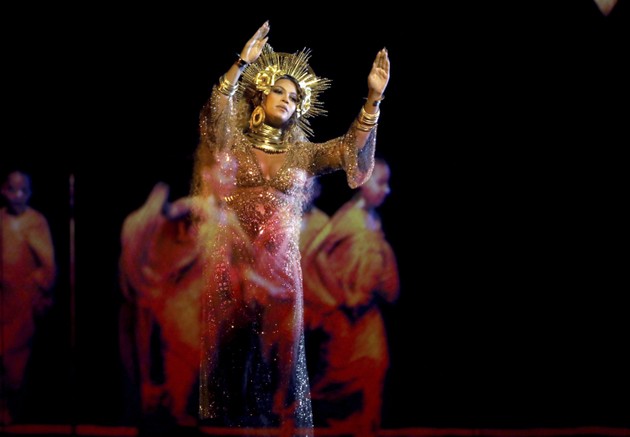 A very visibly pregnant Beyoncé delivered a dazzling buffet of maternal imagery. After an introduction from Beyoncé's mother, Tina Knowles, Lemonade ballads "Love Drought" and "Sandcastles" became a lengthy odyssey featuring psychedelic holograms, an epic dinner table, anti-gravity chair movement, golden flower crowns, regular flower pedals, a host of handmaidens, Biblical imagery, and so much more. "If we're going to heal, let it be glorious," went the closing spoken-word line, and "glorious" is certainly a fitting way to describe the spectacle. Another description you'll in the coming days hear, fairly or not: "pretentious."
---
David Bowie won Best Rock Song for "Blackstar," over Radiohead, Twenty One Pilots, Highly Suspect, and Metallica.
---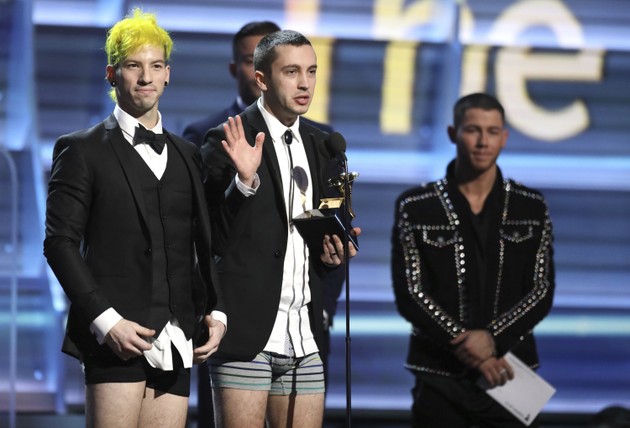 Ohio rockers Twenty One Pilots dropped trou upon winning Best Pop Duo/Group Performance for "Stressed Out," for which the Chainsmokers, Lukas Graham, Rihanna, and Sia were also nominated. Onstage, singer Tyler Joseph explained that he and bandmate Josh Dun met long ago at a party where everyone was in their underwear, and they always vowed that if they ever won a Grammy, they'd accept it pantsless.
---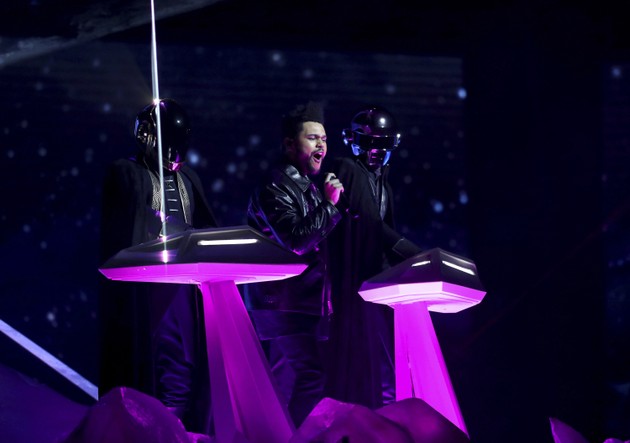 The Weeknd and the Daft Punk served up some Imperial Guards-on-Hoth vibes with the set design and costuming of their "I Feel It Coming" performance.
---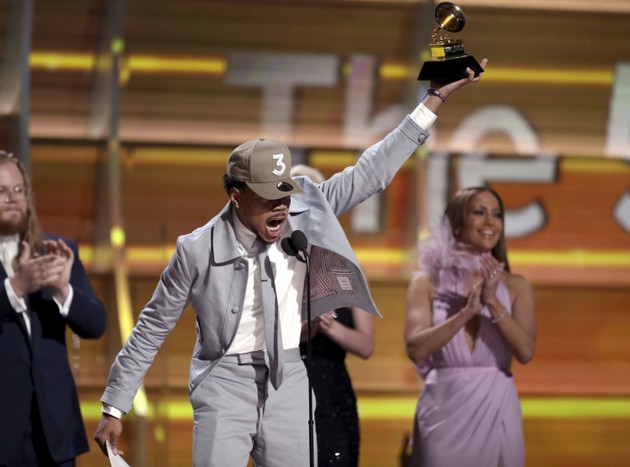 Chance the Rapper won Best New Artist, besting nominees Kelsea Ballerini, The Chainsmokers, Maren Morris, and Anderson .Paak. "I claim this victory in the name of the Lord," he shouted after receiving the trophy from Jennifer Lopez. The first presenter of the night, Lopez had acknowledged the political moment without getting partisan: "At this point in history, our voices are needed more than ever. … We do language, that is how civilizations heal. So tonight we celebrate our most universal language, music."
---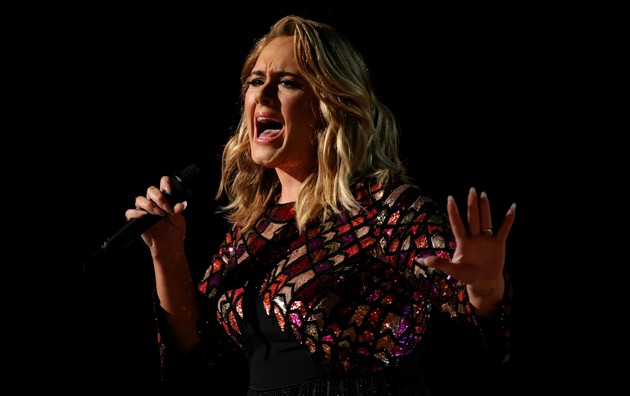 Adele opened the night with a power move: performing "Hello" alone on a darkened stage, the focus being just on her vocals and sparkly geometrical top. Then host James Corden arrived in self-consciously bumbling fashion, pretending to fall down stairs and botch his choreography before launching into a rap about the night. One line that landed: "Sturgill Simpson is here, and Google just crashed from people asking who the hell is that."
---
Three remarkable looks from the red carpet below. Here's Adele in green: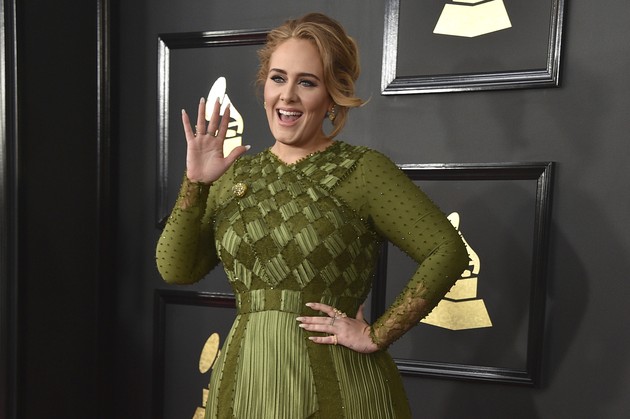 Here's Cee Lo Green, as "Gnarly Davidson":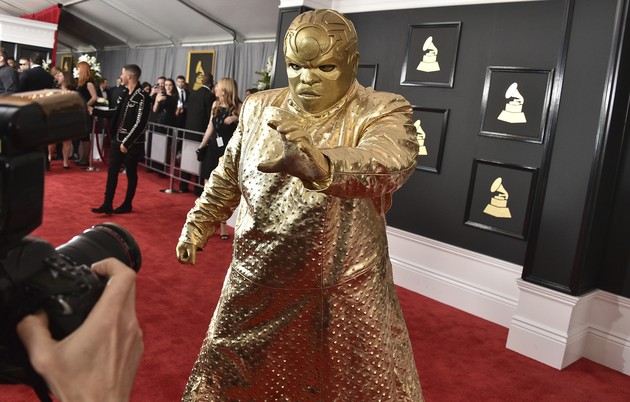 And here's the singer Joy Villa with a #MAGA gown. The back says "TRUMP":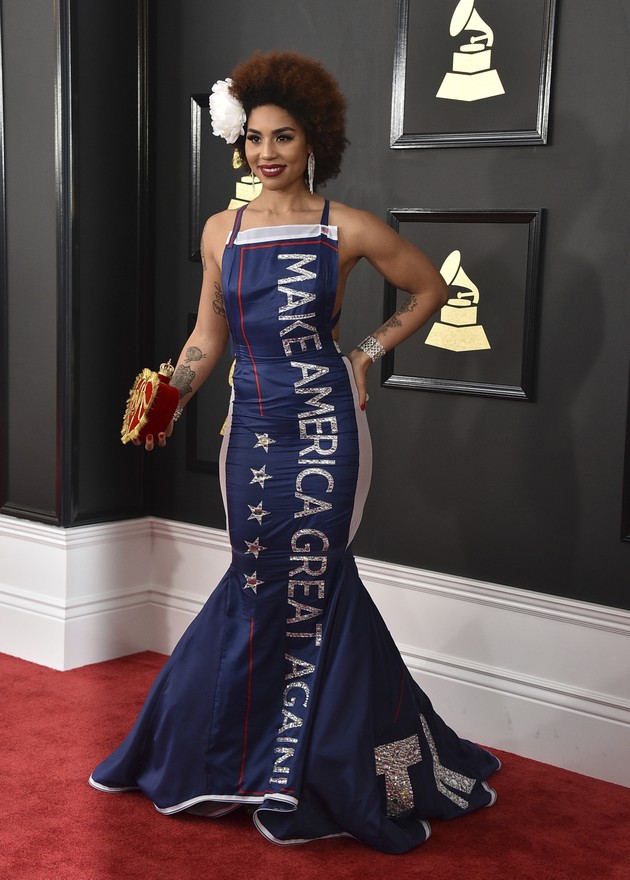 ---
A number of awards were handed out at the pre-televised ceremony—Billboard has the list. Highlights include:
David Bowie's Blackstar earning four trophies, including for Best Alternative Music Album and Best Rock Performance
Drake's "Hotline Bling" taking Best Rap Song and Best Rap/Sung Performance
Chance the Rapper earning his first Grammy, with "No Problems" taking Best Rap Performance
John Williams getting his 23rd grammy with Star Wars: The Force Awakens taking Best Score Soundtrack for Visual Media
Sturgill Simpson's album-of-the-year nominee A Sailor's Guide to Earth winning Best Country Album
Beyoncé's "Formation" getting Best Music Video
Adele's 25 winning Best Pop Vocal album, and "Hello" winning Best Pop Solo Performance
---
Here's the state of play for the four general awards categories, taken from my larger preview of the ceremony:
Album of the Year
Contenders: Adele, 25; Beyoncé, Lemonade; Justin Bieber, Purpose; Drake, Views; Sturgill Simpson, A Sailor's Guide to Earth
Last year's winner: Taylor Swift, 1989
The state of play: The conventional wisdom says that this year's ceremony is a clash between two recent Grammy titans, Adele and Beyoncé—and that Adele's best-selling but unspectacular 25 is a safer bet than Beyonce's provocative Lemonade. But watch for Sturgill Simpson. Though the relatively unfamous alt-country singer seems like an underdog, as the sole white guy with a guitar he may benefit from a split vote among the four commercially minded radio stars, recalling when Beck beat Beyoncé's self-titled release in 2014.
A Sturgill win wouldn't be undeserved; A Sailor's Guide to Earth is gobsmackingly beautiful, a bittersweet chronicle of new fatherhood. But Beyoncé's politically charged, sonically diverse, and tabloid-scrambling Lemonade was a seismic cultural event, and the album's celebration of identity in the face of disrespect would resonate even in loss: The Grammys haven't selected a young black artist's album as best since 2004, and they haven't picked a black woman since 1999.
Record of the Year
Contenders: Adele, "Hello"; Beyoncé, "Formation"; Lukas Graham, "7 Years"; Rihanna ft. Drake, "Work"; Twenty One Pilots, "Stressed Out"
Last year's winner: Bruno Mars and Mark Ronson, "Uptown Funk"
The state of play: If there's ever been a hit that's more a great recording than a great song, it's Adele's "Hello," whose repetition on the page becomes an avalanche in the ear thanks to Adele's pipes and Greg Kurstin's production. Nightmare scenario: Grammy voters' fetish for old-timey authenticity rewards the Danish band Lukas Graham's "7 Years," a bit of treacle that uses old-timey authenticity as affectation.
Song of the Year
Contenders: Beyoncé, "Formation"; Adele, "Hello"; Justin Bieber, "Love Yourself"; Lukas Graham, "7 Years"; Mike Posner, "I Took a Pill in Ibiza"
Last year's winner: Ed Sheeran, "Thinking Out Loud"
The state of play: There are two brilliant pop songs in this category, "Formation" and "Love Yourself." Beyoncé's melds rap swagger and pop flash and social subversion. Bieber's inverts campfire strum-along tropes for a nasty kiss-off that's perfect for a performer whose persona continually flits between angelic and demonic. Between those two, "Love Yourself" has the better shot; Fox News never declared war on it.
Best New Artist
Contenders: Kelsea Ballerini, The Chainsmokers, Chance the Rapper, Maren Morris, Anderson .Paak
Last year's winner: Meghan Trainor
The state of play: In this class of legitimately promising young stars, the legitimately irritating electronic-dance bros of The Chainsmokers may be hard to beat. Even if you set aside their insane chart success and factor in the "EDM Nickelback" backlash against them, the "Closer" duo benefit from vote splitting: Ballerini and Morris are climbing up the rungs of country music, and Chance the Rapper and Anderson .Paak have fired up the hip-hop/R&B world.