Superior Donuts Tries to Update an Old Classic
The new CBS multi-camera sitcom, based on a Tracy Letts play, is stodgy in format but has moments of freshness.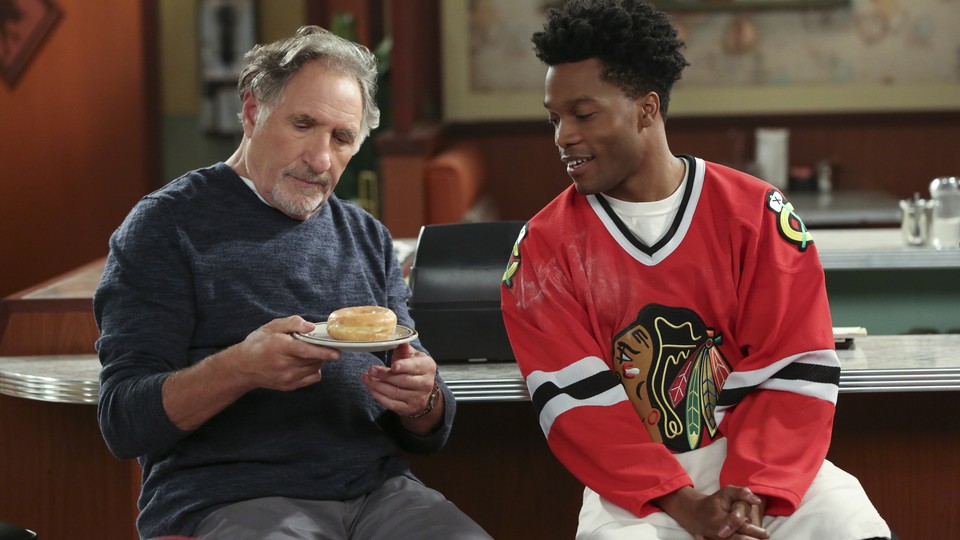 It's not overstating things to say that Superior Donuts is definitively the only Tracy Letts play that could ever be reworked as a multi-camera sitcom. (Although it's fun to fantasize about what, say, Marti Noxon or Lisa Hanawalt might do with August: Osage County). When it premiered in 2008, the same year Letts won a Pulitzer and a Tony for August, Superior Donuts was something of a surprise: a gentle, odd-couple drama about a crunchy old Chicagoan running his family-founded doughnut store and the young black employee he hires. Multiple critics have interpreted the play as a love letter to the Norman Lear comedies of the 1970s. So CBS's new half-hour sitcom feels like an organic development, if not an entirely fresh one.
Superior Donuts, which airs its first episode in a special preview Thursday night before settling into a regular Monday-night timeslot, comes on the heels of One Day at a Time, Netflix's widely praised update of a Lear comedy that ran from 1975 to 1984. And like that show, Superior Donuts seems to be trying to prove that there's life in the format yet. Judd Hirsch plays Arthur Przybyszewski, kind-hearted curmudgeon and purveyor of decidedly untrendy confections (his signature product is, tellingly, an "old-fashioned"). Jermaine Fowler, an up-and-coming comedian, is Franco Wicks, an artist and sometime poet who begs Arthur for a job, then commits to dragging the shop into the modern era. Although both performers do admirable work fleshing out their hackneyed characters, they're limited by a conceit that thinks kale smoothies, Starbucks beverages, and occasionally racial stereotypes are punchlines.
And yet there's potential here, if the show could relax on the gentrification jokes and maybe commit to finding more depth in its characters, who in the first three episodes are little more than archetypes. Hirsch's Arthur is introduced as a lonely Boomer befuddled by modernity and rooted in tradition ("My parents didn't smuggle me out of communist Poland in the hold of a cargo ship so 65 years later I could sell you a damn cronut," he snaps at an oblivious hipster.) Fowler's Franco, by contrast, is an energetic, social-media savvy, endlessly creative millennial whose instant bond with Arthur is made believable by the pair's genuine chemistry. A workplace comedy of sorts, Superior Donuts is set almost entirely in the shop itself, where a cast of characters including a wisecracking cop (Katey Sagal), her bumbling rookie (Darien Sills-Evans), an Arab American businessman (Maz Jobrani), a privileged grad student (Anna Baryshnikov), and a wacky jack-of-all-trades (David Koechner) hang out.
Between the neighborhood-haven-for-oddballs vibe and its comedy of errors, the show feels most akin to Cheers (Superior Donuts's first few episodes were directed by James Burrows, who co-created the long-running NBC drama). But its sense of its characters is much less fully formed, and its sharper jabs land anywhere on a spectrum between actually funny and ill-advised. Jobrani's Fawz, who runs a dry-cleaning store next door and invests in real estate, makes several glib jokes about mustard-gas attacks on his village back home that seem bizarrely off-key. Sagal's Officer Randy presents opportunities for some sharp mentions of police brutality, but the show misguidedly treats them as punchlines rather than very real issues. Plus, the show's writers teeter perpetually on the brink of running out of story ideas, which doesn't bode well for the rest of the series. There are only so many zany concoctions Franco can appall Arthur with—his Sriracha doughnut is obviously an Instagram hit—and the dramatic tension in Arthur's inner conflict over whether to sell his shop is milked dry by the second episode.
But there are moments of ingenuity, like Koechner's character, a newfound devotee of the gig economy, who does everything from walking dogs to selling bodily fluids to get by. The undeniable highlight of the show is Fowler, who gives Franco a zany intelligence and a quick wit that jibes pleasingly with Arthur's Eeyorish affect. Franco, right now, is the lone leading character of color in CBS's comedy lineup, and it would behoove the network to hire writers who can do him and Fowler's performance justice. It's worth nothing that One Day at a Time works so well in part because of its Cuban American executive producer, Gloria Calderón Kellett, and in part because it actually engages with issues like PTSD and poverty rather than just mining them for laughs. But if Superior Donuts can recognize its strengths and bolster its ambitions, it could evolve into something like Franco's hot sauce spiked-creation: paying homage to its humble roots while giving them a modern kick.