Stephen Colbert's New Approach to Trump Is Working
The Late Show host has been much more direct in talking about the new administration, and it's translating to a ratings boost.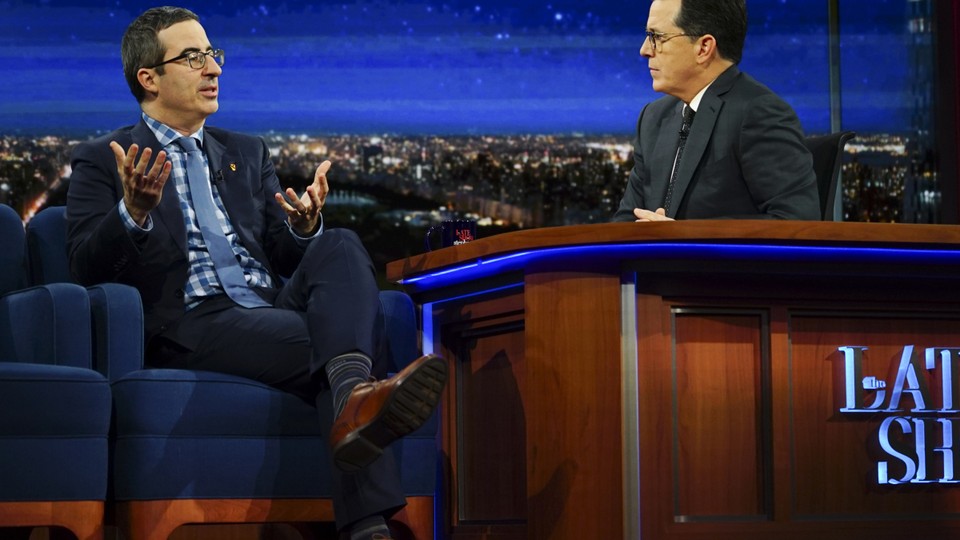 Earlier in Stephen Colbert's tenure on CBS's Late Show, it might have been unusual to see the host deliver a resigned, almost angry assessment of Donald Trump's political approach, but that was what happened on Tuesday night.  "So many beanballs are coming over the plate that you're not sure what to swing at, not sure what to pay attention to," he told his guest and fellow Daily Show alumnus John Oliver. "And I think that's part of the plan of the Trump administration, to do so many things at once that everybody gets swamped."
As a Daily Show correspondent and host of The Colbert Report, Colbert was once late-night's sharpest political humorist. But since moving to network television, he had often seemed adrift, sacrificing what made him so distinctive as he played to The Late Show's broader audience. He seemed particularly lost in his interview segments, including a chat with Trump himself. Not so anymore. Colbert may not be the sarcastic, irony-laden character he once played for Comedy Central, but as Trump has dominated the news every day since taking office, The Late Show has become the home for reasoned, but incisive, discussion, on the perceived overreaches of the White House. Suddenly, Colbert is unafraid to get into the political nitty-gritty again, and one glance at his ratings shows what a success this shift has been.
Of course, Oliver was the perfect guest to participate in a wide-ranging political discussion tinged with fury—it's the bedrock of his HBO show Last Week Tonight, which returns next week. On Tuesday, Colbert was most interested in Oliver's last broadcast, shortly after Election Day, in which Oliver urged viewers to go outside their online bubble and actively work to fight whatever wrongs they see in the world. "I think people are still feeling viscerally repelled by things. I think the problem really arises when you get punch-drunk," Oliver said. "When you hear of Betsy DeVos's confirmation and think, 'Well, that's the way the world is now,'" then the never-ending news cycle has worked in the administration's favor, he argued. Colbert has been similarly eager to run at Trump's policies in recent weeks after a 2016 where he seemed far more passive.
On Tuesday, Colbert and Oliver discussed their roles as hosts in the coming years, as comedians and activists trying to keep their viewers focused on issues that matter. "It's easy to be angry when you're on adrenaline. It's much harder when you're just tired," Oliver said, before launching into an excoriation of the president's "debacle" of an executive order on immigration. As a green-card holder, he quipped, he no longer felt safe from deportation, voicing a genuine, broader fear that the administration was changing the bedrock rules of American society at an alarming pace. "Things are not what they are supposed to be," he said, joking that Trump could be in office for 8, or even 12 years. "Words don't mean anything anymore, why would numbers?"
What's even more surprising for The Late Show with Stephen Colbert, though, is that this kind of discussion has grown beyond the occasional drop-by from a political comic like Oliver (or, of course, Jon Stewart himself). When the Quantico star Priyanka Chopra visited the show last week, the conversation was loaded with Trump jokes. Colbert's monologues now usually focus on the day's political news, and he's come to excel at desk segments more reminiscent of his Colbert Report days, such as a humorous exposé of the non-existent "Bowling Green massacre."
Last year, Colbert's ratings were low enough that CBS had to publicly deny rumors that it was planning to move James Corden, the host of The Late Late Show, into Colbert's job. The network then brought on Chris Licht, a CBS News vice president who specialized in morning shows, to help Colbert (who said he had spread himself too thin in his first few months) find his creative voice on the network. For a while, The Late Show seemed as lost as ever, featuring the kind of puffy celebrity interviews that its host struggles to engage with. But Trump's election, and the constant churn of news and outrage that's accompanied it, has given Colbert a meaningful boost.
Last week, for the second week in a row, The Late Show beat NBC's Tonight Show (hosted by Jimmy Fallon) in the ratings, a rarity for The Late Show, even in the days when David Letterman was its host. Though Fallon remains the leader in the crucial "demo," the 18-49 age bracket that advertisers prize, the ratings crown is no small victory, especially since CBS is a network that has long pitched itself at older viewers. Fallon's Tonight Show remains resolutely uninterested in politics, discussing current events in only the most light-hearted of ways, and the blowback from its host's fawning interview of Trump last September hasn't fully evaporated yet.
Two weeks is a blip in the long-running ratings war that is late-night television, but it's a meaningful blip nonetheless, coming at a time when it seems political news will never be out of the headlines. Fallon's entire approach to The Tonight Show has been to lean on the kind of content that went viral with younger audiences—celebrity stunts, recurring Saturday Night Live-esque sketches, and other such meme-able videos. But right now, it's Trump and the manifold reactions to him that dominate the internet, night after night, and in that realm, Colbert has the advantage.