Simon & Schuster's Completely Avoidable Milo Yiannopoulos Disaster
In only now canceling the Breitbart editor's book deal, the publisher is left with no goodwill, no payday, and no valid reason for working with him in the first place.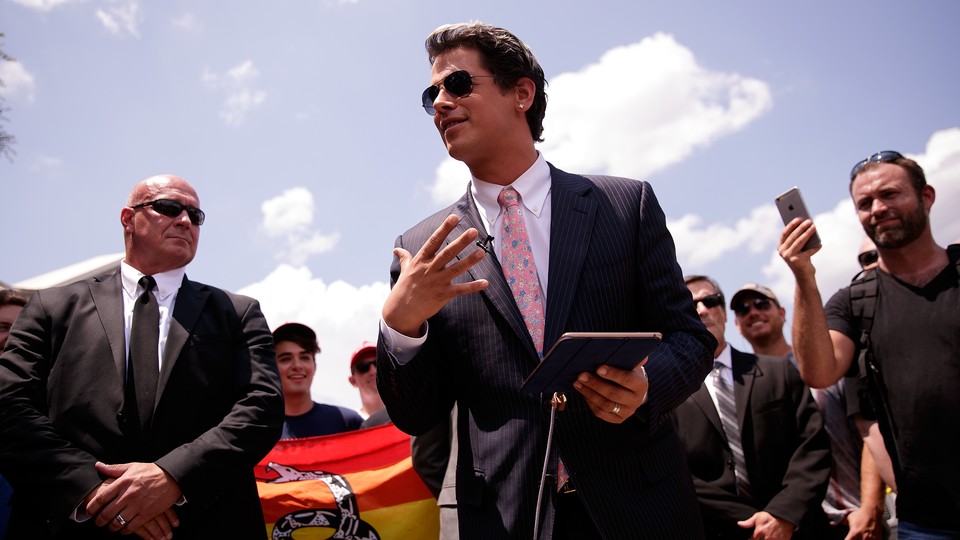 On Monday, when videos reemerged on social media in which the Breitbart News senior editor Milo Yiannopoulos seemed to condone sexual relationships between adult men and teenagers below the age of consent, the overwhelming response was one of outrage. The CNN host Jake Tapper posted several tweets excoriating Yiannopoulos and his followers, quoting a horrified friend who was a survivor of sex trafficking. The former Breitbart writer Michelle Fields described the tapes as "disgusting." There were mounting calls for the Conservative Political Action Conference, which had announced Yiannopoulos as its keynote speaker last week, to cancel his appearance, which it subsequently did.
According to Washingtonian, even employees at Breitbart, which has elevated and supported Yiannopoulos in his rise to prominence as an outspoken supporter of the alt-right, threatened to walk out unless he was fired. And on Tuesday afternoon, Yiannopoulos resigned from Breitbart, stating that he didn't want his "poor choice of words to detract from my colleagues' important reporting."
But at Simon & Schuster, the publishing house that awarded Yiannopoulos a $250,000 book contract late last year, it's possible to imagine executives exhaling with something akin to relief. For the company, which seemed somewhat blindsided by the initial reaction to Yiannopoulos's book, the news offered an incontrovertible out—an opportunity to save face with authors and booksellers appalled by the deal, without provoking charges of suppressing free speech or unleashing the rage of his millions of followers. And on Monday afternoon, Simon & Schuster issued an extremely brief statement, saying, "After careful consideration, Simon & Schuster and its Threshold Editions imprint have cancelled publication of Dangerous by Milo Yiannopoulos."
At this point, the publisher presumably hopes, everyone can move on, without the shadow of author boycotts or review boycotts or even large-scale protests against not just Threshold Editions, the conservative imprint that purchased Dangerous, but Simon & Schuster itself. It's hard, however, to imagine the controversy going away altogether. Yiannopoulos's book, which reached the #1 spot on Amazon while available for presale, seemed a transparently cynical moneymaking effort that appeared to be paying off—at substantial cost to the publisher's brand. Now, Simon & Schuster has no bestseller, while its asserted reasons for publishing Yiannopoulos in the first place have been substantially undermined. As the author Roxane Gay wrote on Tumblr, "My protest stands. Simon & Schuster should have never enabled Milo in the first place."
Dangerous, announced in December by Threshold Editions—which has previously published books by Donald Trump, Dick Cheney, Glenn Beck, and Michelle Malkin—provoked a hefty outcry from authors and readers. Gay pulled her upcoming book, How to Be Heard, from the S&S imprint TED Books, while several authors and critics expressed their dismay that the company would reward Yiannopoulos, who was banned from Twitter last summer after igniting a torrent of racist and sexist abuse against the Ghostbusters actress Leslie Jones. The furor seemed to take Simon & Schuster by surprise, possibly because many of Threshold's authors are controversial figures. Rush Limbaugh, for example, once labeled a law student a "prostitute," while Malkin has referred to President Obama in racially coded language as the "thug-in-chief."
But Yiannopoulos was different, in part because he himself touted his book deal as "the moment Milo goes mainstream." Calling feminists "fat dykes," transgender people "terribly broken," and Anita Sarkeesian a "cunt" is one thing at Breitbart, a publication known for its far-right views. But it's another at one of the Big Five publishing houses. Giving a writer who's called for women to be banned from the internet and the legal hunting of obese Americans for sport a larger platform under the guise of free speech struck many commentators as ill-conceived. "In identifying Yiannopoulos as a possible future of conservative thought, Threshold Editions is caught in a cycle," wrote Constance Grady at Vox. "Because by giving him a book deal, they're ... looking at a figure who is reviled in some corners of the culture and adored in others—a kind of threshold figure—and they are saying that they consider him to be legitimate. They are not just describing; they are prescribing."
At the height of the controversy, Simon & Schuster's CEO, Carolyn Reidy, issued a statement to authors assuring them that Yiannopoulos's book would contain no hate speech. "I must reiterate that neither Threshold Editions nor any other of our imprints will publish books that we think will incite hatred, discrimination, or bullying," she wrote. But she also framed the decision to publish Dangerous as a free-speech issue, stating that when Threshold met with Yiannopoulos, he expressed interest "in writing a book that would be a substantive examination of the issues of political correctness and free speech, issues that are already much-discussed and argued and fought over in both mainstream and alternative media and on campuses and in schools across the country." In other words, to decry his platform is to suppress his right to be heard.
Yiannopoulos's literary agent, Thomas Flannery Jr., made similar arguments in an op-ed for Publisher's Weekly. "I've been continually shocked by the willingness of many in the publishing industry to stifle Milo's opinions," he wrote. "The right to speak freely, even if your opinions are unpopular, should be the bedrock of our industry." But not giving someone a book deal isn't suppressing their right to free speech—while publishing their work means elevating their voice above countless others. As Gay wrote in a statement when she pulled her book in January, "Milo has every right to say what he wants to say, however distasteful I and many others find it to be. He doesn't have a right to have a book published by a major publisher, but he has, in some bizarre twist of fate, been afforded that privilege."
Yiannopoulos's resurfaced comments indeed show how flimsy the free-speech argument was in the first place. For CPAC and Simon & Schuster, declining to associate with him in the wake of his arguments that many 13-year-olds are capable of sexual consent simply demonstrates where they're willing to draw the line. Stating that "relationships in which those older men help those young boys to discover who they are and give them security and safety and provide them with love and a reliable sort of rock," is indisputably egregious and unacceptable. But so are Yiannopoulos's comments about Muslims, transgender Americans, and women. As he himself has written, "I am a heartless, sadistic, cruel, bitchy, monstrously uncaring gay bastard."
Before this weekend, that wasn't enough to deter Simon & Schuster from doing business with him. Conservative imprints represent far more than diversity of viewpoints for publishers: They offer a substantial payday. Giving a deal to Yiannopoulos was a gamble that sales of his book would override any costs from independent bookstores boycotting books, and that the publisher would eventually recover from any superficial damage to its brand. But now that he's alienated himself so efficiently from even his conservative defenders, Simon & Schuster is left with no hit book, no goodwill for cancelling Yiannopoulos's contract, and no valid argument for offering him one in the first place.