Should There Be an Oscars This Year?
Some critics are suggesting this year's ceremony be canceled for political reasons, but it's unclear what doing so would accomplish.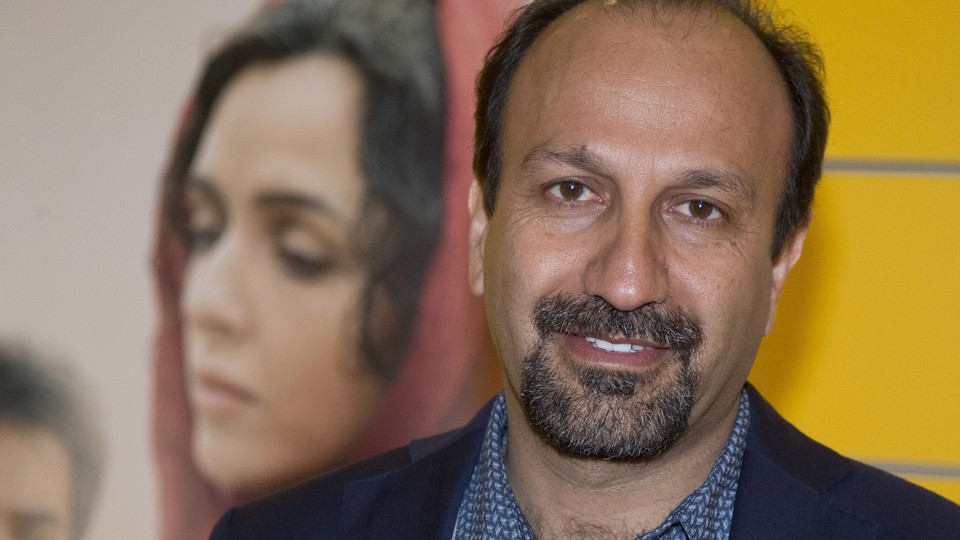 The Academy Awards have long existed uncomfortably alongside politics. The ceremony's most notable moments of public protest—Marlon Brando sending an activist for Native American rights to accept his trophy for The Godfather, or Michael Moore's anti-George W. Bush speech in 2004—attracted as much ridicule as they did praise. The Oscars will always be the grandest industry party Hollywood throws for itself every year, making them inherently frivolous in many ways. As such, political speeches made at the event are often dismissed as a largely progressive industry preaching to the choir, or as egotistical posturing from out-of-touch stars.
For this year's ceremony, however, something more immediate is at stake. The Oscar-winning Iranian filmmaker Asghar Farhadi, the director of The Salesman (nominated this year for Best Foreign Language Film), recently announced he would not attend this year's ceremony. The decision was in response to President Trump's recent executive order on immigration, which bars citizens of Iran and six other countries from entering the United States. Whether Farhadi could even attend (on some sort of waiver) was quickly put aside; as he explained in a statement, "[It] seems that the possibility of this presence is being accompanied by ifs and buts which are in no way acceptable to me even if exceptions were to be made for my trip."
He's not the only one missing the show: Hala Kamil, the Syrian subject of the Best Documentary Short nominee Waitani: My Homeland, also cannot enter the U.S. under the executive order, and neither can the subjects of The White Helmets, another Documentary Short nominee about the Syrian refugee crisis. Their absence, and Hollywood's generally outspoken response to President Trump, will make for a charged Oscar ceremony, similar to last weekend's SAG Awards, where many of the night's presenters and winners took the opportunity to speak out against the executive order. In response, some dramatic options have been floated: a boycott, or even canceling the ceremony altogether. But these ideas overlook the fundamental purpose of the Oscars, which—despite sometimes missing the mark—recognize some of the best cinema Hollywood has to offer, including films that deserve greater exposure.
The suggestion that the Oscars be canceled this year stems in part from principle. The idea of artists being barred from attending the ceremony because of their country of origin is markedly against the global principles of the Academy of Motion Picture Arts and Sciences. Though it's often derided for its stodgy choices, the Best Foreign Language Film category does bring wider attention to international filmmaking. The Academy called Trump's executive order "extremely troubling" in a statement, adding that the group "celebrates achievement in the art of filmmaking, which seeks to transcend borders and speak to audiences around the world, regardless of national, ethnic, or religious differences."
As a result, some critics and moviegoers are suggesting the awards be scrapped, as a grander, symbolic gesture. The prospect of not holding a ceremony at all, as explored by Vox's Todd VanDerWerff this week, is an interesting one. Though it's often decried as a "liberal Hollywood bubble," the Academy Awards are watched by far more than just coastal elites. Their cancelation would be noticed around the country, though perhaps it wouldn't be as deeply felt as the loss of, say, the Super Bowl. (A general boycott by nominees would also provoke widespread discussion, but would be even harder to coordinate.)
The last time the Academy Awards abutted a huge moment in current events were in 2003, when the 75th Academy Awards aired just days after the beginning of the Iraq War. That ceremony was a subdued one, with barely any red-carpet festivities, but it aired as scheduled despite pleas from broadcaster ABC to delay it. That alone should indicate that the chances of the Oscar telecast ever being canceled, let alone delayed, are essentially zero. The ceremony is, after all, a crucial moneymaker for the Academy, which uses the revenue to pursue its other activities, such as film restoration and sponsoring fellowships for young writers and directors.
It's unlikely that a hypothetical total shutdown would even have the intended effect of drawing attention to protests over the executive order. The Oscars are, after all, first and foremost a celebration of art—even if that art is more often than not the middlebrow fare favored by a consensus vote of industry luminaries. The widely viewed awards ceremony provides a highly visible platform for less commercial work, taking care to highlight each of the year's Best Picture nominees. The box-office impact of that attention is undeniable: Oscar-nominated films remain in theaters twice as long and can boost their take by several million dollars. La La Land, a throwback musical of no particular political import, is tipped to be the night's biggest winner, but films like Moonlight, Hidden Figures, Loving, Fences, and Lion might not have otherwise received nationwide releases without awards attention.
There are, of course, downsides that come with that audience. If La La Land dominates, as many suspect it will, the Oscars will seem more frivolous than ever, overlooking weightier cinematic efforts for a dreamy musical about show business in the opening months of the Trump presidency. Additionally, some of the nominees have attracted negative press because of incidents in their past—like the sexual-harassment allegations against the Best Actor nominee Casey Affleck, or the Best Director nominee Mel Gibson's history of battery and anti-Semitic ranting. (Gibson's publicity work for his film Hacksaw Ridge has doubled as a sort of apology tour that has largely lacked for a real accounting of his past behavior, which he has referred to as a "rough patch.")
There is no denying that the Oscars sometimes shine a spotlight on films, and filmmakers, that many would deem objectionable. But despite their perceived triviality and occasional misguidedness, the Academy Awards also have the power to champion art that might otherwise be overlooked. This influence makes the show a platform that can't be ignored this month, no matter who will be in attendance. Even if no winner gives a charged speech, the Oscars are always an inherently political event based simply because of the works they honor. This is certainly not the year for the Academy to ignore that responsibility.