Saturday Night Live, Lobbyist
On this weekend's episode, Alec Baldwin returned as Donald Trump, Melissa McCarthy returned as Sean Spicer, and everyone else returned with a message for the president: "We know you're watching. Let's talk."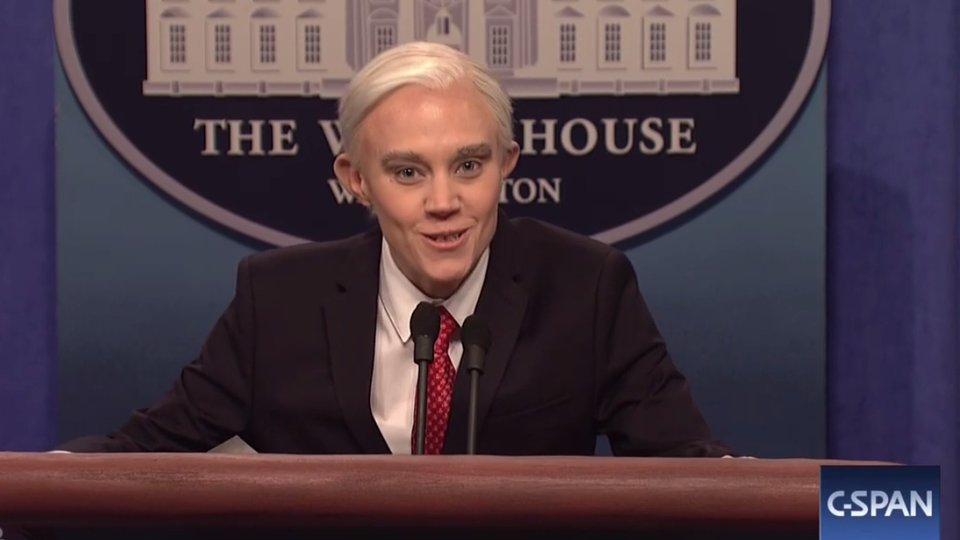 This weekend, just before Saturday Night Live began its show, a commercial aired on NBC in Washington, D.C. The ad featured a man in a home gym, lifting weights. "President Trump, I hear you watch the morning shows," he said. "Here's what I do every morning." The camera panned out to reveal that the man was missing a leg. "Look, you lost the popular vote, you're having trouble drawing a crowd, and your approval rating keeps sinking," he said, still directly addressing the president. "But kicking thousands of my fellow veterans off their health insurance by killing the Affordable Care Act and banning Muslims won't help. That's not the America I sacrificed for." He paused. "You want to be a legitimate president, sir? Then act like one."
The anonymous veteran—or rather, the ad he starred in, from the political action committee VoteVets.org—was embracing one of the most common clichés of the young administration of Donald J. Trump: that this is a president who, forged in the fires of television, remains malleable when placed in the vicinity of that medium's particular kind of heat. Trump owes much of his national fame to TV in general, and to NBC in particular; he is also, journalistic reports and his personal Twitter feed have long suggested, a regular viewer of cable news, from the "fake" to the "less so." He is also a regular watcher of Saturday Night Live. After a December sketch, starring Alec Baldwin, mocked the then-president-elect's impulsive tweeting, the actual Donald Trump, my colleague David Sims pointed out, offered a condemnation of Baldwin's impression. Via, yes, a tweet. One sent at 12:13 a.m. East Coast time—about halfway through SNL's live broadcast.
Saturday Night Live has learned from this situation roughly the same lesson that VoteVets.org did: The show is recognizing that it can be a platform not just for satirizing the president, but also for, more simply, talking to him. That recognition came to a head during SNL's most recent episode—the one hosted, for a record 17th time, by Alec Baldwin. It was a show infused with a sense of its own influence over the doings of the West Wing, one calibrated not just to make its at-home audience laugh, but also to make its White House audience angry. It was an episode that had, like the ad that preceded it, a strong message to send to the president about the way he has been doing his job.
Things started, in the cold open, with Melissa McCarthy, making an unsurprising re-appearance as White House press secretary Sean Spicer. McCarthy took the impression she gave last week—"Spicey" as a gum-gulping, podium-pounding flurry of sentient testosterone—and exaggerated it even further. She/he, this time around, was even angrier. The gum being chewed was even more comically enormous. Instead of picking up the briefing-room podium in a rage, this Spicer zipped around upon it, Segway-style.
But the key element of the sketch came near its conclusion, when Melissa McSpicer was discussing the dustup between the Trump administration and Nordstrom, after the department store severed its relationship with the Ivanka Trump clothing and accessory brand. Spicer pointed out that "he" was wearing a lovely tennis bracelet from the Ivanka collection, as QVC-style purchasing information flashed below him. And then: McCarthy raised her leg, in a Megan-in-Bridesmaids manner, to reveal that Spicer's footwear choice for the day had been a pair of whimsical Ivanka-brand heels.
The gender-bending was absurd, but it was also extremely pointed. The sketch was aiming its satire not just at Spicer, but also at his boss—and, specifically, at an article Politico published in response to McCarthy's initial Spicer parody claiming that "more than being lampooned as a press secretary who makes up facts, it was Spicer's portrayal by a woman that was most problematic in the president's eyes." That revelation, which was attributed only to "sources close to" the president but which went instantly viral, got people on social media talking and giggling and strategizing, many of them in the name of #TheResistance: SNL should just get women to play all the Trumpian roles, people suggested. Rosie as Steve Bannon! Ellen DeGeneres as Mike Pence! Kristen Wiig as Jared Kushner! Rachel Dratch as Reince Priebus! And—sorry, Mr. Baldwin, but—Meryl Streep as Donald Trump!
That satire-driven feedback loop—people offering casting advice to SNL, and SNL winking back at them for the effort—ran as a knowing refrain throughout the Baldwin-hosted SNL. Kate McKinnon, playing on all the "enlist a lady" stuff, made an appearance during the cold open as a laconic Jeff Sessions. Leslie Jones played herself, lobbying Lorne Michaels to play Trump—another casting choice that was laden with real-world ironies and meanings. During a segment that mocked both Trump's "SEE YOU IN COURT" tweets and his reality-TV associations, the show presented Baldwin-Trump facing off against three federal judges in The People's Court; the sketch culminated in him being silenced by a no-nonsense judge—played, natch, by a woman (in this case, Cecily Strong).
During the episode's Weekend Update, too, Michael Che, making the show's sense of its influence plain, addressed the president directly, in the second-person. "In just the span of one day," Che said, Trump "was in a losing battle with three federal judges, a decorated war hero [John McCain], and a department store."
And then: "Dude, pace yourself!" Che advised. He added: "It's sad, man. I hope he quits. I mean, Donald: Is this really how you want to spend the last two years of your life?"
I mean, Donald. It was a small moment, but a striking one. Here, after all, is one more cliché: Donald Trump is, steadily but also extremely suddenly, changing the American presidency. And the satire that has long served as a back-channel to the American presidency is changing, suddenly and steadily, along with it. It used to be that SNL's presidential parody took aim at the public perception of the president: Gerald Ford, slapsticking klutz; Ronald Reagan, behind-the-scenes genius; George W. Bush, champion of the fine art of "strategery." Its impressions tried to insinuate themselves, subtly, into the public's sense of their presidents; their respective sketches exercised the same kind of soft influence that, for example, would lead many Americans to assume that "I can see Russia from my house!" was something the real Sarah Palin, rather than Tina Fey's finger-gun-toting impression of her, had uttered.
The kind of satire SNL engaged in this weekend, however, was different. It wasn't playing the long game, of public perception or historical sensibility. It was playing, rather, an extremely short one: This was SNL using its platform to speak directly to the president. The show had an audience of many, definitely, but also, it seemed to realize, an audience of one: This SNL, even more than its predecessors, was trying to anger President Trump, and make him indignant, and encourage him to question the telegenic fitness of Sean Spicer, and Jeff Sessions, and perhaps even himself. If Trump hates seeing his staffers portrayed by women, the logic went, then what better way to encourage him to doubt those staffers than to have them played by Melissa McCarthy and Kate McKinnon? What better way to create chaos in the mind of the president than to present him with the televised image of his iconic hairdo sported, cheerfully and subversively, by Leslie Jones?
President Trump may well be aware of the game(s) SNL was playing with him, and at him; as of Sunday morning, he has yet to tweet about the episode. So perhaps an armistice has been reached in the cold war of cold opens. Perhaps SNL will be overcome with the anxiety of influence; perhaps President Trump will find better things to do with his Saturday evenings than to watch comedians who, like so many others, want something from him. Or perhaps SNL will remain as a political platform as well as a comedic one. Perhaps PACs will keep buying the show's ad slots as a way to talk to, and influence, the new American president. Perhaps a show that airs "Live from New York" will be aimed, ever more, at a viewer who watches its episodes live from Washington, D.C.