In National Treasure, a Comedian Faces Disgrace
The riveting four-part Hulu miniseries, imported from England, is inspired by real accusations of sexual assault against high-profile entertainers.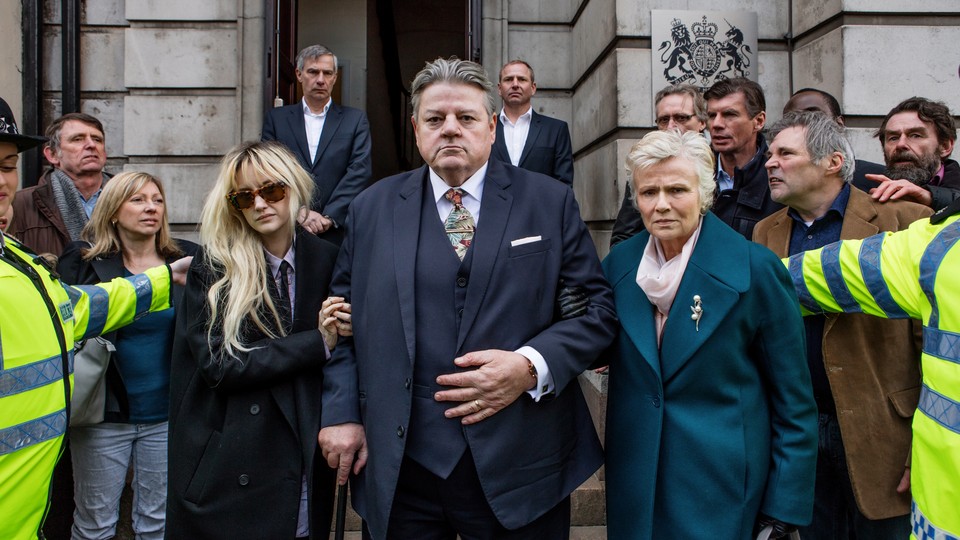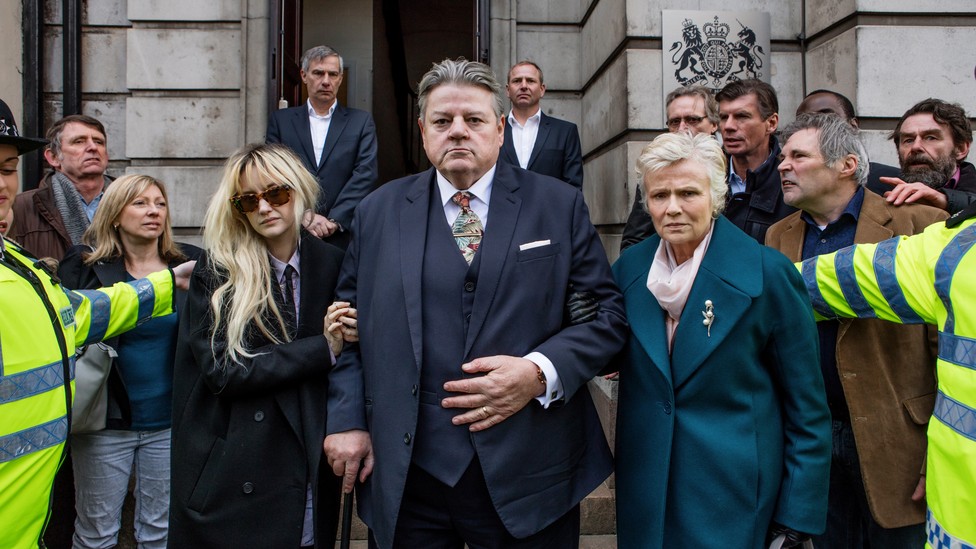 The most obvious American analog to National Treasure, a new four-part miniseries debuting Wednesday on Hulu, is Bill Cosby, although the trial of the Canadian journalist Jian Ghomeshi also comes to mind. Paul Finchley (Robbie Coltrane) is a British comedian in the twilight of his career, largely beloved by the public but reduced to hosting a daytime TV quiz show and presenting a lifetime achievement award to his longtime double-act partner, Carl (Tim McInnerney). One morning the doorbell buzzes—in this show, it's a particularly harsh sound that only seems to portend bad news—and Paul is told he's been accused of rape, in an incident that supposedly happened on a film set in 1993. He sincerely pleads innocence, but the fallout that follows only brings more accusations.
The show, though, is based on Operation Yewtree, a police investigation launched in Britain in 2012 after hundreds of sexual abuse allegations against the TV presenter Jimmy Savile came to light after his death. The inquiries brought to light a staggering number of accusations against male entertainers dating back decades, leading to 19 arrests and six convictions. But it was also criticized for being a witch hunt, in which the police relied on publicly naming suspects—the vast majority of whom were released without charge—in order to attract more accusations. National Treasure, which is written by Jack Thorne (Harry Potter and the Cursed Child), considers this tension over its four fraught but riveting episodes, as Paul continues to maintain that he's the real victim, while everyone around him suffers collateral damage.
The specter of Savile looms over the show right from the start—"They think I'm Jimmy fucking Savile," Paul says in the police station, as he's first informed of the specifics of the charges against him. Later, giving a BBC radio interview, he claims that the accusations are part of a national outbreak of hysteria regarding comedians, saying, "We all gave Jimmy Savile a pass and this is the result." But National Treasure resists broad indictments of the entertainment industry; it's much more interested in Paul himself. Coltrane's spectacular performance anchors the four episodes, even when he's not the primary focus. A burly presence, he communicates Paul's vulnerability as well as his ego, offering up a fascinating and inscrutable character who's always kept at a distance.
The first episode focuses on Paul, whose brooding, troubled state in an early scene as he prepares for a TV appearance is echoed by an extraordinary, primal breakdown before the closing credits, during which viewers can only speculate on what's going through his mind. The second is centered around his daughter, Dee (Andrea Riseborough), an addict in recovery living in a halfway house, struggling to access her own memories about her father. The third considers Paul's wife, Marie (Julie Walters), as she works through her increasingly conflicted instincts about her husband, while the fourth focuses on the trial, in which the victim's allegations are heard for the first time. The strength of the show is primarily in its lead actors, all four of whom offer enthralling performances. Dee, a coiled spring of pain and wisecracks, teeters continually on the brink, while Marie roots herself doggedly in strength. McInnerney offers one of the finest performances of his career as Carl, whose decades-long partnership with Paul has  given the two their own kind of code to communicate in.
The show's biggest weaknesses are a hypersaturated color palette and an ominous, rattling score, which seem intended to provoke a sense of unease, but undermine the actors' more naturalistic performances. One question, too, is whether the alleged victims should have more screen time, versus the depth of scrutiny that's afforded to Paul. But this is, in the end, a family drama, with elements of a police procedural thrown in, and only light analysis of a media climate in Britain that sensationalizes news and frequently skirts the legal system. National Treasure, almost more than anything, offers a nuanced portrait of a star on the decline, exploring the deep unhappiness that led him to comedy, and the contrasts between his public persona and his private world.
The fourth episode brings a number of twists, which may change the way you interpret everything that's happened previously. As the first major drama to come out of Operation Yewtree and the shocking disgrace of Savile, National Treasure is a thoughtful and focused work, more concerned with the story it's telling than in delving too deeply into the angles of an epidemic of abuse. But Coltrane, who (Hagrid aside) has been missed from TV and film over the past few years, emphasizes what a gifted and textured actor he can be. National Treasure, too, reminds of how much can be done in a limited-episode format, tackling an impossibly tricky subject within a tight frame. That it leaves you wanting more is only one of its achievements.