Migos the Pioneers
The No. 1 album in the country is from a trio of Atlanta rappers whose dizzying coordination sounds deceptively simple.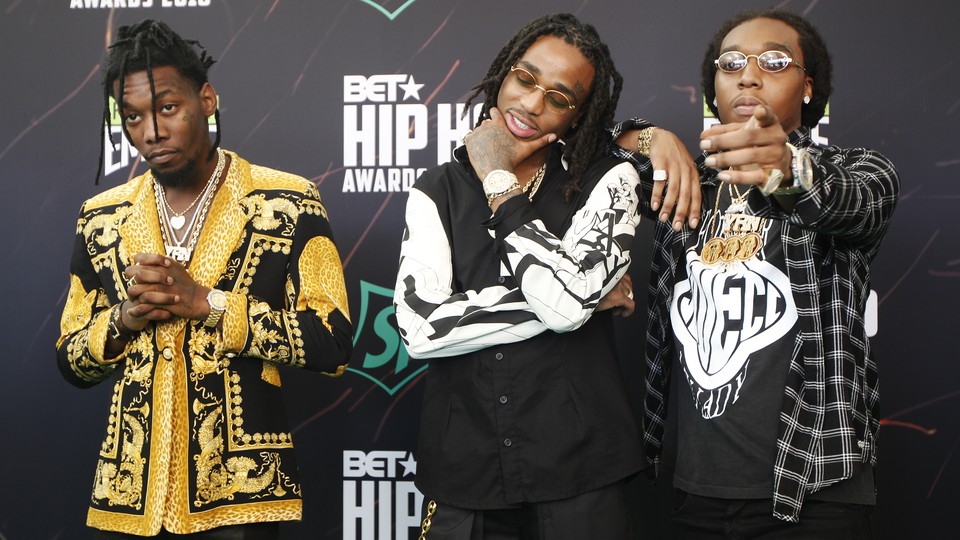 Like apparently a lot of Americans lately, I can't stop listening to Migos. The particular object of obsession off the Atlanta rap trio's No. 1 album Culture keeps changing, but for me, for now, the standout is a work of minimalist hypnosis called "Slippery," on which a high, eerie synth line wavers over drum programming that sounds like a construction project undertaken by very unhurried carpenters. Band members Quavos, Offset, Takeoff and their guest Gucci Mane rap, per usual, about cocaine, sex, and money, but their delivery is anything but rote: Syllables seem to ricochet off the beat, an approximation of a sports car's squeal serves as a two-note hook, and the verses are structured to create suspense about where they end. The word "wildebeest" figures in prominently, as does the phrase "believe me," spoken more convincingly than by the president. Late in the track, Takeoff offers this telling line: "They think I'm dumb / They don't know I see the plot."
He's probably referring to something other than the public discourse around his group, but it is true that some people think Migos are, yes, dumb. In the rap world, the band is a flashpoint in an intergenerational taste war over the trendy trap subgenre being "not lyrical," with exhibit A being their breakout single that mostly consisted of the name "Versace" shouted in staccato. More broadly, Culture and Migos's recent No. 1 hit ("Bad and Boujee") aren't going to persuade any random Facebook commenters to removed the letter "c" before their mentions of "rap." And the group has made some foolish comments recently about homosexuality being incompatible with toughness. But there's no denying the sophistication it takes to make music this fun, and Migos deserve credit for both helping to invent a musical form and, with Culture, moving it forward.
Migos have, in various ways, been influential for about half a decade. Contributions include helping popularize the dab—a gesture that for better or ill has reached even Paul Ryan—and a new way to spell the term describing the affections of the social class that owns the means of production. But the trio's real achievement is musical. The so-called "Migos flow," a patter-and-pause rhythm where the vocalist revs up in intensity over three-syllable bursts, became ubiquitous in hip-hop after 2013's "Versace." The form of a Migos song itself—rappers trading verses, plentiful ad-libs, that signature flow, a brooding-but-bouncy trap beat—is sonnet-like in its sturdiness, and now on Culture, they've stretched the template to epic scale and shown how much variation it can sustain.
For a primer in the trio's appeal, the smash "Bad and Boujee" works well. Each line of the litany-like chorus ends with an ad-lib in the background ("blaow!" "savage!" "grrah!"), and the silky nonchalance of the title refrain contrasts with the serrated vocal patterns around it. The lyrics, while not high-concept per se, find some fun ways to communicate rap-familiar ideas: "Still be playin' with pots and pans, call me Quavo Ratatouille," Quavo says. Just as catchy but more dramatic is "T-Shirt," whose beat is as icy as the song's Revenant-inspired music video. The verses and chorus unspool methodically, with almost unsettling intensity, though a mention of Yoda lightens the mood.
The grandiosity of that song is typical of Culture, which is pocked with prog-rock moments: waterfalling pianos and lancing violins on the magisterial "Big on Big," Prince-ly guitar noodling at the start of the contemplative "What's the Price." More crucial is the way that the sonic elements interlock rhythmically, like when the chimes, flutes, bass thumps, and verbal scatting of "Get Right Witcha" cohere for a pleasant asymmetrical sway recalling, say, a catamaran cruise under conditions of sun and whitecaps. These songs are party music foremost, but close listens can be both impressive and dizzying.
The running joke around Migos for years has been that fans think they're "better than the Beatles," a line that just made its way to the Golden Globes stage and possibly inspired their comrades-in-genre Rae Sremmurd's recent No. 1 "Black Beatles." This is sacrilege with a point: Hip-hop right now is as vibrant as rock and roll was in its heyday, and if Migos aren't exactly literary craftsmen neither really were the Fab Four. If you're looking for lyrical complexity, you can now turn to, say, Kendrick Lamar just as readily as boomers once turned to Bob Dylan. Meanwhile Migos will be surprising the ear and driving the culture, just like pop geniuses always have done.