Netflix and Chill With a Michael Bolton Valentine's Day Special
The surreal one-hour comedy tasks the '80s soft-rock god with saving romance on February 14.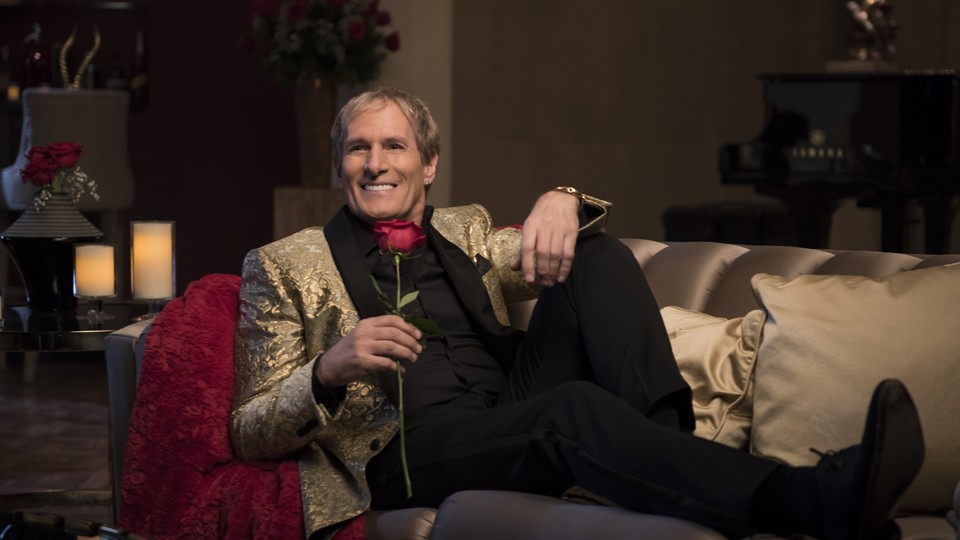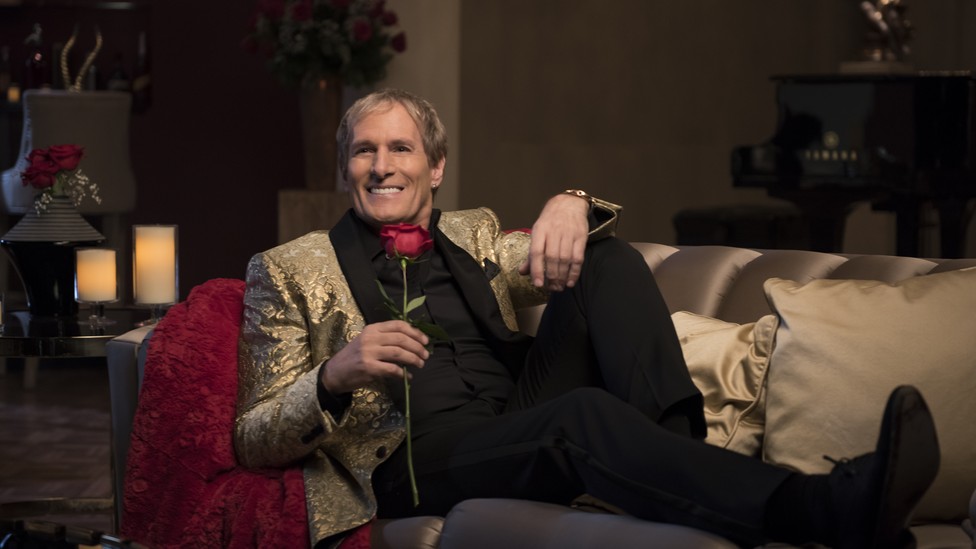 In 2011, The Lonely Island debuted "Jack Sparrow" on Saturday Night Live, an ingenious digital short in which the comedy-music trio asked the soft-rock icon Michael Bolton to provide a hook for their newest track. After a brief, generic introductory verse in which all four hit up a club, Bolton launched into the chorus: a completely disconnected ode to Captain Jack Sparrow from the Pirates of the Caribbean franchise. The character of Michael Bolton was born, an endearing lunk (and major cinephile) so divorced from modern standards of cool that he inserts Disney references into hip-hop songs and yet somehow wins everyone over anyway with his vocal prowess and intense fandom.
It's this same version of Bolton who stars in Michael Bolton's Big, Sexy Valentine's Day Special, released on Netflix on Tuesday, a sparkling and star-studded oddity that's part-PBS telethon and part-depraved sex comedy, like the love child of Lawrence Welk and Lena Dunham. At its best, it's a glorious, only partly ironic homage to the vocal power and unfettered sexual magnetism of one of the most indelible figures in balladry. At its worst, it's baffling. Michael Bolton superfans will likely hate it. And yet it's Bolton who makes it work, entirely committed to his role and transforming himself from a potential punchline into a hero.
Written and directed by Akiva Schaffer (The Lonely Island) and Scott Aukerman (Comedy Bang! Bang!), the hour-long special is based on the idea that Santa's elves have made too many toys for Christmas, and there aren't enough babies to receive them. So Bolton, the undisputed king of Valentine's Day, is drafted to host a big, sexy TV special that encourages couples to conceive, with musical moments, guest performers, and a phone bank tasked by celebrities (Janeane Garofalo, Louie Anderson, Bob Saget, and Brooke Shields, who gets the most memorable and filthy line). Bolton sings his classic hits, and emcees proceedings from his love nest, a Liberace-esque boudoir tricked out with silk pillows, a roaring fireplace, and high-class erotic art.
An embarrassment of comic talents pop up as special guests, some winningly (Andy Samberg appears as a version of Kenny G who tells Bolton that though he's cut his hair since the '80s, he'll always be "a brave warrior in the tribe of long locksmen"), some less so (Fred Armisen plays a chocolatier so earnestly that his sketch is completely devoid of humor). There's Maya Rudolph, and Sarah Silverman, and Michael Sheen stealing proceedings as a demented choreographer. Will Forte is Bolton's twin brother, who can't sing. The real Kenny G plays a janitor. Jorma Taccone is a punk horrified by Bolton's lack of cool.
The special seems to be going for a perverted Valentine's Day version of Elf, with Bolton subbing in for Buddy as a genial innocent roped in to save Christmas (by encouraging couples to have sex on February 14). But he also serves as the adult in the room, expressing disgust when Silverman and Randall Park's song descends into an ode to pubes, and reining in guests who get out of hand. The show is at its funniest when it fully embraces the heightened, golden-maned character of Bolton via sequences between scenes that show him riding in hot-air balloons or standing next to castles while dragons fly in the background. ("You're like a heterosexual Anderson Cooper," Eric André marvels.) At one point near the end, Garofalo yells ecstatically, "Whatever this is, we saved it!" Hopefully, watching the final cut, Bolton feels the same way.