Two Shades of #Resistance at the Grammys
Katy Perry tentatively tried out political messaging while A Tribe Called Quest loudly denounced the president.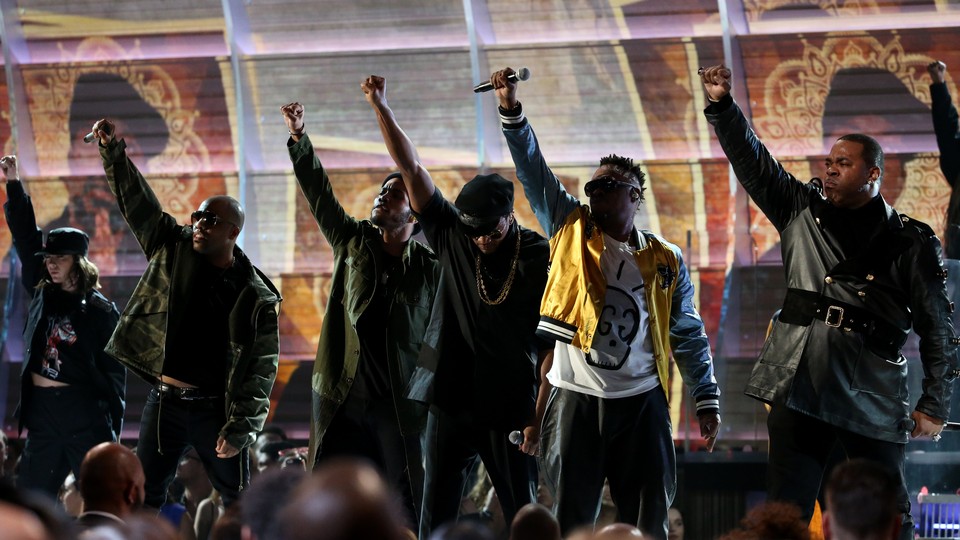 Did it say "RESIST" or "PERSIST," the sparkly armband Katy Perry wore onstage at The Grammys last night? It wasn't quite clear in the moment; intentionally or not, her sloganeering arm mostly stayed away from the camera. Social-media users scrutinizing screen caps of Perry eventually deduced the word started with a "P"—likely a play on Elizabeth Warren nevertheless persisting, possibly a general reminder to keep on keepin' on.
The armband ambiguity sums up Perry's apparent new focus on "purposeful pop" and the larger approach of many radio superstars toying with politics. The Hillary Clinton supporter's new single, "Chained to the Rhythm," sighs about capitalism and apathy in the abstract—"So comfortable, we're living in a bubble, bubble / So comfortable, we cannot see the trouble, trouble"—but the closest thing to an explicit current-events reference is Skip Marley calling to "break down the walls." At the Grammys, Perry similarly came across as "political" without having a clear political message.
Aesthetically, Perry's Grammys performance was actually pretty striking: Wearing a white pantsuit, she shimmied around a blank-facade house that looked like an unfinished computer rendering as gloomy clouds and lush rose petals flashed onto it. The scene seemed like a Sopranos-esque nightmare, with the white picket fence getting taller, dwarfing Perry; at one point, mirrored posts closed in around her eerily. In the end, the house came apart and an image of the Constitution's preamble was projected behind her and Marley. "No hate!" Perry cried, holding Marley's hand in the air.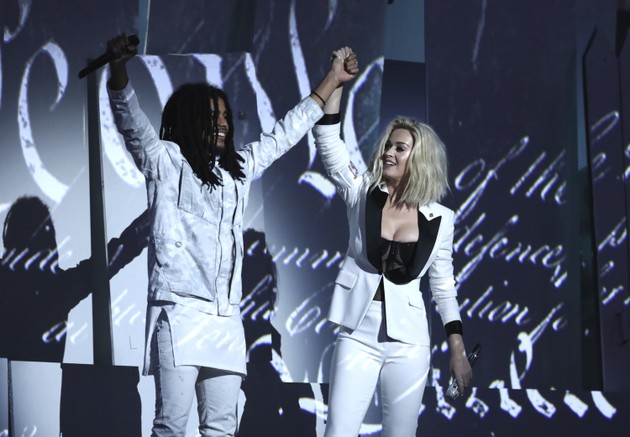 The exact interpretation requires some guesswork rooted in Perry's history as a Democrat. Given her political leanings, she likely meant to hint that Donald Trump is trouncing the Constitution and that Americans needed to become more engaged. But any decent pundit could just as easily, say, spin the finale as an endorsement of Neil Gorsuch's originalism. The only indisputable thing was its air of self-congratulations: Perry now wants to teach a civics course on the same sort of stage where she was once so oblivious as to style herself as a geisha.
It was hard to miss the contrast with the other big use of the phrase "We the People" at the Grammys, which came when A Tribe Called Quest demonstrated the power of political music that's anything but coy. Q-Tip kicked things off by saying the group was there to represent everyone who wants better government representation; Busta Rhymes showed up midway through to announce, "I'm not feeling the political climate right now." He then thanked "President Agent Orange" for his "unsuccessful attempt of the Muslim ban." Bandmates smashed down a fake wall—get it?—before breaking into an intense rendition of "We the People," an anthem released around election day. The chorus:
All you Black folks, you must go
All you Mexicans, you must go
And all you poor folks, you must go
Muslims and gays, boy, we hate your ways
Anderson .Paak provided ad-libs to that chorus last night (I heard a mention of Filipinos), and a group of unfamous people resembling the constituencies the song mentions—The People in all their diversity—filed onstage. As a verse by the departed Phife Dawg played, the performers put their fists up in the Black Power salute. Q-Tip finished with a message that, unlike the one seen earlier on a sparkly armband, couldn't be misunderstood: "RESIST!" Not only was it a clear protest, it was one that explicitly included some of the people affected by it.
It would be easy, at least for those looking for visible signs of pop culture combatting Trumpism, to say that Tribe's approach is universally the braver and better one. But political art can become pedantic very easily, and for any work of entertainment to credibly communicate a message there needs to be a sync-up of medium and message. A Tribe Called Quest has for decades served as a perfect delivery system for conscientious lyrics mixed in with playful party chants; for them, raising a fist and shouting "RESIST" is close to the core mission, and they have the experience and conviction to pull it off convincingly.
For Perry, it's more awkward: Her brand is swirled up with mass-market appeal and the assumption that a Top 40 radio hit isn't going to force an op-ed on you. Were she to go full agitator all of a sudden at the Grammys, she'd be hit with accusations of phoniness and hypocrisy. Other pop divas—Beyonce, Lady Gaga, Madonna—have worked out, over time, how to retain their core appeal while threading in sharp messages, though even for them there have been missteps. If Perry is no longer happy to mostly sing about blacking out on Friday nights and surviving after breakups, she will have to feel out her own new approach. For now, last night's performance of a picket-fence prisoner's liberation actually fit her in the moment: It was a portrait, however awkward, of an awakening.