The Maddening Media Obsession With Female Feuds, Katy Perry Edition
She can't seem to get her music or politics evaluated without a mention of her supposed rival Taylor Swift.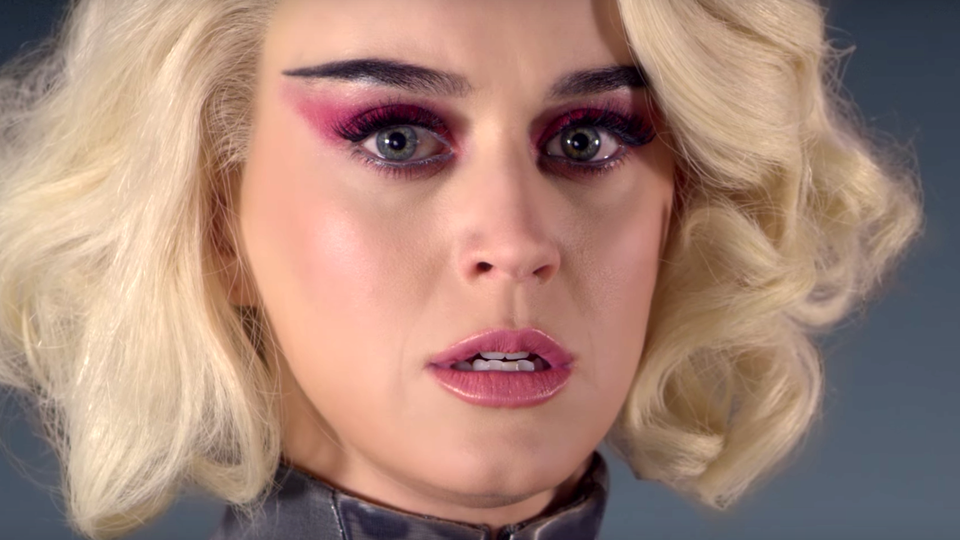 Katy Perry's new video for "Chained to the Rhythm" throws shade at fossil fuels and predatory home lending, nuclear weapons and nuclear families, lines at amusement parks and space helmets worn on Earth. But in some corners of the Internet, Perry's recently been portrayed mostly as throwing shade at something that's gone unmentioned in her work: Taylor Swift.
Perry and Swift's rivalry is, as per a recent post by the comedian Josh Gad, becoming as iconic as the one between Luke Skywalker and Darth Vader. Its origins are foggy, possibly having to do with the hiring of backup dancers or with the dating of John Mayer. Swift's song and video "Bad Blood" may have been about Perry; more concretely, the musician Calvin Harris, after breaking up with Swift, confirmed that she tried to "bury" Perry. For her part, Perry has made some social media posts that certainly haven't countered the impression of acrimony.
To follow all of this is to participate in the schadenfreude and voyeurism and mythmaking that make celebrity gossip fun. But what's going on when the first frame of reference for an artist's every action is how it reflects on a personal beef? "Chained to the Rhythm" says nothing that can be interpreted as a dig on Swift, and yet articles are being written connecting the song to Swift. Presumably this is to collect clicks despite the fact that it reinforces stereotypes about female cattiness and minimizes these women's actual work.
Hollywood Life, for example, has a Swift-heavy post that jumps off Perry saying she "worked out some of [her] shit" in the writing of her new music. The site's spin: "We can't help but wonder if the 'sh*t' she's talking about includes her ongoing feud with ex-bestie Taylor Swift." And: "Does that mean she's totally over her drama with Taylor Swift? You be the judge!" And, most tellingly: "Nothing in Katy's new song 'Chained to the Rhythm' seemed to be about Taylor, but maybe another song on the highly-anticipated new album has some more answers for us. We're definitely waiting on the edge of our seats to find out!"
When tweeting out photos of fans who'd posed with a prop promoting "Chained to the Rhythm," Perry surfaced a girl wearing a "Bad Blood" T-shirt. Maybe this was an intentional Swift dig, or maybe it was coincidence. Either way, Inquisitr wrote up the incident under the headline "Katy Perry Refuels Taylor Swift Feud With New Song 'Chained to the Rhythm," asserting that Perry "took shading to a whole new level as the shirt's 'Bad Blood' logo appears to be in the shade." (I don't even see the shade in the picture?) It had another post speculating that a discount sale on Swift's recent single with Zayn Malik was meant to sabotage the chart performance for "Chained to the Rhythm."
There's even been a ginned-up who-wore-it-better moment. At the Grammys, Perry debuted a new bleach blonde look, explaining that as someone who has cycled through hair styles over the years, "It's the last color in the spectrum that I can do." (Her next comment—"the only thing left to do is shave my head, which I'm really saving for a public breakdown"—sparked the gossip press and fan armies to claim she'd grievously insulted another female diva, Britney Spears.) Tabloid sites referenced the 'do change as though it were a strategic escalation against Swift, who went blonde last year. Elite Daily: "It is yet unclear whether Katy Perry had her hair cut and dyed in a similar fashion, or personally scalped her red carpet enemy and wore her actual hair to the ceremony."
This is all, of course, pretty standard content farming and snark. It is also a sign of the media reflecting public fascination. The TV creator Ryan Murphy has said that Taylor vs. Katy is the most requested subject of the next season of his show "Feud," whose first iteration focuses on Joan Crawford and Bette Davis. "I would never do another Hollywood woman vs. woman story," Murphy told Us Weekly, touching on the sexist, trope-y nature of this particular rivalry obsession.
But what's particularly noteworthy—and again, sexist, and again, trope-y—here is the implication that Perry's or Swift's expressions as artists, citizens, and businesswomen can only serve the rivalry. During the presidential campaign, Perry's stumping on Hillary Clinton's behalf was frequently interpreted as a chess move against Swift, who stayed conspicuously quiet on her political views. "Katy Perry was the first pop star on the Hillary train, and if Clinton gets elected, she'll have the most powerful woman in the world in her corner," said the subhead on an October 2016 Daily Beast piece. "Looks like it's gonna be a looong four years for her nemesis." (Was October so long ago?)
Since the election, Perry has signaled that she's entering a new era of "purposeful pop." To that end, the lyrics and video of "Chained to the Rhythm" encourage conscientiousness, and she showed up to the Grammys with a "persist" armband and a Planned Parenthood pin. Few pundits are taking any of this to be a particularly bold transformation, though, as The AV Club put it, "it's probably better than whatever Taylor Swift is doing." According to some, that's the only worthwhile thing Perry can hope to achieve.