The Imperfect Power of I Am Not Your Negro
Raoul Peck's documentary brings to life James Baldwin's urgent ideas about race in America, even if it leaves out a key aspect of the writer's life and work: his sexuality.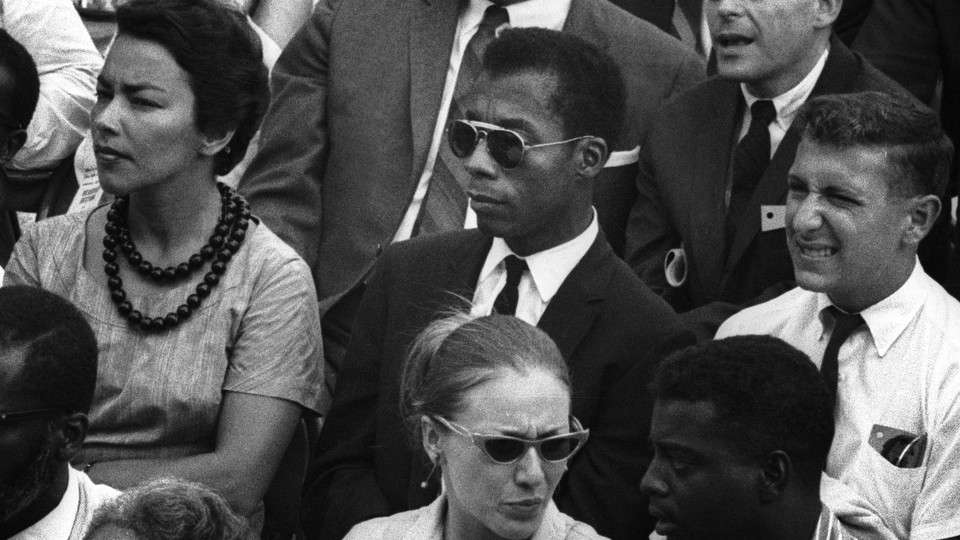 A novelist, essayist, playwright, and poet, James Baldwin was a writer with an arsenal of artistic talent and moral imagination. His signature style was his prose—startling in its intricate design and depth of perception, and fierce in its determination to dismantle the racial assumptions of the American republic and the English language. Baldwin lent his words and energies also to the civil-rights movement and would write one of the defining books of that era, The Fire Next Time, his 1963 classic.
While Baldwin fell out of critical favor in the last decade of his life, and in the years that followed his death in 1987, his work always remained a source of deep and demanding insight and beauty—which is why it's so heartening to witness the national revival he is currently enjoying. This past September, at the dedication ceremony of the National Museum of African American History and Culture, President Barack Obama began his remarks by quoting from Baldwin's short story, "Sonny's Blues." A group of arts and educational institutions in New York City declared 2014 "The Year of James Baldwin." And, over the past decade, he has received an unprecedented level of scholarly attention, including the founding of an annual journal committed to reappraising and preserving his legacy.
Now add to this list the director Raoul Peck's powerful but imperfect documentary I Am Not Your Negro, which received critical acclaim and a Best Documentary Oscar nomination before it opened nationwide on February 3. The film draws its inspiration from Baldwin's unfinished manuscript, Remember This House, intended to be a personal recollection of his friends, the civil-rights leaders Medgar Evers, Malcolm X, and Martin Luther King, Jr.—all of whom were assassinated within five years of each other. About a decade after King's death, in a letter dated June 30, 1979, Baldwin told his literary agent that he had started sketching out a new book in which he wanted the lives of these extraordinary men "to bang against and reveal one another as they did in life." Baldwin made little progress on the project, however, and left behind only 30 pages by the time he died in 1987.
I Am Not Your Negro's narrative voice comes from this unfinished manuscript, in addition to Baldwin's published works and various television appearances. Unlike conventional documentaries that cede narrative control to family members, friends, and experts to shed light on the film's subject, Peck's film relies almost exclusively on Baldwin's writings, read by Samuel L. Jackson. This ingenious move allows viewers to fully appreciate Baldwin's unmatched eloquence and form a portrait of the artist through his own words, even if the film largely (and somewhat inexplicably) omits a crucial aspect of his work and life: his sexuality.
I Am Not Your Negro begins with the author's return to the U.S. in 1957 after living in France for almost a decade—a return prompted by seeing a photograph of 15-year-old Dorothy Counts and the violent white mob that surrounded her as she entered and desegregated Harding High School in Charlotte, North Carolina. After seeing that picture, Baldwin explained, "I could simply no longer sit around Paris discussing the Algerian and the black American problem. Everybody was paying their dues, and it was time I went home and paid mine." I Am Not Your Negro chronicles Baldwin's life through the civil-rights movement, focusing on his personal relationships to Medgar, Malcolm, and Martin.
Repeatedly, the documentary demonstrates Baldwin's unique ability to expose the ways anti-black sentiment constituted not only American social and political life but also its cultural imagination. Baldwin was an avid moviegoer and wrote about a number of films in his 1976 book, The Devil Finds Work, writings that are brought to life in the documentary. I Am Not Your Negro uses choice scenes from various films—Dance, Fools, Dance (1931), Imitation of Life (1934), Guess Who's Coming to Dinner (1967), among others—to show how Hollywood traffics in stereotypes of black menace and subservience as foils for white purity and innocence. In a reflexive move, then, Peck's film also becomes a commentary on a U.S. movie industry that was bent on reifying racial stereotypes and on perpetuating a fiction of America as the greatest purveyor of freedom, democracy, and happiness.
However much a documentary about American life in the 1960s, I Am Not Your Negro also uses Baldwin's insights to illuminate our own contemporary reality. The movie's most gripping scenes intercut footage of police violence directed against black people in the '60s and shots of similar violence enacted today, using Baldwin's words to collapse the distance between the two eras. The juxtaposition bracingly highlights the uncanny similarity between the series of black deaths that punctuated Baldwin's life during the civil-rights era, and the series of deaths—of Aiyana Jones, Trayvon Martin, Eric Garner, Michael Brown, Tamir Rice, Freddie Gray, Sandra Bland, and so many others—that mark our own calendar.
Yet for all its recognition that the circumstances of Baldwin's time echo in the events of today, I Am Not Your Negro remains oddly silent on the role of sexuality in Baldwin's work and life. Baldwin was one of the first American writers to write openly about queer sexuality. As early as 1949, Baldwin had broached the subject in his essay "The Preservation of Innocence," and had made it a central theme in his fiction, beginning with his second novel, the 1956 masterpiece Giovanni's Room. In fact, in 1979, when he began to sketch Remember This House, he had just published his last and arguably finest novel, Just Above My Head, the story of an internationally acclaimed black gay gospel singer.
I Am Not Your Negro presents no sense of this essential thread in Baldwin's work. Only a passing instance gestures to his sexuality in the film, which reproduces a short sentence from an FBI memo that identifies Baldwin as a suspected homosexual. That the film uses the FBI to account for a major element of Baldwin's life and corpus, instead of the author's own voice, further compounds the silence. The apparent desire to represent Baldwin as the quintessential Race Man—a public spokesman and leader of African Americans with ostensibly straight bona fides—goes against not only the principles of Baldwin's work, but also the reality of his fraught position in the civil-rights movement as a queer black man.
During the '60s, liberals and radicals alike mocked and attacked Baldwin because of his sexuality. President John F. Kennedy, and many others, referred to him disparagingly as "Martin Luther Queen"; and Eldridge Cleaver, one of the leaders of the Black Panther Party, wrote in his memoir Soul on Ice: "The case of James Baldwin aside for a moment, it seems that many Negro homosexuals, acquiescing in this racial death-wish, are outraged and frustrated because in their sickness they are unable to have a baby by a white man." In Baldwin's No Name in the Street (1971), a source from which I Am Not Your Negro draws heavily, the author responded to Cleaver's attacks against him, but viewers wouldn't know from the film's narrative slant how the experience of race and sexuality were closely intertwined for Baldwin.
That Peck chose not to complicate its audience's view of Baldwin, especially the time in Baldwin's life when his sexuality became a liability to his public role, is a missed opportunity. And it forgoes the chance to have Baldwin's complex life reflect the complexity of our contemporary identities—including how race and sexuality inform our lives not as discrete experiences but as mutually reinforcing ones. To be sure, as he was of America's racial categories, Baldwin was suspicious of categories like "homosexual" or "gay" to sum up the range of human desire. Still, as he points out in one of his last essays, "Freaks and the American Ideal of Manhood," from 1985: "The idea of one's sexuality can only with great violence be divorced or distanced from the idea of the self."
In spite of this startling omission, I Am Not Your Negro delivers a remarkable portrait of Baldwin's life and more broadly of America's ongoing racial dilemma. It's a fitting effect for a film about a writer who displayed a rare vulnerability in his work, laying bare his own personal experience as text for national self-reflection. At a minimum, I Am Not Your Negro introduces viewers who may not have read Baldwin to the genius of one of America's greatest writers. How deeply his words resonate today is a mark of his prophetic vision, which, as the film argues, this nation fails to heed at its continued peril.