How Hans Zimmer Became a Rock Star
The composer of films like Gladiator, Inception, and The Dark Knight has become so ubiquitous, he's playing at Coachella.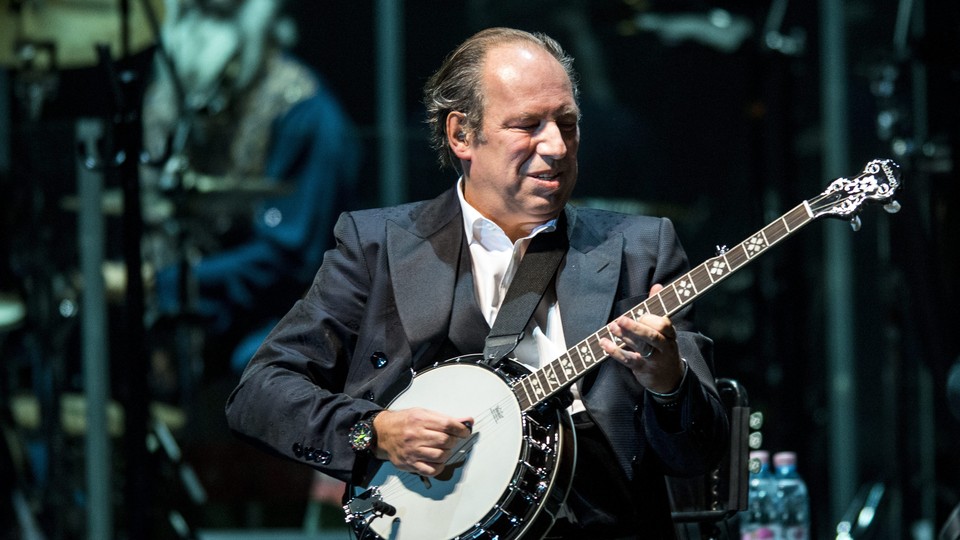 Like many other late-night hosts, Stephen Colbert introduces the musical acts that close out his show while holding their CD in his hands. His recent guests have included Japandroids, A$AP Mob, and Billy Joel, but Tuesday's episode was a bit different: The album Colbert was promoting was the soundtrack to Planet Earth II (the much-anticipated BBC America nature documentary series), and the act was the composer Hans Zimmer, jamming on the synthesizer as the orchestra behind him played the program's theme music. For a film composer to appear on a talk show is practically unheard of. But this is Zimmer, who's about to embark on a national tour that will include performances at Coachella, the California music festival being headlined this year by Radiohead, Beyoncé, and Kendrick Lamar.
Zimmer has worked in the movie business since the mid-1980s, winning an Academy Award for Best Original Score in 1995 (for The Lion King) and receiving nine other nominations. But at some point in the last few years, he's become the genuine successor to John Williams—a composer well-known enough to approach the status of a household name, and the go-to choice for soaring themes for superheroes and big-budget science fiction movies. Just what prompted Zimmer's leap to superstardom, and how did he draw the kind of young audience needed to end up on the Coachella bill?
Zimmer's big break in the movie industry was Rain Man (1988), after which he became a studio workhorse, churning out five to six scores a year for films like Driving Miss Daisy, Days of Thunder, Thelma & Louise, and A League of Their Own, before developing the instrumental score for The Lion King. He was known for collaborating with world musicians like the South African composer Lebo M (whose voice you might recognize from the start of the song "Circle of Life"), Melanesian choir singers from the Solomon Islands (who contributed to his masterful work for The Thin Red Line), and the Australian instrumentalist Lisa Gerrard (who worked with him on the operatic tones of 2000's Gladiator).
It was Ridley Scott's Oscar-winner Gladiator that really established Zimmer's reputation as a go-to hire for big-budget epics, and began to cement his status as the pre-eminent composer of his generation. Zimmer had initially been a synthesizer player who often didn't work with an orchestra at all; he created his Driving Miss Daisy score entirely by himself. But Gladiator's sweeping battle music incorporated wailing female vocals, a kind of Armenian flute called a duduk, and thunderous drumming, all of which became oft-used tropes, both for Zimmer and his contemporaries. A German musician named Klaus Badelt contributed to the soundtrack; he became one of Zimmer's many protégés to hit it big in Hollywood, working on Pirates of the Caribbean in 2003.
Another protégé was Ramin Djawadi, whom Zimmer mentored at his film-score company Remote Control Productions. After working with Zimmer for years, Djawadi has become one of the few other composers who can pack an arena to listen to his movie and TV scores; he's the man behind Game of Thrones's vast library of music, which is also currently on a U.S. tour. If Zimmer has become a big name for epic film, Djawadi is his counterpart in television, also working on HBO's Westworld and FX's The Strain, though many of his film scores (particularly his work on Guillermo Del Toro's Pacific Rim) have also drawn praise.
Zimmer's partners at Remote Control work all over Hollywood: There's Tom Holkenborg (aka Junkie XL) of Mad Max: Fury Road, Harry Gregson-Williams (The Martian, the Narnia franchise), Henry Jackman (a favorite of the Marvel Cinematic Universe), and John Powell (best known for his work in animated films). Zimmer's synthesizer-heavy approach has become so recognizable partly because his acolytes are doing similar work throughout the industry. But as the Remote Control team has helped to replicate his bombastic style, making the Zimmer sound synonymous with widescreen action, Zimmer himself has branched off in some fascinating directions.
The point at which he became truly ubiquitous was his collaboration with Christopher Nolan. Zimmer worked on all three of the director's Batman films (the first two in collaboration with James Newton Howard), taking a superhero who already had very famous theme music (composed by Danny Elfman for Tim Burton's Batman movie) and reinventing him from the ground up. Zimmer's superhero work swerves away from the more august, Wagner-esque romanticism of John Williams's famous scores; his top-tier work for The Dark Knight Rises is layered with drums, chanting choruses, and mournful minor-key strings.
Alongside the Batman movies, Nolan made Inception, his 2010 blockbuster set in the world of dreams. Zimmer's electronic score was embellished by the former Smiths guitarist Johnny Marr playing a 12-string guitar. Most tracks featured elements of Edith Piaf's song "Non, je ne regrette rien" slowed down to a groaning crawl, as the recording is an important element in the film's plot. Inception featured the rumbling "BRAAAM" sound that has become pervasive in Hollywood, especially in film advertising. It's then that Zimmer became recognizable even among teenage fans online; there's little doubt that Inception's track "Time," his most popular on Spotify, will be the grandiloquent closer of his Coachella set.
As quickly as people have copied Zimmer's sound, he's moved to re-invent it. His Oscar-nominated score for Sherlock Holmes (2009) is a wonderfully baroque piece of superhero music, reliant on the banjo, squeaky violins, and a broken piano that Zimmer destroyed himself in search of the right tone. For The Amazing Spider-Man 2 and Hidden Figures he's collaborated with the hip-hop artist and producer Pharrell Williams, working strenuously to avoid the predictable sounds of each genre (superhero and inspirational drama). Over the last 20 years, Zimmer has worked on box-office hits spanning all genres, and his willingness to adapt with the times has helped define his generational appeal.
When Nolan began work on his space epic Interstellar (2014), he asked Zimmer to write the music before looking at the script, telling him only the movie's broadest story themes. Zimmer came back with a piece of organ music, which Nolan dubbed "the heart of the movie," and the two worked in tandem from then on, with Zimmer providing music for scenes the minute they were shot (usually, film scores are composed well after shooting has concluded). His Interstellar score might be the best of his career—a Philip Glass-esque piece that builds atmosphere not through sheer volume and intensity, but through repetitive, discordant organ melodies that grow increasingly alien the farther the film's action gets from Earth.
Like any composer, Zimmer will sometimes lean back into familiar territory. His work on Zack Snyder's Superman films is loud and crunching, but somewhat unremarkable outside of its excellent main theme. He worked on each of Ron Howard and Tom Hanks's Robert Langdon movies, including 2016's Inferno, without much distinction. But his body of music is so staggering, and the variety of his efforts so broad, that he's become increasingly difficult to peg. A glimpse of his work on Colbert's show might seem like that of any Hollywood composer, but as his forthcoming tour—and his Coachella appearances—will likely prove, it's anything but.