Your 2017 Grammys Crib Sheet
This year's show will be a forum for new talent, Beyoncé, and possible anti-Trump protest.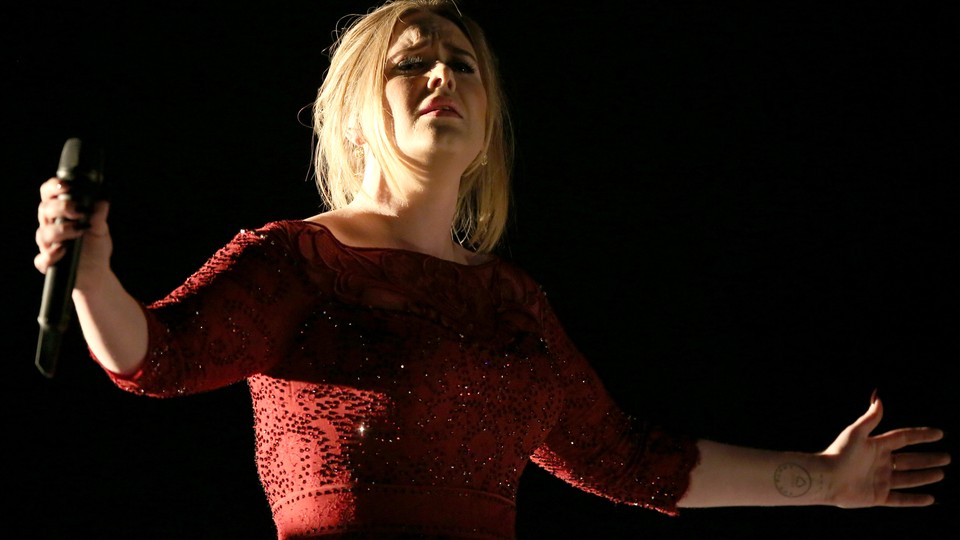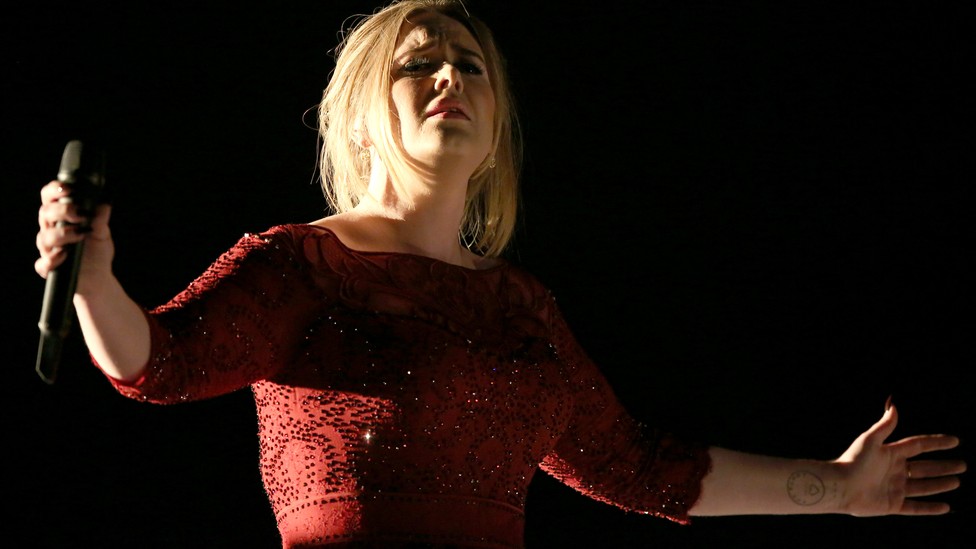 Faced with the unenviable task of summing up an entire year in a huge art form, "Music's Biggest Night" is often music's awkwardest night. The 59th Grammy Awards may be even weirder than usual: Some stars are sitting it out for "irrelevance," and Donald Trump's culture-warrior presidency has made events like this feel more fraught than ever.
Nevertheless, the Grammys command an audience of millions for good reason: The show can deliver great performances, kick off fascinating conversations, and expose new talents to a wide audience. Below are thoughts on the four general awards categories, a few of the genre-specific categories of particular note this year, and the likely trends of the night's performances.
The Big Four Awards
Album of the Year
Contenders: Adele, 25; Beyoncé, Lemonade; Justin Bieber, Purpose; Drake, Views; Sturgill Simpson, A Sailor's Guide to Earth
Last year's winner: Taylor Swift, 1989
The state of play: The conventional wisdom says that this year's ceremony is a clash between two recent Grammy titans, Adele and Beyoncé—and that Adele's best-selling but unspectacular 25 is a safer bet than Beyonce's provocative Lemonade. But watch for Sturgill Simpson. Though the relatively unfamous alt-country singer seems like an underdog, as the sole white guy with a guitar he may benefit from a split vote among the four commercially minded radio stars, recalling when Beck beat Beyoncé's self-titled release in 2014.
A Sturgill win wouldn't be undeserved; A Sailor's Guide to Earth is gobsmackingly beautiful, a bittersweet chronicle of new fatherhood. But Beyoncé's politically charged, sonically diverse, and tabloid-scrambling Lemonade was a seismic cultural event, and the album's celebration of identity in the face of disrespect would resonate even in loss: The Grammys haven't selected a young black artist's album as best since 2004, and they haven't picked a black woman since 1999.
Record of the Year
Contenders: Adele, "Hello"; Beyoncé, "Formation"; Lukas Graham, "7 Years"; Rihanna ft. Drake, "Work"; Twenty One Pilots, "Stressed Out"
Last year's winner: Bruno Mars and Mark Ronson, "Uptown Funk"
The state of play: If there's ever been a hit that's more a great recording than a great song, it's Adele's "Hello," whose repetition on the page becomes an avalanche in the ear thanks to Adele's pipes and Greg Kurstin's production. Nightmare scenario: Grammy voters' fetish for old-timey authenticity rewards the Danish band Lukas Graham's "7 Years," a bit of treacle that uses old-timey authenticity as affectation.
Song of the Year
Contenders: Beyoncé, "Formation"; Adele, "Hello"; Justin Bieber, "Love Yourself"; Lukas Graham, "7 Years"
Last year's winner: Ed Sheeran, "Thinking Out Loud"
The state of play: There are two brilliant pop songs in this category, "Formation" and "Love Yourself." Beyoncé's melds rap swagger and pop flash and social subversion. Bieber's inverts campfire strum-along tropes for a nasty kiss-off that's perfect for a performer whose persona continually flits between angelic and demonic. Between those two, "Love Yourself" has the better shot; Fox News never declared war on it.
Best New Artist
Contenders: Kelsea Ballerini, The Chainsmokers, Chance the Rapper, Maren Morris, Anderson .Paak
Last year's winner: Meghan Trainor
The state of play: In this class of legitimately promising young stars, the legitimately irritating electronic-dance bros of The Chainsmokers may be hard to beat. Even if you set aside their insane chart success and factor in the "EDM Nickelback" backlash against them, the "Closer" duo benefit from vote splitting: Ballerini and Morris are climbing up the rungs of country music, and Chance the Rapper and Anderson .Paak have fired up the hip-hop/R&B world.
Other interesting categories
Best Rock Performance
Contenders: Alabama Shakes, "Joe (Live From Austin City Limits)"; Beyoncé ft. Jack White, "Don't Hurt Yourself"; David Bowie, "Blackstar"; Disturbed, "The Sound of Silence (Live on Conan)"; Twenty One Pilots, "Heathens"
Last year's winner: Alabama Shakes, "Don't Wanna Fight"
The state of play: In perhaps a sign of commercial rock's malaise, this is one of the strangest nomination fields in Grammy history: Alabama Shakes performing a song they released two years ago, Disturbed turning Paul Simon into nu-metal on late-night TV, Beyoncé in Led Zeppelin drag, Bowie dabbling in jazz and musical theater for six minutes. Even Twenty One Pilots, the closest thing to new rock stars in a while, draw heavily from hip-hop and reggae. Personally, I can't get enough of their spooky-catchy "Heathens," though a Beyoncé victory might deliver a much-needed jolt to the genre.
Best Alternative Music Album
Contenders: Bon Iver, 22, a Million; David Bowie, Blackstar; PJ Harvey, The Hope Six Demolition Project; Iggy Pop, Post Pop Depression; Radiohead, A Moon Shaped Pool.
Last year's winner: Alabama Shakes, Sound and Color
The state of play: Bon Iver had his mainstream coming-out at the 2012 ceremony (remember "Bonnie Bear"?), and Radiohead are competing for their fourth trophy in this category. But Bowie's masterful final release, Blackstar, was snubbed in the Album of the Year category, and he only won two Grammys over the course of his entire career. The space aliens will riot if he doesn't triumph here.
Best Rap Song
Contenders: Fat Joe & Remy Ma, "All the Way Up"; Kanye West, "Famous": Drake, "Hotline Bling"; Chance the Rapper, "No Problem"; Kanye West, "Ultralight Beam"
Last year's winner: Kendrick Lamar, "Alright"
The state of play: Kanye West perpetually feuds with the Grammys over shutting him out of the general categories, but maybe he takes comfort in dominating the rap field. Two of his own works are up for best rap song, plus one from his protégé Chance, who also features on "Ultralight Beam," the best and most forward-thinking tune of the category. Drake is a real contender, though: Though "Hotline Bling" might scan more as wedding-dance fare than great rap, and though it peaked ages ago (it's eligible because it was tacked onto his 2016 album Views after becoming a hit), it's the category's only crossover smash.
Best Country Solo Performance
Contenders: Brandy Clark, "Love Can Go to Hell"; Miranda Lambert, "Vice"; Maren Morris, "My Church"; Carrie Underwood, "Church Bells"; Keith Urban, "Blue Ain't Your Color"
The state of play: Country music recently waged a very public battle of the sexes over radio programmers hesitating to promote female artists. So it's remarkable to see four out of these five contenders be women, representing both established talents (Lambert, Underwood) and exciting new ones (Clark, Morris). Clark's song is particularly gorgeous, but there's a strong Nashville push to make Morris a Taylor Swift-level star—a win here could reflect and boost that effort.
The Performances
The divas
The firmament of young female pop superstars has remained more or less unchanged from around 2011, and many of its members will be trying to keep it that way on Sunday. After a period of radio absence, the newly woke Katy Perry will launch a new disco-tastic single. Lady Gaga shall follow up the Super Bowl by playing with Metallica for some reason, possibly pushing "John Wayne," the new video for which resurrects vintage gonzo-pop Gaga. Beyoncé will show off her new baby bump, perhaps while trying to introduce Lemonade's lovey-dovey ballad "All Night" to the charts. And Adele will take the stage a year after technical glitches marred her last Grammys performance.
The team-ups
The Grammys will continue their tradition of often-dubious, sometimes inspired collaborations. On the less surprising side of the ledger: The Weeknd with Daft Punk, who produced two standout tracks from his smooth-and-fun album Starboy; A Tribe Called Quest will play with R&B newcomer Anderson .Paak, who sang on their brilliant 2016 farewell release. On the stranger side: The aforementioned Gaga/Metallica gig that follows the metal band's 2014 Grammys with pianist Lang Lang; the established R&B singer Alicia Keys teaming up with the new country talent Maren Morris; a Bee Gees covers medley, mentioned below.
The tributes
After a year of major losses for music, Bruno Mars and The Time have been in talks to tackle Prince, and some yet-unannounced performers will memorialize George Michael. Odder: a Saturday Night Fever anniversary Bee Gees spectacle featuring Little Big Town, Demi Lovato, Andra Day, and Tori Kelly. John Legend and Cynthia Erivo will take the general in-memoriam segment, and there's no reason to think it won't be cryworthy.
The Trump factor
It sounds like the Grammys are nervous that Meryl Streep's anti-Trump speech at the Golden Globes may have set the new template for awards-show conduct. Rolling Stone reports that CBS execs "are scrutinizing scripts and award introductions more closely than in past years and 'going out of their way to not inadvertently shoot the first bullet' against the Trump administration." Longtime Grammys executive producer Ken Ehrlich said, "We expect that artists will have things to say and while we're not a forum for that, we also don't feel that it's right to censor them."
"We're not a forum for that" is a funny thing to say given that awards shows have long benefited from the potential for controversy. The Grammys' political history includes Kendrick Lamar's black-liberation bonfire, Madonna and Macklemore's mass gay marriage, and Bruce Springsteen shouting "Bring 'em home" amid the Iraq War. With Democratic campaigners like Beyoncé, Q-Tip, Chance the Rapper, John Legend, Katy Perry, and Lady Gaga taking the stage, will this year be the protest-music Grammys? Or will these often-outspoken stars cause controversy simply by remaining silent?