Which Lady Gaga Will We Get at the Super Bowl?
And will she make a statement about Donald Trump?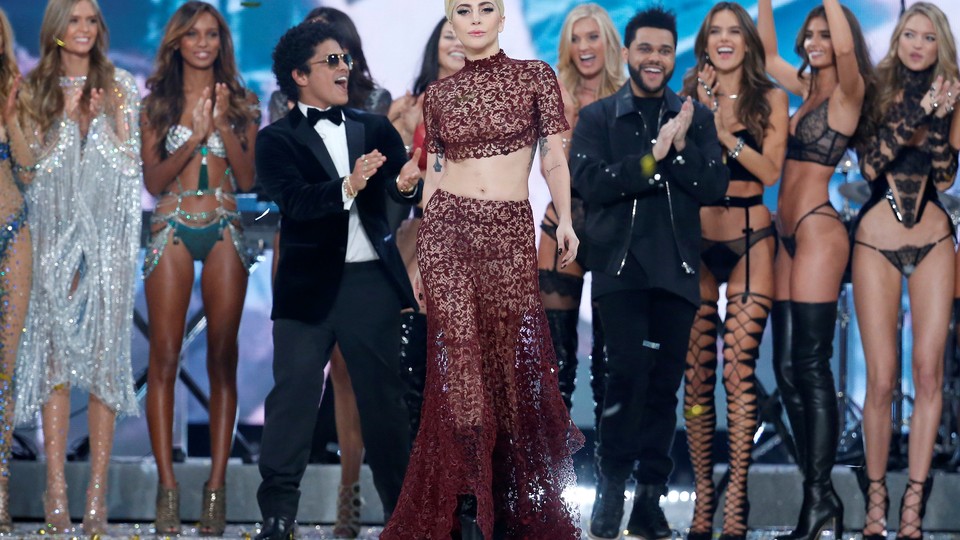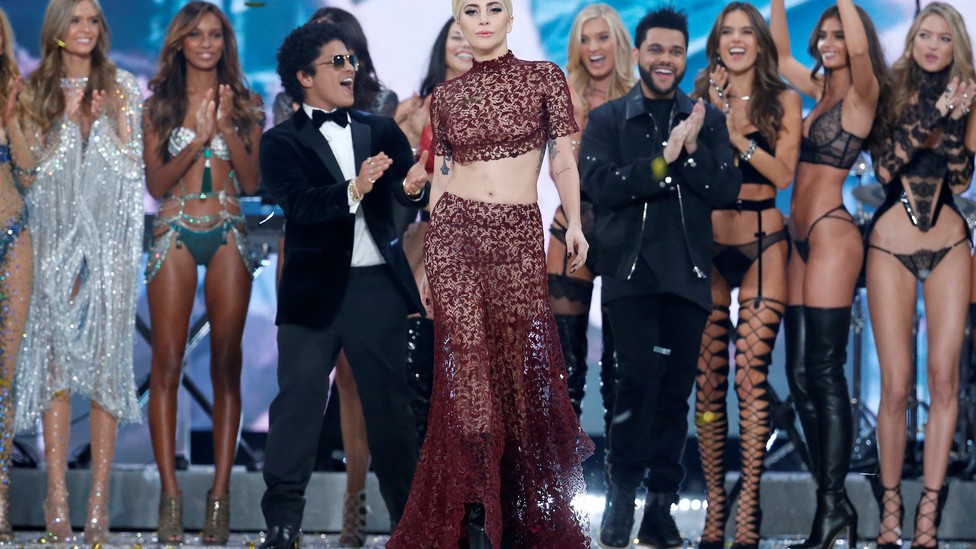 The Super Bowl halftime show might be the ultimate modern pop-music event: a swirl of commerce, image, politics, and art that represents one of the few times Americans of all cultural bubbles train their eyes on the same stage. As such, it has reliably minted some of the most memorable pop-culture moments of our time. Frivolous memes, like Katy Perry's Left Shark or Bruce Springsteen's crotch-slide, can come out of it. So can real provocation, as with Beyonce's Black Panthers formation or M.I.A.'s middle finger.
This year's performer, Lady Gaga, would seem born for such a stage. Her career is a monument to spectacle and statement-making, and she makes no apologies about living for the applause. "I've been planning this since I was 4," Gaga said in a promo for Sunday's halftime show. "So I know exactly what I'm going to do." Reports indicate she will perform some sort of stunt involving the roof of Houston's NRG Stadium. Bettors are speculating about what color her hair will be and how many outfits she will wear. But two factors may determine the exact kind of statement she makes: her own career trajectory, and Donald Trump.
In the early years of Gaga's career, her chart-conquering choruses were matched in memorableness by meat dresses and prosthetic cheekbones and a general deluge of meta-commentary about fame. But after the lukewarm reception to her hyperactive 2013 effort Artpop, the queen of artifice went on an authenticity kick by duetting with Tony Bennett, singing The Sound of Music, and dabbling with rock and country in the admirable but undercooked Joanne. Commercially, she waned. But for some more traditionalist types, her credibility rose.
All of which makes this moment a surprisingly fertile one for a Lady Gaga Super Bowl show. If she'd gotten the gig in 2011, we'd have been guaranteed an explosion of glitter and gruesomeness that would have led some viewers to decry the depravity of modern society and others to coronate Gaga a long-awaited messiah who demonstrates that bold art can also be popular. But now there is more suspense about what direction she'll go and the prospect of her comeback as a hitmaker. There's also the tantalizing possibility of synthesis—a reconciliation of her tasteful-gowns phase with the earlier Fame Monster. She could hint at a new pop center featuring "real instruments" and folk-singer sincerity but also outrageousness and raver sounds and mania.
Right now, though, all national media spectacles are necessarily tinged by the one unfolding in the White House. Gaga has been as anti-Trump as any celebrity has been, not only rallying for Hillary Clinton but also becoming the mascot for heartbroken celebrity liberals with her statements in the days after the election (Breitbart's commenters had a lot of fun with her protest on a sanitation truck outside Trump Tower). The backlash to Janet Jackson, M.I.A., and Beyonce in previous years shows the risk involved in offending any particular demographic at the Super Bowl. But the NFL has denied rumors that Gaga is contractually forbidden from political speech on Sunday, and given her history of championing causes—anti-bullying, LGBT rights, Hillary Clinton—it'd be a surprise if there's no larger message to her performance at all.
On a spectrum of making like Madonna at the at the Women's March by talking about blowing up the White House to making like Madonna at the Super Bowl by spelling out "WORLD PEACE," the safe money is probably on Gaga picking a less specific political statement. She might simply put extra effort into "Born This Way," with its celebration of "gay, straight, or bi, lesbian, transgendered life" and "black, white or beige, Chola- or orient-made." She might hire some talented refugees to play in her band. She might dedicate "Poker Face" to Kellyanne Conway, or rename one of her songs "Don't Do What You Want With My Body."
But maybe she'll just demonstrate the power of the traits that have underlain all of Gaga's transformations over the years: sincerity, engagement, hope. For a glimpse of what that might look like, revisit her underrated and bonkers rendition of the national anthem at last year's Super Bowl. With her beating her chest and widening her eyes while wearing bejeweled red, white, and blue, it was a classically Gaga display in that it was so earnest as to seem subversive. It also felt like the ongoing Gaga dialectic resolving itself with a costumed liberal freak embracing tradition and patriotism. Have you ever felt about the country the way Gaga did in this gif? The question she might imply on Sunday: Has Trump?