Big Little Lies: Sex and Murder in Monterey
HBO's compelling new mystery gives desperate-housewives melodrama an artistic sheen.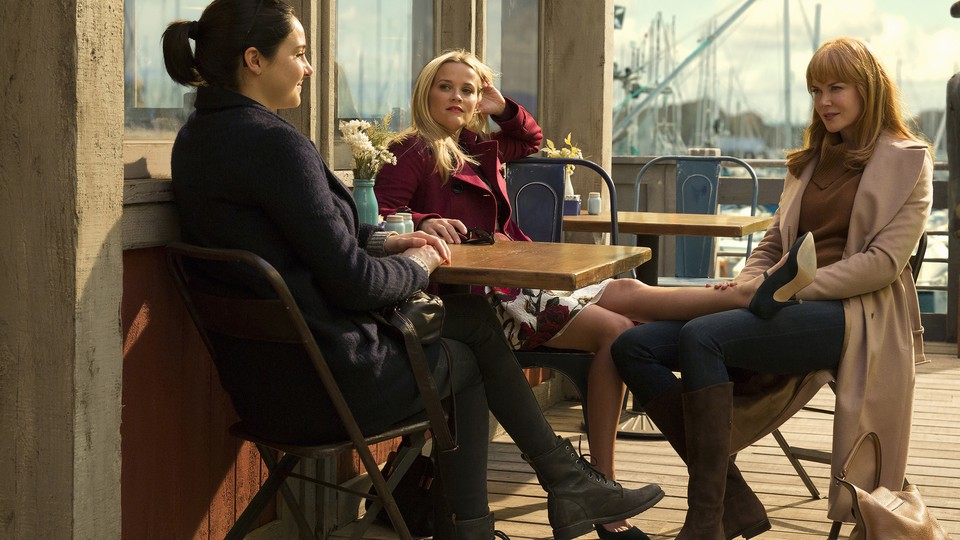 Big Little Lies, HBO's twisty and absorbing new miniseries, never seems entirely sure whether it wants you to snicker at its catty cabal of Monterey mommies or to feel acutely sorry for them. On the one hand, they're perpetually engaging in petty power plays while clutching goblets of wine and staring out at the ocean from gazillion-dollar beachfront properties. On the other, despite their immense privilege, their problems are basically the same as everyone else's: loneliness, unhappy children, even domestic abuse. Throughout its seven episodes, the show shakes up an odd cocktail of social satire, splashy murder mystery, and absorbing emotional drama, and the result is strangely satisfying.
The show, written and created by David E. Kelley and co-executive-produced by Reese Witherspoon and Nicole Kidman, is based on a 2014 novel by Liane Moriarty, shifting the action from a small Australian town to the picturesque California coast. Like the book, and like the ABC show Desperate Housewives—which Big Little Lies evokes in substance if not in style—the episodes are structured around a murder. Exactly who was killed and whodunnit is left a mystery. But as the show plays out, its director Jean-Marc Vallée (Dallas Buyers Club) layers flashbacks detailing the buildup to the crime with clips of gossipy residents dishing the dirt on the prime suspects, who, in the words of the beleaguered school principal, aren't so much helicopter parents as "fucking kamikazes."
The chicklit-ish concept is elevated from the start by Vallée's artful direction, and by the extraordinary ensemble cast. Witherspoon plays Madeline Martha Mackenzie, a firecracker of a full-time mom who lords her nurturer status over the high-powered career moms, and says things like, "I love my grudges. I tend to them like little pets." Kidman is Celeste, an enigmatic former lawyer whose husband (Alexander Skarsgaard) increasingly crosses the line between fiery passion and physical violence. Jane (Shailene Woodley) is a younger single mom who moves to Monterey in hopes of giving her son, Ziggy, a top-class education. When Madeline and Jane meet at first-grade orientation, their bond is unexpected but swift, encouraged by the fact that Jane is victimized by Renata (Laura Dern), an executive mom bragging about boardroom battles and Hamilton tickets.
The dialogue in the first episode tends to be over-theatrical ("You're intrinsically a nice person—I have a nose for these things," Madeline tells Jane, with Witherspoon evoking her Cecily Cardew more than her Tracy Flick). In building its universe filled with Porsche Cayennes and personal rivalries, Big Little Lies keeps its primary characters at a distance. But as it continues, the show benefits from letting them reveal their humanity. Witherspoon excels as Madeline, finding the sympathetic side of a character who could easily be a monster in the hands of a less adept performer. Dern's Renata, too, zigzags deftly between exaggerated displays of oneupmanship and the despair of realizing no one likes her.
Vallée builds up Woodley's Jane as the center of the mystery, weaving in flashbacks and dream sequences that hint at a tragic and ugly event in her past. On the sidelines is Bonnie (Zoe Kravitz), the earth mom married to Madeline's ex, whose character is largely used as a device to infuriate Madeline. But it's Kidman, unsurprisingly, whose plot is the most enthralling. She puts extra gloss on the veneer of her happy home, putting concerted effort into sunset selfies and super-styled casual wear. But in visits to a therapist, who pokes at the holes in her perfect life in scenes that are impeccably paced, Kidman contributes to one of the most complex and thoughtful portrayals of domestic abuse in recent memory.
If Vallée has a weakness, it's for the Pacific Ocean, which features so prominently in the show that it should get top billing. Big Little Lies relies heavily on tricks—jarring sound effects, false flashbacks, echoes—to bolster its central mystery, but the moments tend to undermine what the show can do at its best, which is to lay bare the dynamics of female relationships, good and bad. To enjoy it necessitates swallowing down any sense of suspicion at the fact that money doesn't seem to be an issue for anyone in the show, even Jane. The flip side is that the show's own obvious display of wealth—its extravagant production and loaded cast—set it above so many other TV dramas. There's so much to appreciate, even if, like Madeline and Jane's precocious kids, you frequently end up rolling your eyes at the absurdity of it all.