Beyoncé's High-Art Pregnancy Photo
The singer announced she'd be having twins with an image that broke social-media records—and fit into a long visual lineage.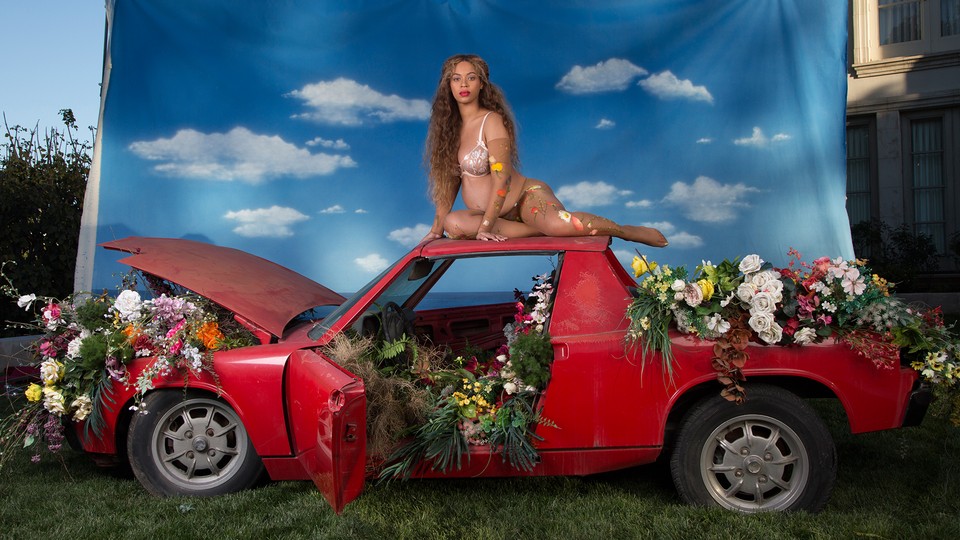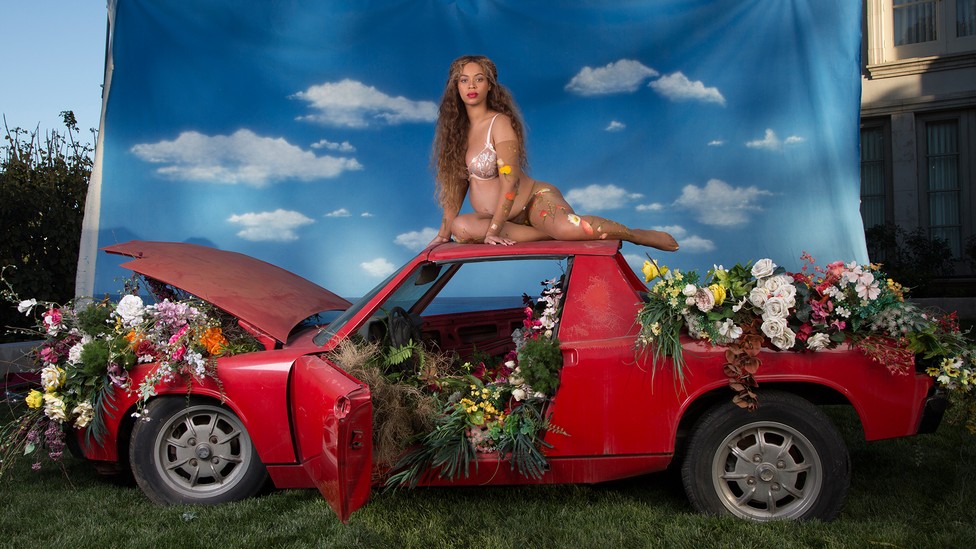 As a celebrity, Beyoncé has a personal life that can't be fully personal; whether she consents or not, it is content for the public's consumption. As a particularly brilliant celebrity, Beyoncé has leaned into this fact in a way that bolsters her mystique while maintaining privacy. If biographical tidbits are bound to be as scrutinized as her actual art is, she seems to say, then such tidbits should be as meticulously presented as her art is. In fact, they should actually be art.
Her Wednesday announcement that she's pregnant with twins was fated to break the internet however it was delivered. Beyoncé and Jay Z's first child, Blue Ivy, is an adorable cultural icon at age 5, the subject of both memes and conspiracy theories demonstrating the obsession that greets any offspring of two extremely famous people. The worshipful reverence for Beyoncé among her fans, combined with the rarity (and mythological significance!) of twins, makes the announcement of two more children particularly chatter-causing.
She could have made like lots of stars and sold her info to a tabloid. She could have made like the Beyoncé of 2011 and revealed her baby bump at the end of an awards-show performance. Instead, she released a self portrait that, within hours, became the most-liked Instagram post ever.
What do you see when you look at the image of her seated in front of a colorful wreath, on a bed of ivy, wearing a bra and a veil? My first thoughts were of the Virgin Mary—Our Lady of Guadalupe, Renaissance Madonnas. But others viewers have mentioned Dutch flower paintings, Frida Kahlo, Gustav Klimt's Hope, II. There are more modern references: Kehinde Wiley, Mickalene Thomas, a family portrait taken by a mall photo studio in 1998. It's recent and yet classical. Themes about motherhood and blooming life and femininity are right on the surface. The colors, the composition, and the content make it hard to look away.
Artnews reports that the image was taken by Awol Erizku, a conceptual artist working in New York and Los Angeles. A recent Fader profile of him spotlights his connections to the pop-music world and says that he tries to "distill notions of black beauty and 'update' key canonical and contemporary works in Western art." That certainly seems to be what's going on with Beyoncé's pregnancy image. Photos later posted on the singer's personal website suggests that she tried a variety of approaches for her announcement—and then, like a curator or a magazine editor, chose the most striking shot.
In this, Beyoncé is continuing in her long dialogue with the high-art world. The likes of Warsan Shire's poetry and Pipilotti Rist's video works and Victorian painters have all been referenced on her magpie-like visual albums, a fact that sometimes brings accusations of plagiarism but more often demonstrates her knack for collage, reinvention, and synthesis of disparate influences. The resulting blend of familiarity and newness leads to what my colleague Derek Thompson calls "the aesthetic aha," essential to both indelible art and radio hits.
The pregnancy announcement also offers another example from her of how a celebrity can effectively manage the inevitable commodification of her own image and life. Rather than fight a war with the media over rumors about her super-famous marriage, she foregrounds that marriage and those rumors in her work. For example, last year's Lemonade shocked the world and sold big in part because it seemed to admit Jay Z had cheated on her. At the same time, she has improbably avoided personal overexposure by letting her occasional art statements double as press releases and otherwise only giving interviews in the most controlled circumstances. From a politician this might be an odious, Orwellian tactic; from an artist trying to shield a young child from the spotlight's glare, it just seems smart.
She is also rewriting the rules around public pregnancy, an extremely fraught part of the female-celebrity-gossip-media economy. To click through a slideshow of magazine covers depicting famous pregnancies is to note how Beyoncé preempted the usual visual barrage of tabloid headlines. To click through a slideshow of "creative" celebrity pregnancy announcement is to realize what a higher level Beyoncé is playing on compared to most. Some stars slap an Instagram filter on their tummy; others post a cute visual metaphor of baby boots next to adult boots. Beyoncé has orchestrated something that could hang at a gallery.
And why not? Some might call it crass, narcissistic, or exploitative to make your womb's contents into a cultural event, but there's a traditionalism and social message to her ongoing depiction of domestic beauty and bliss. Moreover, art history is littered with images of motherhood and fertility. It makes sense that one of our reigning modern artists—pop artist, but still artist—would contribute to the canon.