A Common Theme for This Year's Oscar-Nominated Documentaries
The films 4.1 Miles, Watani: My Homeland, The White Helmets, and Fire at Sea are all up for Academy Awards this year—and all deal with the migrant crisis or the Syrian conflict.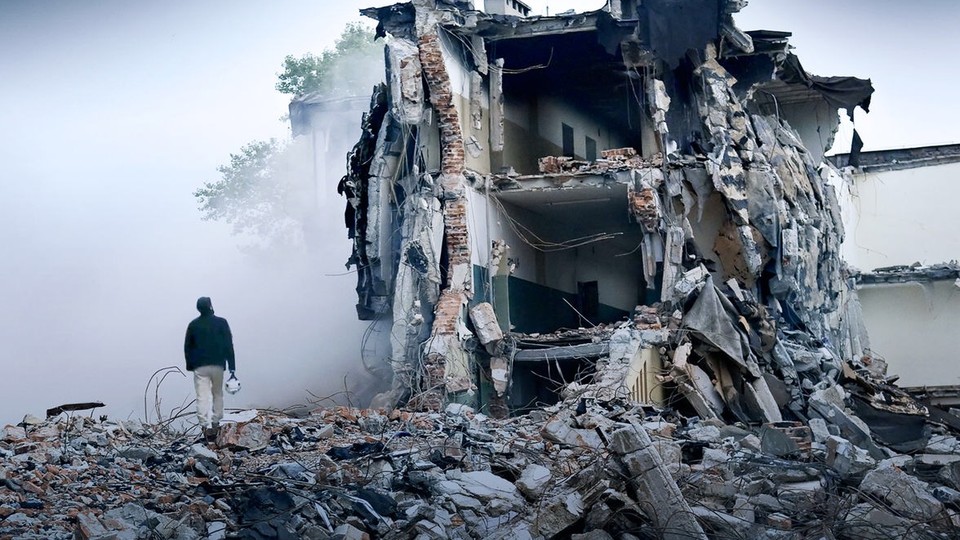 The documentary 4.1 Miles opens to a bright, sunny day on the Aegean Sea. It's October 28, 2015, and for a moment the setting is beautiful: blue sky, blue water, horizon tilting in and out of view. Then you hear the screams. A gloved hand reaches out of frame and returns pulling a young boy to safety aboard a coast-guard boat. Then the captain spins around with a baby girl in his arms. "Put the camera down," he says to the person behind the lens. "Take this."
Just over four miles from Turkey, the Greek island of Lesbos has been on the front lines of the global refugee crisis. Since January 2014, more than 1.5 million people have crossed the Mediterranean Sea to Europe, with many fleeing the Syrian civil war, the rise of ISIS, and oppressive regimes and poverty in sub-Saharan Africa. Upwards of 12,000 have died or gone missing along the way, but many of those who've survived the short but treacherous journey have landed on Lesbos, which received more than 500,000 migrants in 2015 alone.
Daphne Matziaraki's 20-minute Oscar-nominated film 4.1 Miles follows Greek Coast Guard Captain Kyriakos Papadopoulos as he and a small crew on Lesbos head out to sea again and again to pluck desperate men, women, and children from the swells. Before thousands of Syrians, Afghans, and Iraqis started setting out in boats in the hopes of finding refuge in Europe, Papadopoulos spent his days making routine patrols. But the film finds the captain thrust into the role of professional savior without any additional training or equipment—an average citizen trying to deal with a humanitarian disaster.
Of the 10 films nominated for the 2017 Academy Awards in the documentary categories, four deal with the Syrian conflict or refugee crisis. Along with 4.1 Miles, the Netflix original The White Helmets and Watani: My Homeland are up for the short-form documentary Oscar, while the Italian film Fire at Sea was nominated for best feature documentary. The strength of these projects lies in the emotional, and often stark, portraits they paint of their characters. If audiences can imagine themselves in the shoes of Syrian rescue workers, a Greek coast-guard captain, an overwhelmed physician, or a migrant mother, these films may do more than enlighten or inform. Their creators all told me they hoped that, like other documentaries that have mobilized viewers and influenced lawmakers, their films can make far-away problems feel more immediately urgent.
The films' nominations were announced just four days after President Donald Trump's inauguration and three days before he issued an executive order suspending refugee admissions from Syria indefinitely and from all other countries for 120 days. The order also temporarily halted arrivals from seven majority-Muslim nations and cut the total number of refugees that would be admitted to the U.S. in 2017 by more than half to 50,000. While the travel ban has since been suspended by federal courts, Trump's executive order set off protests at airports across the country and pushed the people and issues portrayed in these documentaries back into the national spotlight.
"When I made the film [in 2015], I thought it was very timely because it was when the refugee crisis was in the news," Matziaraki told me. "I would never ever imagine that unfortunately the film would be so much more timely now in the U.S." While it's unusual to have so many Oscar nominees address the same topic, The White Helmets producer Joanna Natasegara told me it makes sense in this case: "Storytelling has always engaged with the most pressing issues of any given time, and documentary perhaps even more than narrative [film]." Those issues today, she said, are the refugee crisis and the war in Syria.
As a medium, documentaries offer an intimacy and focus often missing in daily news. Since the Syrian conflict began in 2011, the escalating violence and resulting flood of migrants have been covered by the international press, but in the face of constant coverage, it's difficult for many readers to sustain the same level of attention day to day. It often takes a particularly horrifying image—a dead toddler washed up on a beach, a blank-faced 5-year-old covered in blood and dust—to re-galvanize interest.
Matziaraki, who grew up in Greece but is now based in the San Francisco Bay Area, said even she felt disconnected from the disaster playing out in her homeland. When she arrived on Lesbos, she found the situation was worse than she'd imagined. "I really wanted to make a film that would [bridge] this gap between our comfort zone and the reality of the world," she said.
The White Helmets director Orlando von Einsiedel also admitted to feeling numb to the tragedy. The film, made with Natasegara, tells the story of the Syrian Civil Defense, a group of volunteer rescue workers in the country who respond to attacks on civilians. When the filmmakers saw a YouTube video of the White Helmets pulling a newborn from a bombed-out building, they recognized a story missing from the mainstream representation of Syria. "There's a confusing, unbalanced picture of what is left behind for Syrian civilians on the ground, and a vacuum of any narrative about Syrians helping themselves or being active in their own saving," Natasegara told me. "The idea of the Syrian hero was almost completely absent from the media landscape." The White Helmets were the "perfect anecdote" to that gap: They were former bakers, builders, tailors, and students who'd banded together to save their fellow Syrians.
The other Syria-specific film, Watani: My Homeland follows the family of a rebel commander in Aleppo who has been kidnapped by ISIS. His wife, Hala, and their four children make the heartbreaking decision to flee the country and begin a new life in Germany. The director Marcel Mettelsiefen, a veteran photojournalist who covered the Arab Spring, said documentaries offer an emotional way into a story that can otherwise feel abstract. "The importance of documentary filmmaking is to humanize the conflict," he told me.
In the feature category, Gianfranco Rosi's Fire at Sea focuses on Lampedusa, an Italian island where hundreds of thousands of African refugees have landed since the 1990s. The filmmaker moved to Lampedusa for a year and a half to understand both the rhythms of daily life and the harrowing journey migrants endure to get there. "The film is a cry of help to raise awareness," Rosi told me, recounting a conversation with one migrant. "When I asked them, 'Why go across the sea if you might die?' They said, 'It's the word "might" that makes us go across the sea. The word "might" is hope.'"
While documentaries may have once been considered stale educational fare, their reputation as an exciting and mainstream art form has undoubtedly grown in recent years. Because of new distribution options and social media, documentaries now have the potential to reach a more global audience. By licensing The White Helmets to video-streaming giant Netflix, von Einsiedel and Natasegara made their film available in 190 countries (fellow documentary Oscar nominee 13th is also on Netflix). Matziaraki's 4.1 Miles—produced while she was a graduate student in journalism at the University of California-Berkeley—can be viewed on the New York Times' website, free to anyone with an internet connection. Fire at Sea has been released in 64 countries, including Japan, where it opened earlier this month. According to Reuters, the country accepted only 28 refugees in 2016, yet the 10 p.m. showing sold out in Tokyo on opening night.
Documentaries can often have clear, measurable consequences—whether driving politicians to action or investing the general public in an issue that affects them. A 2015 study found that Gasland, the 2010 documentary on the dangers of fracking, led to greater discussion on social media and increased mass-media coverage, after its release and subsequent nomination for an Oscar in 2011. Sometimes films are credited with inspiring legislation—as was the case with the 2012 Oscar-nominated film The Invisible War, which investigated sexual assault in the military, and the 2013 documentary Blackfish, which explored the treatment of orca whales at SeaWorld. Of course, some films have been criticized for misleading audiences by omitting inconvenient details or twisting statistics to make a more convincing argument or interesting story (as was the accusation leveled at the 2010 documentary Waiting for "Superman," which portrayed charter schools as the prescription for an ailing public education system.)
While it's too soon to tell if this year's Oscar-nominated documentaries have had a broader effect on people's understanding of the migrant crisis or Syrian conflict, some of the filmmakers have already seen their work resonate on a smaller scale. Matziaraki said she's received letters from viewers asking how they can help or donate, including from one who traveled to Lesbos to volunteer after seeing 4.1 Miles. "People that write to me and say, 'Thank you for changing my mind. Thank you for making me realize what is happening.' This is really maybe the most important thing," Matziaraki said.
In the Fire at Sea director Rosi's experience, the emotional connection fostered by these documentaries inevitably leads to a question: "What can I do?" Over the phone from New York, one of Rosi's film subjects, Pietro Bartolo, offered one answer. As the physician on Lampedusa, Bartolo is often the first person to have real human contact with the refugees who arrive; he's also the man who performs autopsies on those who don't make it alive. He told me it's important to simply show migrants they are welcome. "People say, 'Can I come to Lampedusa to help?' We don't need the help. We never asked for any help," he said. "On Lampedusa, we are the door. That we leave it open, this is not enough. [When the refugees] arrive in Europe they need to feel that they are home."