What Conan O'Brien Means to Late-Night's Future
The long-tenured host might be moving to a weekly, or all-digital, format in the coming years—another major shift for an ever-evolving genre.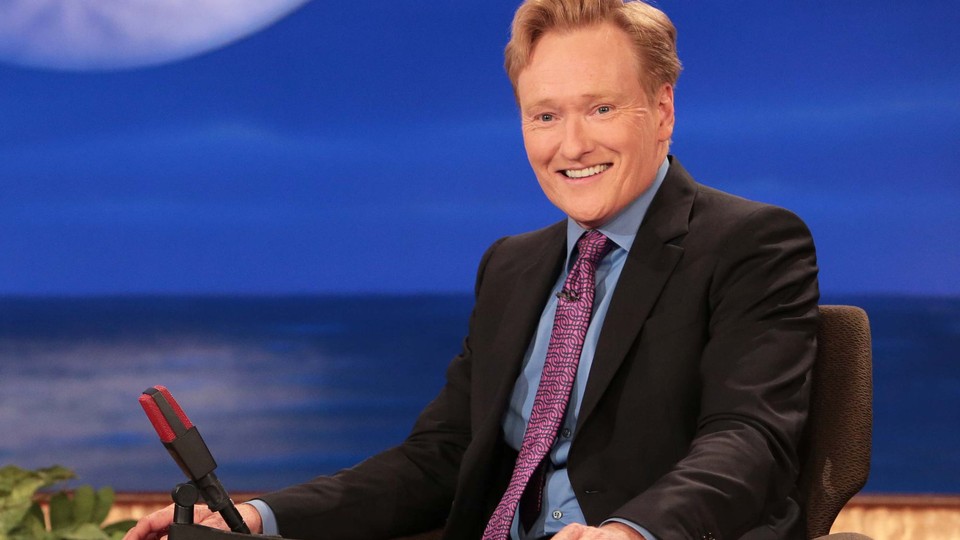 Conan O'Brien was once the upstart of the late-night comedy world, a pretender to the throne hoping to one day rise to the level of luminaries like Jay Leno and David Letterman. Just a few years ago, O'Brien's sense of humor was still viewed by NBC executives as too unusual and young-skewing, sparking fears that he couldn't hold onto the broader, older audience of The Tonight Show. O'Brien's brief 2010 tenure at The Tonight Show, and his abrupt replacement with the program's previous host Leno, seems like a lifetime ago. In the intervening years, old hands like Leno, Letterman, Craig Ferguson, and Jon Stewart have all retired, and now O'Brien, the longest-tenured late-night host in the business, firmly occupies the middle of the road. So it's no wonder Conan's days suddenly seem numbered.
Last week, news broke that TBS, the basic-cable network that has hosted O'Brien's nightly show Conan for the last six years, was planning to retool it as a weekly show, in the mold of the newer TBS hit Full Frontal with Samantha Bee. O'Brien has hosted a daily late-night talk show for 24 years now, with brief breaks as he moved from NBC's Late Night to The Tonight Show, and then jumped to TBS after a bitter contract dispute over Leno's re-hiring. O'Brien's departure from a daily format would mark a real end of an era that has already begun to pass into memory, and would make Jimmy Kimmel the longest-running late-night host on the air.
But that change would also make a sad sort of sense. O'Brien is not a particularly buzzy host in the era of Jimmy Fallon, James Corden, Seth Meyers, and Trevor Noah. Yet his show is still a consistently funny one. It also provides space for the kind of offbeat sketch and stand-up comedy that's no longer en vogue in late night, which would make the loss of Conan, as it exists now, tough to bear.
Conan is contracted by TBS through 2018, and since The Wrap reported that the network was planning to take it weekly, the TBS president Kevin Reilly tried to walk back the news, saying there were no plans "at this time" to change anything. "Conan remains an invaluable franchise, partner, and producer for our TBS brand and we'll be in business with him for a long time," Reilly said in a statement. "As the media landscape continues to evolve, Conan will continue to lead the evolution of what a talk show will be in the digital age."
Though Reilly's statement sounds like a dismissal, it's not too dissimilar from what Turner Broadcasting's chief executive John Martin told The Wrap—that TBS was going to retool the series, and that the weekly format would help O'Brien stand out in the way it has for Bee (and for other weekly hosts like HBO's John Oliver). Reilly is just soft-pedaling the news by saying O'Brien will "lead the evolution" of the talk show in the digital age—and more recent news has suggested that "digital" will be the focus for TBS. "The definition of a television network in 10 years, what's that going to mean?" the company's president David Levy asked Variety in response to the reports. "Premium video content is what's really important to Turner."
O'Brien is pretty good at providing "premium video content" for the network. His YouTube channel has 4.6 million subscribers, millions more than his network rivals Seth Meyers or Stephen Colbert (though far fewer than viral-video standouts Jimmy Fallon and James Corden). His recurring feature "Clueless Gamer," where he plays video games with his avuncular assistant Aaron Bleyaert and various celebrities, is enough of a standalone hit that it's been picked up for its own series (which O'Brien will produce). The New York Post reported Monday that O'Brien was being courted by YouTube to be the face of its premium Red channel, though such a move likely wouldn't happen for at least a year.
For all his streaming prowess, O'Brien hasn't been a major ratings factor in years. Recent Nielsen Live +3 numbers peg his viewing audience at 638,000 (Trevor Noah, a direct competitor since both their shows air at 11 p.m., gets 1.3 million at The Daily Show). O'Brien was brought over to TBS in 2010 to help establish a late-night brand for the network. With that accomplished, there may not be a reason to keep his show as a far more expensive daily production, when he can shift to some mix of a weekly show and online content (which is far cheaper to produce), or perhaps to a 30-minute episode format.
O'Brien represents the old guard of late night in more than just his years on the job, however. His show is still far ahead of his rivals in terms of promoting new voices in stand-up comedy. As Jesse David Fox noted at Vulture, Conan continues the tradition started by Johnny Carson at The Tonight Show of giving young stand-ups their shot at a nationwide audience. There were 41 such sets last year on O'Brien's show. Meanwhile, Colbert's Late Show had 16, Fallon's Tonight Show 15, Corden and Meyers eight each, and Jimmy Kimmel only three—and all of those shows air more episodes a year than O'Brien's. Cut back to a weekly format, and these chances for young comics would largely disappear, as a weekly Conan would have much less versatility in terms of what it could offer audiences.
Conan has tapped into viral comedy by promoting series like "Clueless Gamer" and airing whole weeks of episodes from far-flung locations like South Korea, Cuba, Germany, and Armenia. But O'Brien has also continued the noble brand of absurd sketch-comedy humor that he pioneered at Late Night in the '90s (an influence that permeates every level of scripted comedy to this day, given that most young comedians grew up watching Conan). Only Late Night with Seth Meyers comes close to airing as many strange sketches as Conan, probably because its host, like O'Brien, is a Saturday Night Live alumnus.
Perhaps O'Brien would be best suited to moving on to YouTube or some other digital platform that's in search of the legitimacy he gave TBS in 2010. The media (and late-night) landscape has evolved rapidly since then, but O'Brien has remained its most reliably hilarious host by sticking to his brand. Despite his long career, O'Brien is only 53; Leno and Letterman were both in their mid-60s when they called it quits. O'Brien's future in this business is as unclear as the future of the business itself, but as Levy said, in 10 years, people may not care about networks. They will care about celebrity names, though, and there's still no other comedian out there called Conan.