The Poetry-Free Inauguration Makes a Comeback
No modern Republican commander-in-chief has featured a poet at their swearing-in ceremony, and it appears neither will Trump.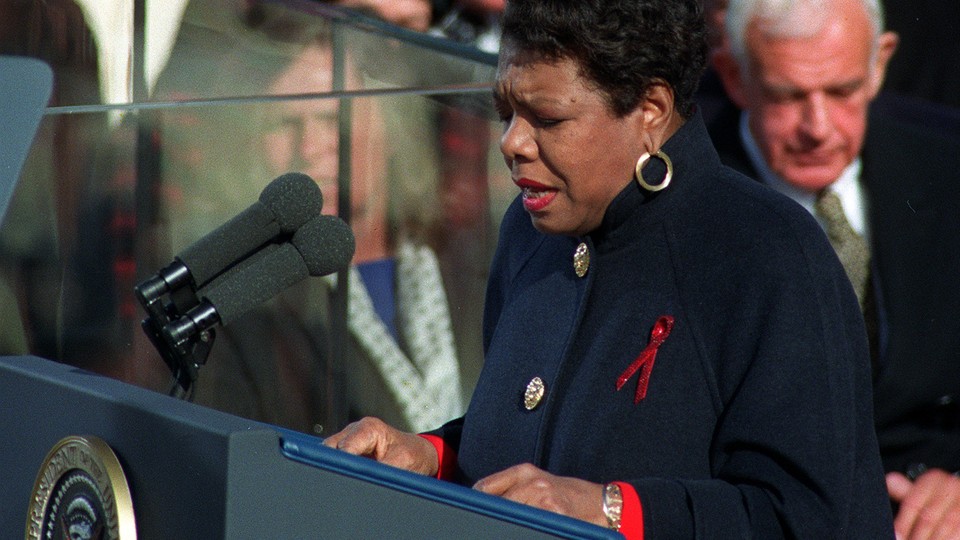 Some of the most memorable inauguration moments have been because of poets: Robert Frost struggling to see what he'd written down and then improvising at John F. Kennedy's swearing-in; Maya Angelou speaking of dinosaurs, God, and unity at Bill Clinton's; Richard Blanco saying "hello, shalom, buon giorno, howdy, namaste, or buenos días" to Barack Obama's second inaugural crowd.
There is no indication that Donald Trump will have a poet at his inauguration. A hoax recently circulated online saying some verses praising "Melania the fair" and calling Obama a "tyrant" would be read, but in truth there is no poet on the schedule (though, as is customary, a number of religious leaders will deliver readings).
The lack of poetry may seem like a break with precedent, or it may seem especially telling given news that Trump intends to eliminate the National Endowment for the Arts and the National Endowment for the Humanities. But it's not so unprecedented. Only five poets have recited their work at swearing-in ceremonies, each for Democratic presidents: Kennedy, Clinton, and Obama. (Jimmy Carter had a reading by James Dickey at an inaugural gala).
But in that fact alone—the fact of presidential poetry as a partisan tradition—is a reminder of America's cultural divides. In the weeks after the election, many Americans turned to poetry for guidance and comfort, as my colleague Megan Garber has chronicled. Now, Leslie Lawrence at WBUR's website suggests that anyone yearning for some verse on Inauguration Day might want to revisit the works of Walt Whitman. (From Song of Myself: "Whoever degrades another degrades me.")
Does Donald Trump have a favorite poem? If so, he doesn't appear to have told told anyone about it publicly. The closest thing might be Oscar Brown Jr.'s lyrics to Al Wilson's 1960s R&B song "The Snake." Trump made a habit of dramatically reading the rhyme aloud on the campaign trail to describe the dangers of immigration:
A retelling of an Aesop fable, it's about a woman rescuing a pretty snake who's nearly been frozen to death. Once the snake has been let into her home, though, it bites her and she starts to die. "You knew damn well I was a snake before you took me in," it tells her, with a grin. It's a simple work whose meaning can apply to lots of situations—but it appears that neither it nor anything like it will be heard from the U.S. Capitol on Friday.