Donald Trump's Nostalgic, Lulling Inaugural Concert
Acts like 3 Doors Down, Toby Keith, and the Piano Guys offered the comfort of looking backwards.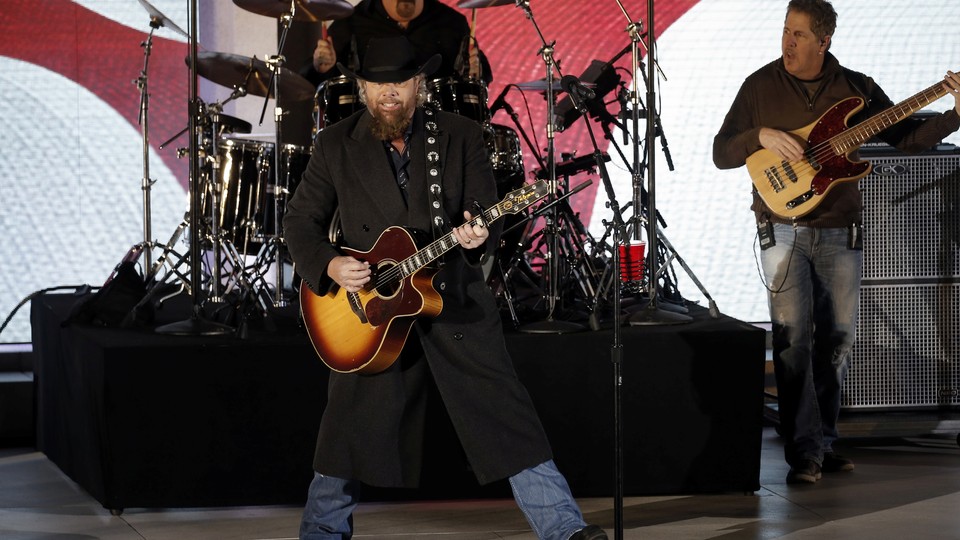 The slogan "Make America Great Again" has been subject to a lot of debate—when, exactly, are we to believe America was greater before? The Make America Great Again! Welcome Celebration at the Lincoln Memorial Thursday night offered a few answers. From the looks of it, America was great when Lee Greenwood wrote "Proud to Be an American" in the Reagan '80s, and maybe again when the song became a theme song for the first Gulf War, under George H.W. Bush. It was great under George W. Bush, too—both pre-9/11 when 3 Doors Down's "Kryptonite" soundtracked drives to the mall, and post-9/11 when the nation joined in vengeance to Toby Keith's "Courtesy of the Red, White, and Blue." The red-jacketed members of the Army Fife and Drum Corp suggested yet another Great time: 1781.
Sam Moore, the "Soul Man" singer of the civil-rights era, was there too, but only to sing "America the Beautiful"—it seems 1967 was Not Great. The Frontmen of Country reprised hits from across their members' heydays in the '80s, '90s, and early 2000s, yet each of their twangy-melancholic tales of heartland heartache seem, on purpose, out of time. Then there were the lesser-knowns: Utah's the Piano Guys, inventively defiling a grand piano for a One Direction tune, and DJ Ravi Drums, that friend of yours who badly overestimates how much you want to watch him dominate Rock Band. Both may have built fledgling careers during the Obama era, but this concert marked them as national discoveries of the Trump one.
Nearby, at the recently christened National Museum of African American History and Culture, the anti-Trump Peace Ball spotlighted some artists with more recently renewed credentials for relevance: Solange Knowles, the experimental R&B sister of Beyoncé and the creator of one of the most acclaimed albums of last year, and Esperanza Spalding, a new jazz generation's adventuresome champion. They depart from Trumpchella's entertainers not only in hipness or in race—though those things are true, and matter—but in content. Their music breaks borders between genres; their words often challenge America rather than comfort it. On Thursday, Solange sang "Don't Touch My Hair," a swatback at the national history of white people helping themselves to the bodies of black people.
Throughout D.C. over the inaugural, other musicians who have pushed forward the sound and sentiment of pop music will play protest gigs: art-rockers The National and Sleater-Kinney at a Planned Parenthood benefit; the iconoclastic future-dance star Janelle Monae on the route for the Women's March, whose participants boast Beyoncé's blessing and a chant freshly written by Fiona Apple. Trump meanwhile keeps reaching back, likely due to a blend of preference and limited options. The 75-year-old Paul Anka will sing Frank Sinatra's "My Way" for the inaugural dance; the 16-year-old Jackie Evancho, first made famous by singing a 1918 aria on YouTube, delivered "The Star Spangled Banner."
This divide was crystallized in a statement from Inauguration Committee Chair Tom Barrack, who said he'd not asked Trump friend Kanye West to perform at the celebrations that were "going to be typically and traditionally American." He didn't quite say West was not "typically and traditionally American," but it's nonetheless the implication of this inauguration's entertainment. Black music of recent vintage, it would seem, has no place in this national center. Ditto formally interesting music of any sort. (Though, in fairness, the Piano Guys tearing up a violin bow was sort of like if John Cage were making children's music, and it's always a hoot to see Toby Keith swing a Solo cup around onstage.)
If the music seemed a sedative, that was probably the point; the speeches were full of embattled uplift, calling on America to calm down and let it all happen. Jon Voight cursed "propaganda" that had denigrated the president-elect, and one of the Piano Guys said "it's time to put all of our differences aside, it's time to unite our hearts, our minds." His band then launched into an original number called "It's Going to be OKAY," expertly alchemized nitrous oxide from the same tank as Pharrell's "Happy," but much less potent. It offered, perhaps unintentionally, what for many is the only believable sort of comfort—not that things would soon be Great, but that they'd be okay rather than, say, apocalyptic.
Earlier on Thursday, news broke that Trump's administration would try to end the National Endowment for the Arts and the National Endowment for the Humanities. The concert, then, dovetailed as the vision of a government that, when it comes to entertainment, values comfort and nostalgia over the creation of new art. The suggestion to not think too much, to lean back, might explain how Trump, when he finally took the stage, could tell one of his obvious lies. About having a concert in front of the Lincoln Memorial, he said, "I don't know if it's ever been done before, but if it has, very seldom. … We didn't know if anyone would come tonight, this hasn't been done before."
It of course has been done before, most recently by Barack Obama, who had Mary J. Blige, Bruce Springsteen, Beyoncé, and others at the Lincoln Memorial eight years ago. That show's very existence, and the vision it offered, is now meant to be forgotten. It was not Great.