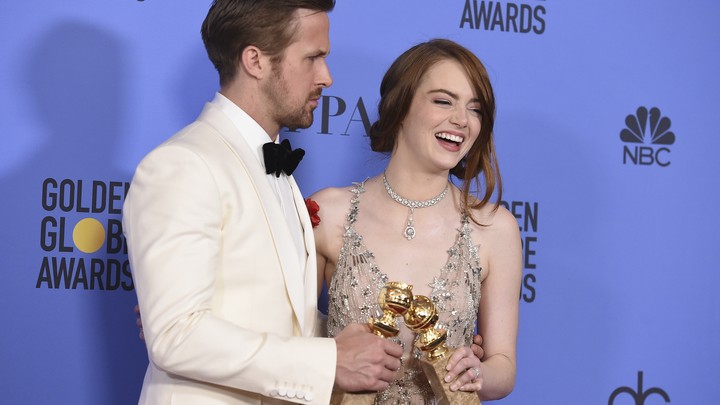 The Hollywood Foreign Press lavished attention on Hollywood-set musical La La Land, which won a record seven Golden Globes at the ceremony that kicks off the final stretch of the Oscar campaign every year. La La Land exited the night with trophies for its stars Emma Stone and Ryan Gosling, as well as two for its writer-director Damien Chazelle, though its clean sweep was slightly overshadowed by the triumph of Moonlight, a small-budget independent film about the adolescence of an African-American boy in Miami, which took Best Picture (Drama) as the last award of the night.
La La Land and Moonlight have been tipped as the two contenders to beat at the Academy Awards, which will announce its nominations later this month, but it was clear who the 90-member Hollywood Foreign Press Association preferred. La La Land took Best Director and Best Screenplay along with Best Original Score, Best Song ("City of Stars"), Best Actor and Actress, and Best Picture (Comedy or Musical). Moonlight was otherwise shut out, including an especially surprising loss for its supporting actor Mahershala Ali—that award, the first of the night, went to Aaron Taylor-Johnson for Nocturnal Animals. On the TV side, acclaimed new shows Atlanta and The Crown were the biggest winners; the often Euro-centric Globes also gave four awards to BBC miniseries The Night Manager and named French legend Isabelle Huppert Best Actress in a Drama for Paul Verhoeven's controversial film Elle.
In general, the Globes were true to form—slightly ramshackle but high-energy (it helps that the audience gets to drink), with some standout speeches (including Meryl Streep's lifetime achievement award and Viola Davis's trophy for Best Supporting Actress in Fences) and some slightly more head-scratching moments. While last year's master of ceremonies, Ricky Gervais, was intent on attacking the egos of the gathered showbiz elite, this year NBC brought on Tonight Show host Jimmy Fallon, a much gentler comic who began the show with an elaborate musical spoof of La La Land and otherwise largely stayed out of sight.
As the film awards rolled on, the ubiquity of La La Land began to overwhelm. Its wins for its music were hardly surprising, and nor was the anointing of Stone and Gosling (both of whom competed in the less crowded Comedy/Musical category). But Chazelle's triumphs in both Best Director and Best Screenplay were unexpected, especially the latter—a category that would be an obvious place to recognize more dialogue-heavy films like Manchester by the Sea or Moonlight. As La La Land's victors continued to ascend the stage, they repeatedly spoke on how "daring" the film's production was, since studios don't make many original musicals anymore, touting it as a celebration of "dreamers" everywhere.
The optics were slightly awkward. Though the musical has become a rarer genre for Hollywood, La La Land is still a showbiz-focused film about creativity in L.A. featuring two hugely recognizable stars, while the triumph of a smaller-scale independent work like Moonlight is a genuinely rare phenomenon come awards season, especially as it focuses on themes of black and queer identity. Still, the balance was somewhat redressed as Moonlight won Best Picture (Drama), with writer/director Barry Jenkins shouting out the word-of-mouth campaign that has helped make the film an unlikely box office success.
On the TV side, the Globes largely spread the love between various new shows of 2016. The Crown won Best Drama Series and Best Actress for its star Claire Foy, who plays Queen Elizabeth II at the time of her coronation; Best Actor in a Drama went to Billy Bob Thornton, who plays a lawyer in the Amazon series Goliath. The comedy awards went to FX's acclaimed Atlanta, which took Best Comedy Series and Best Actor in a Comedy for Donald Glover, and ABC's sitcom Black-ish, whose star Tracee Ellis Ross took Best Actress. The John Le Carré adaptation The Night Manager largely swept the miniseries category, with cast members Tom Hiddleston, Hugh Laurie, and Olivia Colman all taking trophies for the serious-minded spy thriller.
The other major winners of the night were Davis, who is a near-lock to repeat as Best Supporting Actress at the Oscars for Fences; the darkly satirical French film Elle, which won Best Foreign Film and Best Actress; and Taylor-Johnson, easily the most surprising winner of the night. Perhaps the most memorable speech, however, was delivered by Meryl Streep, who in accepting the Cecil B. DeMille Award turned her attention to the president-elect. She recalled her horror at Donald Trump's much-discussed mockery of a disabled reporter during his campaign, comparing it to some of the other "performances" of the year.
"This instinct to humiliate, when it's modeled by someone in the public platform, by someone powerful, it filters down into everybody's life, because it kinda gives permission for other people to do the same thing," Streep said. "Disrespect invites disrespect, violence incites violence. And when the powerful use their position to bully others we all lose … we have to remind each other of the privilege and the responsibility of the act of empathy."
It was the most remarked-on moment in a ceremony that saw many stars, obliquely or otherwise, speaking on the current political climate, even as most of the awards went to La La Land, a deeply nostalgic, old-fashioned bit of Hollywood movie magic. It's a dichotomy that will likely continue in the weeks to come, as award show after award show provides the opportunity for actors and creators to pontificate in front of a global audience, but the trophies keep going to a more apolitical work of throwback filmmaking. As the Golden Globes demonstrated, it's going to be La La Land's world for the next two months—a sunnier world of "dreamers" that many awards voters clearly wish they could return to.
We want to hear what you think about this article. Submit a letter to the editor or write to letters@theatlantic.com.
David Sims
is a staff writer at
The Atlantic
, where he covers culture.